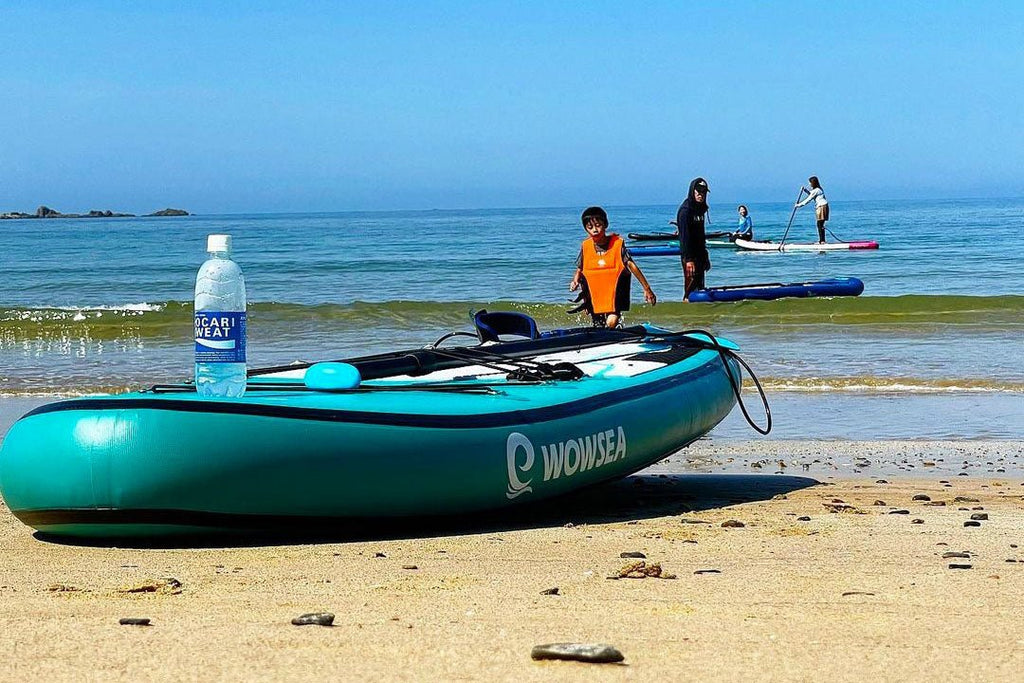 I have been living for the past 25 years on the long coastlines of sunny Portugal and naturally, surfing is the go to sport (after football of course!). As my wife gave birth to our beautiful children: Fernando, James and Susana my ability to be able to get out and surf  slowed down gradually. Despite this, the waves were always calling to me and as soon as Fernando turned 3 years old he began swimming and I was able to convince Alicia to teach him how to ride a board. Unfortunately parents don't choose the hobbies of their children and he never shared my passion for surfing but instead, he turned his attention towards SUP-paddleboarding. It was close enough for me!
Years passed and the oceanic good times passed by quickly. Little Fernando and I went out SUP daily over the hot summer months and continued on weekly throughout  the mild Portuguese winter months. Eventually James, Susana followed suit and even my beloved Alicia became hooked too. I consider myself very fortunate indeed. Around April 2020, whilst preparing for the coming summer, Alicia and I decided to spend some of our savings on purchasing new boards for each of the kids and ourselves. The reputable brand WOWSEA were our boards of choice.
That was 2 years ago now (I am writing this as of 2022) and we are still going strong as a family and the obsession of SUP has completely grown from the two man team of Fernando and I, to including our entire family. Our WOWSEA boards were an absolutely excellent investment (we had all been sharing a weather worn pair of boards and often, when it was time for all of us to go out on the water, renting was the only (costly) option). Fernando, James and Susana each have a Trophy T2 while Alicia has a Flyfish F1 and I have a Flyfish F2. I simply can not recommend these boards enough, we have probably used them over a dozen times and, with a little care and board maintenance, they still ride like new! When on the water, the kids all enjoy having "board battles". I have to say that the stability and durability that the Trophy T2 boards possess is impressive.
Last spring we went on a small vacation down to the Algarve province of Portugal and we based ourselves in a small town called Sagre. One afternoon while we were all out SUP boarding and exploring the rocky coast line Susana and Fernando decided that, yet again, it was time to have a SUP board battle. Indefinetitly, it was not the best location to be conducting such a war and sure enough Fernado being the larger of the pair, leapt from his own Trophy board across to Susana's all the while completely knocking her overboard, flailing into the sea. This is nothing new but to my absolute horror Fernado, as he propelled himself from his board, had projected the inflatable into a collection of very sharp collections of boulders, covered in barnacles. I was sure it was done for, but at least it wasn't Susanas head (or that of anybody!). I called out to my offspring, who were still "battling" unaware of what had happened, and continued to instruct Fernando to get over to the rocks and fetch his board. He is quite the capable ocean swimmer these days. So Fernando, grumbling in response, dived off Susana's board and splashed his way across to the boulders and very un-delicately hauled the board from atop of the spiky mess. "It's done for" I thought.
However to my complete shock, Fernado clambered back onto his board and paddled away, not a single puncture in sight. These are inflatable boards after all and eventually you do expect a hole or two from regular use, but never have I had the misfortune.
To this day we still use our collection of WOWSEA SUP-Boards and I am ever grateful for the quality product that they produce -- WOWSEA is indeed building a great brand! Children proofing at its finest!