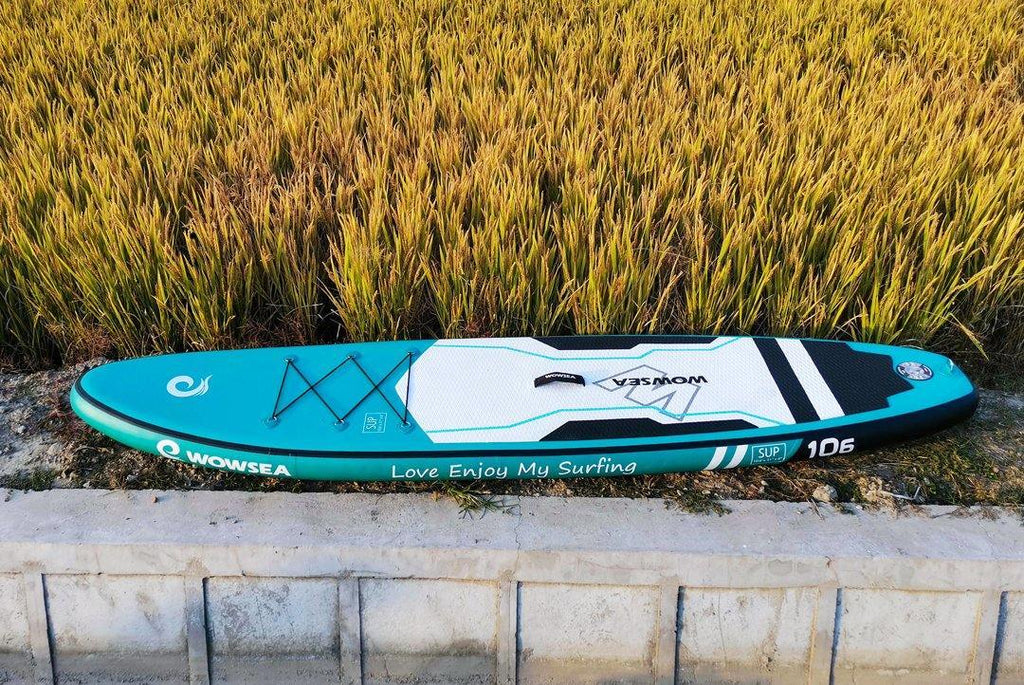 Many people getting into stand-up paddleboarding often struggle to find a board that not only suits their specific requirements but is also safe and durable for use. And perhaps what makes the task even more daunting is not knowing how to maintain paddleboards for longevity.
This is why WOWSEA has produced this informative and helpful guide on the necessities of paddleboard durability and repair. First, we will be taking a look at how long an inflatable paddle board lasts and then move onto damage control.
Below you will also find WOWSEA's step-by-step instruction manual on how you can repair holes or tears sustained by your inflatable stand up paddleboard for maximum durability. With all that said, let's get you equipped with all you need to know about paddleboard maintenance and repair!
Paddle Board Longevity
Inflatable paddleboards are used for a wide variety of activities such as yoga, fitness, touring, weekend family time, fishing, adventure sports, and many others. For this reason, there are various designs and accessories that come with paddleboards to fulfill individual requirements.
However, despite how specifically tailored an inflatable SUP may be, each is typically made from strong materials and has multiple layers for added durability. These materials include drop stitch and woven fabrics, with one or more layers of plastic coated PVC material. Tower Paddle Board mentions that these materials are considered military-grade, i.e., incredibly strong.
Such materials are therefore able to weather harsh waves and offer protection from rips that could possibly be sustained when iSUP-ing in a rocky riverbed, for example. Some paddleboards offer single-layer protection only, while others are dual-layered.
Single Layered
Single layered inflatable paddle boards are on the cheaper end of the paddleboard spectrum as it is typically made with a layer of drop-stitch fabric followed by a single coat of plastic. But as more and more people go for hunting, sports, and other adventurous activities out on the water, manufacturers now prefer dual-layered or fusion inflatable SUPs for maximum durability.
Dual Layered
As its name indicates, dual-layered inflatable paddle boards have multiple layers of both fabrics and plastic, making them significantly more resistant to damage sustained when iSUP-ing. Therefore, dual-layered inflatable boards are the strongest ones available on the market for purchase but are also pricier than the single-layered ones.
WOWSEA recommends that you opt for dual-layered stand-up inflatable paddle boards owing to their greater durability. They are less likely to puncture easily, which will save you time, money, and effort in terms of paddleboard upkeep.
To summarize, inflatable paddle boards are quite durable and sometimes even better for consumer use than non-inflatable ones. Their versatility and strength make them a desirable alternative and are also easier to carry around once deflated.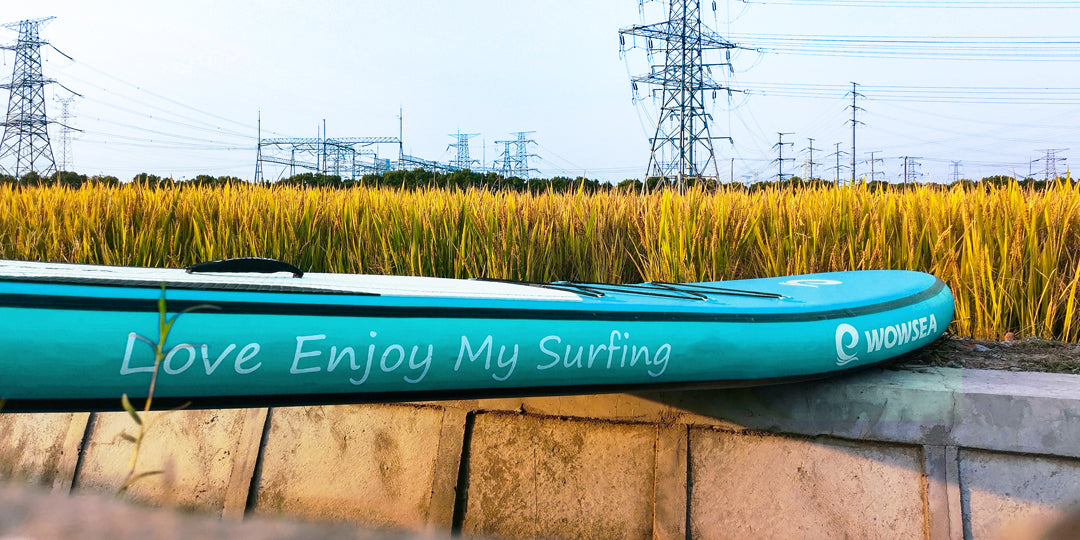 Air Loss
When going about the maintenance of your inflatable paddleboard, it is imperative to consider that it will slowly lose air over time. This could be the result of a variety of issues but nonetheless affect the paddleboard in the same way, decreasing its durability.
For the right kind of upkeep, each inflatable paddleboard user must know about the possible causes of the air loss. For starters, should you keep your board inflated for a long time, it will automatically lose air no matter how tightly the valves have been shut. But for shorter periods of time, your inflatable SUP should ideally work perfectly fine and not lose air.
In other cases, air loss from inflatable SUPs can be caused by punctures, leaking valves, or broken seams. Usually, these issues arise with sustained use of the paddleboards and thus require regular maintenance, and can become exacerbated if you keep your paddleboard inflated for long periods of time.  
In light of the information presented above, WOWSEA endorses its Trophy T1 11' SUP Paddle Boards Package. Not only is the inflatable paddleboard one of the most durable, but it is also made from materials and processes that are eco-friendly.
Such practices, in addition to providing economical products of the highest quality to our customers, is at the center of our firm's values. Therefore, we always remain conscious of the impact left behind on the environment, while simultaneously ensuring the best products and services are provided to our consumers.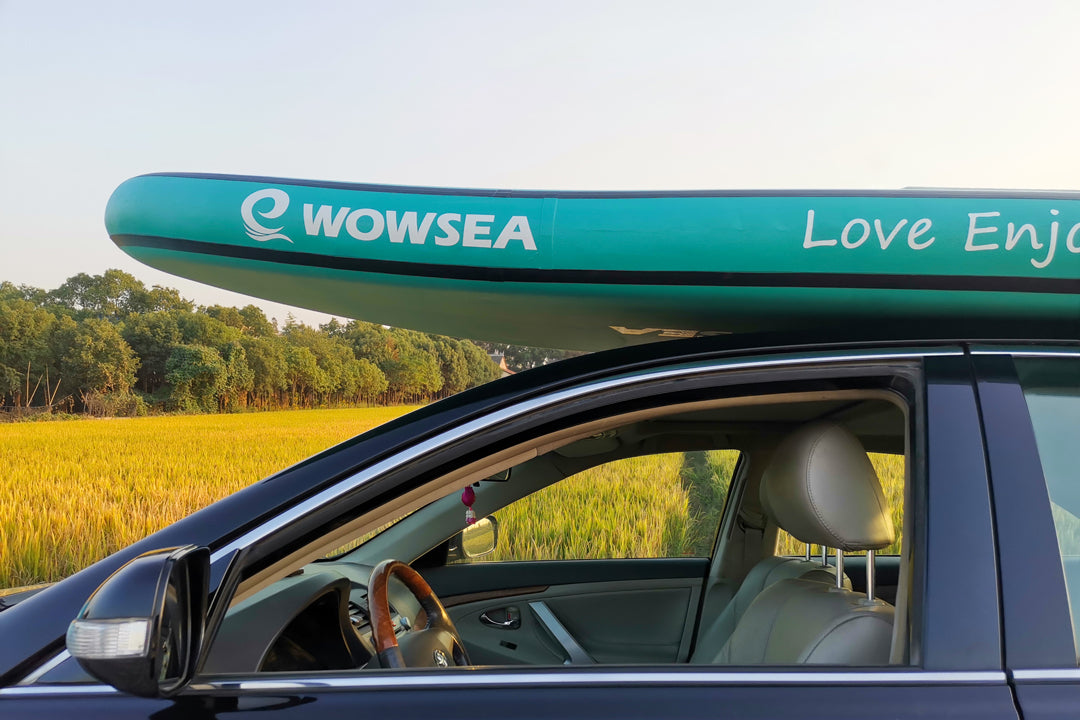 Preventing Holes, Rips And Tears
Regular checks and maintenance of your inflatable paddle board are important for its long-term durability and performance. These will help identify potential problems before they get too bad, such as a small hole or a break in the seam of the paddleboard.
While you can use patches to repair it, WOWSEA suggests that a sustained maintenance routine is the best way to prevent damage. Yo, most of which involve having the right knowledge of the atmosphere and surroundings your paddleboard will be in.
Rivers that are shallow and rocky can cause damage to paddleboards, but contrary to what many believe, inflatable paddle boards actually perform better in such terrain. Their design enables the board to bounce off from the rocks as opposed to sustaining tears or breaks.
Strong waves can also propel your paddleboard towards coral reefs, causing damage in the form of holes or rips. Therefore, you should ideally check your inflatable SUP after use to inspect for damage and proceed with repairs accordingly. For optimum durability, you should consider repairing your board immediately.
One way for you to make your inflatable paddle board last longer is by covering the bottom of your board in another layer. Many wraps can be found for this purpose and can surely offer more protection against rips and tears.
Finally, you should always treat your board with care, even when not in the water. For example, avoid throwing the board on the ground, as even that can disturb the air within as well as a result in breaking of the seams within.
WOWSEA is passionate about iSUP activities and is therefore dedicated to providing its consumers with the right guidance along with the best products. We are self-motivated to make a difference, which includes offering products and services that are economical without compromising on quality. Ultimately, we offer the best value for the products and services we provide.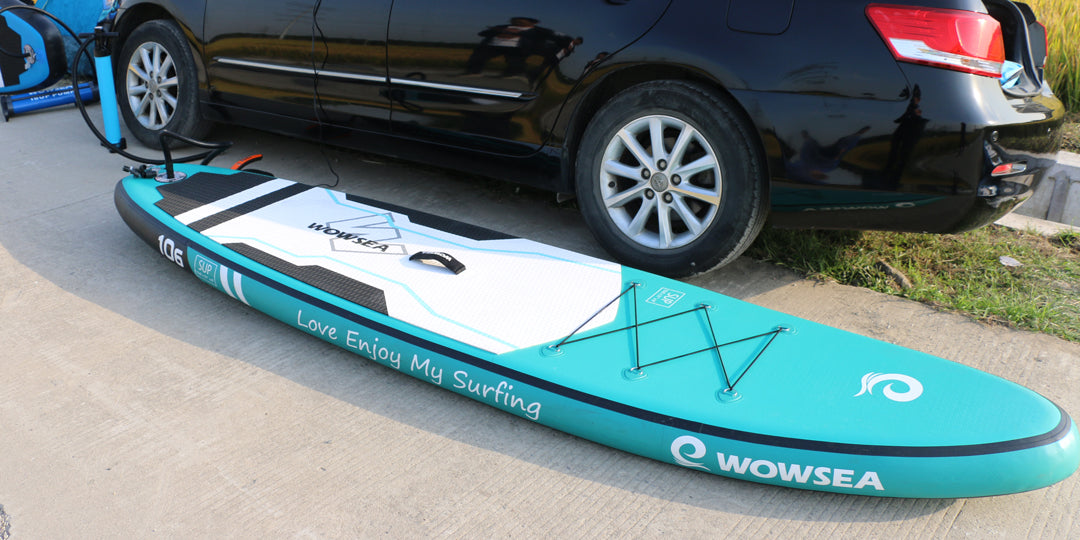 Step-By-Step Guide On How To Repair Holes, Rips And Tears
Despite taking precautions and preventative measures to keep your inflatable board in top-notch conditions, it is fairly common that it sustains damage every once in a while. Therefore, you must make peace with the idea that this will happen, and do not berate yourself when it does.
Instead, look on the bright side, for there is one. WOWSEA offers a simple instruction manual for how to going about repairing holes or tears, beginning with how to locate them on your board accurately.
Should you find a hole or rip in your inflatable paddleboard, we recommend that you go about fixing it immediately. If you are struggling to find the hole in the first place, make a solution of water and soap and then pour it over your inflatable paddleboard. This solution should coat the entirety of the board for accurate results.
Next, you should proceed to apply pressure onto the inflatable SUP. If there are holes or tears in the board, you will notice small bubbles forming in certain areas, which will indicate where the rips are.
Once the hole has been identified, you should begin sanding down the edges of the rip using sandpaper as it will make the repair easier by smoothing over the edges and surrounding surface. This step is also recommended because it makes the next step significantly easier and more effective.
Now, move onto cutting out the appropriate size for your patch and use a strong adhesive to stick it shut over the rip. Experts recommend using Loctite adhesive for this purpose. You should make sure the edges of the patch are also glued down well to avoid premature removal of the patch.
Finally, remember to smooth over or push out any air pockets or bubbles that might form, for that will weaken the patch. Once all these steps have been followed properly, your board should be ready for use again.
If you follow the instructions on hole repair, prevention, and maintenance of your inflatable paddleboard, WOWSEA believes that the board can last up to 3 years at least! 3 years of iSUP activities that you can love it deeply and enjoy with your friends and family, making this an economical expenditure overall.
In addition to the information listed above, processes of maintenance also include a number of other things. For example, how and where you store your board, how often you use it, what materials it was made from, and how often have you cleaned it.
Therefore, to make the most productive use of your inflatable paddleboard, you need to also ensure it is kept properly while off the waves just as much, if not more when it is being used on the water.
So, do not wait for anything to go from bad to worse, and ensure the upkeep of your inflatable paddle board for the best experiences and memories with your loved ones. WOWSEA will always be with you!