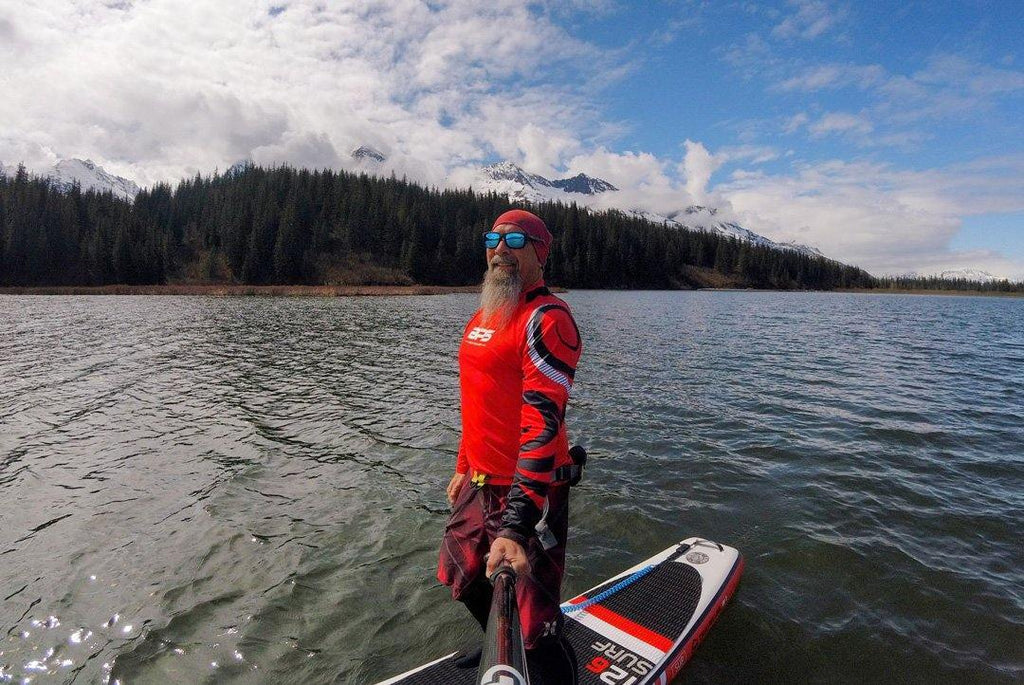 Do you want to make your weekends more fun by trying out touring on a SUP? Well, now you can enjoy your days off even more and take your family with you on touring ventures. Touring on a stand-up paddleboard opens up a brand new world full of natural, bursting with life landscapes that you can experience from an entirely different vantage angle.  Standing tall upon your SUP board while paddling lets you see things that you could not have been able to fully appreciate from the sitting position while riding on a kayak or canoe. Therefore, touring on a SUP gives you an otherworldly feeling of walking on water like never before.
In 2017, WOWSEA was started by a group of young, ambitious college students as a result of their undying love for enjoying water sports. The brand was an effortless and remarkable product of affection and appreciation that the young lads had for water sports and activities. Of course, one has to consider the spirit of brotherhood that knit them close together to help the brand become one of its kind.
Through WOWSEA SUP, they have inspired many people to take up paddleboarding, not only as a leisure activity but also as a sport that they can learn from and excel at. Stand-up paddleboarding makes a great treat for most of your weekend water adventures. It is an exceptional idea for anyone who is looking for options to get more out of yoga, expedition, family weekends, fishing ventures, fitness, or hunting adventures with friends.
But what is it that makes paddleboarding so challenging for most people? Well, one of the primary reasons is that not being able to pick a touring board that suits you can fail to become good at your work.
If you are buying a SUP board with touring and fitness as your main goal, you'll want to select a board that gives you the utmost satisfying experience when you cover distances on your SUP board but also provides you with a platform to do your warm-ups, stretches, and yoga flows, thus transforming your paddle outing into a complete fitness workout.
What Makes Any Board A Great Candidate For Being The Perfect Touring Stand Up Paddle Board (SUP)?
Touring boards are designed by keeping long-distance paddling in mind. These types of SUPs tend to be longer so they can track straighter in the waters. Touring boards for SUP also have thinner decks that allow them to go faster in the water than wider boards.
Due to their larger size, touring SUP boards tend to give you a greater degree of stability. The other major difference that you will notice about most touring boards is that they have a pointed displacement hull. The pointed nose on these boards allows touring boards to cut through chop and waves while making sure a steady speed can be maintained. It also keeps a straighter course on the water than fatter-nosed planing hulls.
You can pick between inflatable touring boards and hard-touring boards. We will help you pick out the best inflatable touring boards to have a fun water experience.
Inflatable touring paddle boards are lightweight, easy to store and carry. They provide a greater range of stability and much better weight support as compared to hard paddleboards. These boards come with a ton of accessory options as well.
Inflatable paddleboards are more reasonably priced than hard paddleboards and feature greater warranty protection on top of easier shipping options. It is a great option for hikers, teenagers, families, and anyone who wants an easy paddleboard to learn the best sport.
To make your work easier, we have recommended the three best WOWSEA SUP Touring boards that you can invest in and get for yourself. We can guarantee that you will enjoy stand-up paddleboarding much more with these SUP Boards.
The WOWSEA Traveller W1 inflatable paddleboard is an efficient, sturdy, and highly stable board that offers the ease of portability you would want in an inflatable board.
The Traveller W1 12'6" Sport SUP Board is a truly high-performing inflatable touring board built for users who wish to have a SUP with superb tracking as it can cut through the water.
The 12'6" WOWSEA SUP board is a personal favorite of many experienced paddlers. It strikes the perfect balance that you need of tracking, glide, and overall performance for SUP touring across flatwater situations.
This board is a quick and nimble option that builds and maintains its speed well and is easy to maneuver despite its long length. It comes with MSL fusion and Tec Air construction, making it tough and stabilizing the board.
The board has two removable glass-fiber RSS Battens that enhance the board rigidity by a full 40% when installed before paddling. The deck pad is broken down into two different textures, consisting of a smooth center EVA foam section to provide for maximum comfort and a rear diamond-grooved part that gives maximum traction when stepping back on the board.
The Paddleboard package contains the following accessories so that the tour paddleboarding experience can become the best you have ever had.
Paddle Board
Removable Center Fin
Coil Ankle Leash
Repair Kit
Triple Hand Pump
Backpack Bag
Gauge Spare part
10L waterproof bag
Adjustable Fiberglass Paddle
WOWSEA Flyfish F2 inflatable paddleboard is newly designed for 2021 and named after a special fish called Flying Fish. It has a slender profile that enables it to have a brisk start so it can smoothly glide over waters. It also offers the level of portability you would want to have in an inflatable SUP board.
If there is an absolute water rocket in our WOWSEA SUP board collection, it has to be our Flyfish F2. This racing paddleboard truly stands out amongst other inflatable stand-up paddleboards due to its beautiful designs, features it offers, accessories that come with it, and remarkable touring performance.
The paddleboard cuts through the water body with precision. With its narrowly pointed displacement hull and the 14' length, you'll hardly have to switch sides to paddle for maintaining a straight tracking line. The comfortable diamond deck pad on this touring board is well designed to help you get through a long day of paddling adventures or intense races. Its stellar design makes the deck and bottom of the inflatable SUP board truly jaw-dropping.
If you're looking for a lightweight touring iSUP to compete against your fellow paddleboarders, then this is the perfect pick for you. The paddleboard comes with the following accessories, so your adventures can be exceptionally amazing.
Paddle Board
Removable Center Fin
Coil Ankle Leash
Repair Kit
Triple Hand Pump
Backpack Bag
Gauge Spare part
10L waterproof bag
Adjustable Fiberglass Paddle
WOWSEA Flyfish F1 inflatable paddleboard is newly launched in 2021, and its name is derived from a special fish called Flying Fish. It has a sleek profile, a brisk start with a smooth glide. It also gives you the portability that you would want in an inflatable.
Built with advanced WOWSEA F1 technology, there isn't any other iSUP that will give you as many features packed into one at an affordable rate. The WOWSEA brand offers practical solutions for most water conditions and proves to be an excellent choice for leisure paddling, iSUP Fitness, Fishing trips, Touring, and Travelling adventures.
Simply unpack the paddleboard from its waterproof and easy-to-carry backpack, inflate and hit the waters! If you want a touring board that's a bit easier to handle for your first-time experience, then this paddleboard is your ultimate pick.
The paddleboard comes with a wide range of accessories to make your touring experience even more worthwhile.
Paddle Board
Removable Center Fin
Coil Ankle Leash
Repair Kit
Triple Hand Pump
Backpack Bag
Gauge Spare part
10L waterproof bag
Adjustable Fiberglass Paddle
Get Going!
WOWSEA wishes to come up with a well-known brand for SUP, but it doesn't require a brand premium because the main aim of WOWSEA lies in giving back to society instead of taking from it. We want the world of paddleboarding to grow at an exponential rate by making sure everyone is included in it despite the limits and restrictions that can get in the way. With your help, we believe our vision can turn into a reality!
Here's your chance to support WOWSEA by joining hands with us through a generous contribution of up to One Million Dollars that we provide to several different SUP paddling organizations to support SUP activities. Through your donations, everyone can have the opportunity of paddleboarding to bring up their game and experience one of the most fun sports.
Stand-up paddleboarding isn't difficult at all and what makes it even more entertaining is that it is a completely versatile sport that anyone, regardless of their age or fitness level, can thoroughly appreciate. However, the most important thing that will make your experience worth investing in is investing in the right inflatable SUP touring board for yourself.