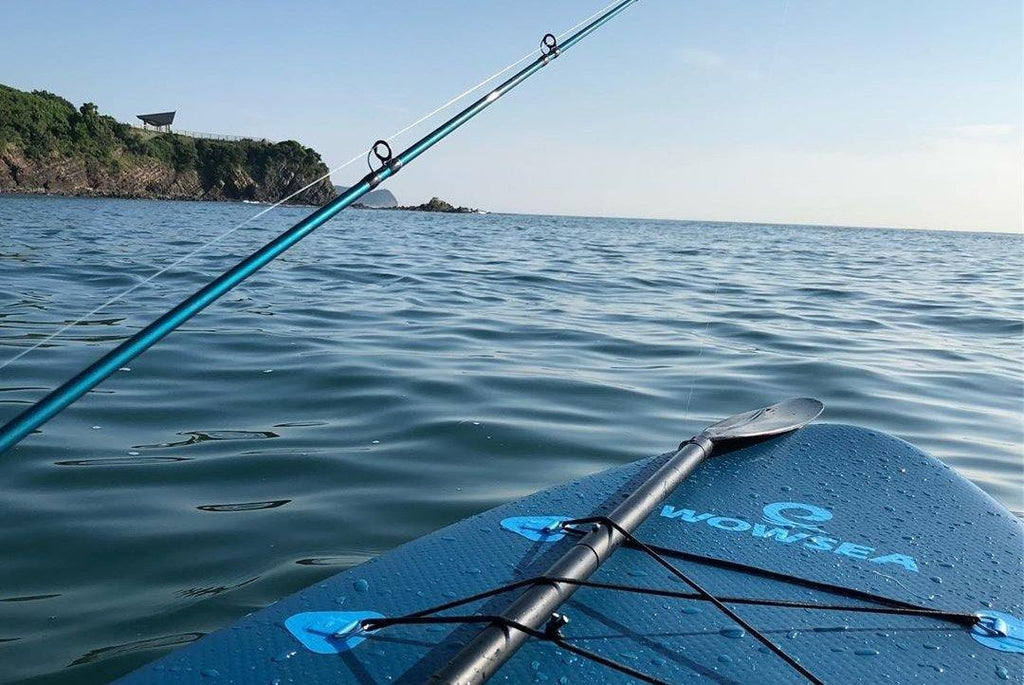 Today, Stand up paddleboarding is one of the best sports for adventuring and fishing. It was only known to a few people in the earlier times, but now it has become a worldwide sport. SUPs have been gaining popularity these days. Along with such sports, new advancements are going on in the world of SUPs.
The innovations in the world of inflatable paddle boards are just commendable. But with this, many people are confused about choosing an inflatable paddle board of a hard SUP. The answer is simple that both of these SUPs have their advantages and disadvantages. So, the choice is merely based on many other factors like weight, durability, and portability, etc.
Different factors segregate hard SUPs and Inflatable SUPs, including the carrying capacity, performance, and speed. You can go along with the one that fulfills your need. There are many myths about using inflatable SUPs, but you can ignore them as they are not valid.
We have reviewed both types of boards in detail and mentioned some points to know if you are to buy an inflatable paddleboard. This may help you in your decision, but if you want to make a quick decision, you can go for WOWSEA inflatable SUPs and won't regret it!
Some Myths about inflatable paddle boards:
There are some myths about the inflatable paddle boards that must be debunked so that you know the right thing if you face any of them. Some of the myths include:
They are extremely costly
They are very low in performance
They are less durable
Inflating the SUP is a waste of time
They are only for neophytes
These are the myths that one must do not pay heed to while looking for a SUP board. You can see what the advantages and that inflatable paddle boards worth the money. You know the right thing.
Advantages of Inflatable SUP boards:
There are many advantages that an inflatable paddleboard has got over the hard paddleboards. You can see each one of them and then decide with a clear mind. Let's take a look at a few advantages of inflatable SUP boards:
Portability:
As it is pretty clear from the name that inflatable paddle boards are more portable than hard SUPs as they are light in weight and easily transported. If you are on vacation or going SUP fishing, then the WOWSEA Flyfish inflatable paddleboard can be the best choice for you.
All the inflatable paddleboards are easy to carry as they do not require any special racks or tie-downs. You can easily carry them anywhere you want without any uneasiness. These inflatable paddle boards are also great for balance activities like yoga.
For family trips, you can easily take inflatable paddle boards as it is suitable for teaching kids and safe. In the end, you will indeed say Love Enjoy My Lifestyle. Pumping air in them is also quite an activity, but you can use an electric pump for that as well. 
Lightweight:
This factor also accounts for the portably as inflatable paddle boards are way lightweight than hard paddleboards. Even if you are teaching the children or teaching your junior to paddleboard, you can go for inflatable boards.
Most of the hard paddleboards are twice the weight of a typical SUP, so you won't have to worry about carrying them. The paddleboard's weight also depends upon the type of material it is made of and its composition. But, mostly the weight of an inflatable paddleboard range abt 20lbs.
This weight difference also reflects the performance. Hard boards can easily cut through the water surface, but regarding speed, inflatable boards are not inferior. So, in short, if you know how to paddleboards, you can work with both.
Durability:
Whenever you want to buy something, the first and foremost thing you look for is the durability of the product. If you buy a reliable product like WOWSEA, you do not have to worry about the product's durability.
The durability comes with the composition and material of which the paddleboard is being made. Durability also comes with how the inflatable paddle board responds to different surfaces like rocky and different waves. So, how to care for your inflatable SUP? There are a few points to note here.
Performance:
Whether you choose a hardboard or an inflatable paddleboard, both of them have their performance tested. Whatever company you choose, you will have the tested results, but for emerging brands like WOWSEA, the products are known to have exceptional performance and high strength in water. 
If you want to paddle on rocky surfaces or shorelines and high waves, then inflatable addle boards will be more durable, being flexible. But it is tested that they can work fast in such conditions. But if you got a puncture, then it's a drawback, and you will fail that time. Do Inflatable Paddle Boards Puncture Easily? Click to take a look.
Safe and affordable:
Safety is the foremost concern for any sport that you do. Inflatable boards and rigid boards both are safe up till you have a firm grip on them and are stable. You are a beginner; then inflatable paddle boards are the most recommended for you. So before surfing, fishing, or doing any adventure, make sure that you know what you are ceiling with.
The soft and comfortable upper surface of inflatable paddle boards is quite suitable for slow and peaceful activities like fishing and yoga. So now it's up to you that what you are buying it for.
Regarding price, inflatable SUPs are similar to hard SUPs, but they worth it with so many benefits mentioned above you can go for them. And companies like WOWSEA offer them with the best dual layered in an affordable range so you can get a quality product without breaking the budget. Go check it. 
Drawbacks:
There are no significant drawbacks, but considering that nothing is perfect, you can consider that the inflatable paddle boards lack in the following:
They are less rigid, being inflatable, and flexible.
They are more maneuverable.
They can sink when punctured.
These are the few drawbacks that you can consider, but overall it's a win-win if you choose them and know how to handle it while paddleboarding.
Conclusion:
Now that you know everything you know, you can easily make a choice. You can go for inflatable paddleboards and do not forget to check out decent quality inflatable paddle boards on WOWSEA in an affordable range. Good luck, and Hope [ Love Enjoy My Lifestyle] is the choice that everyone really wants to make, just like we believe in Poseidon - the god of the sea, protecting us every day.