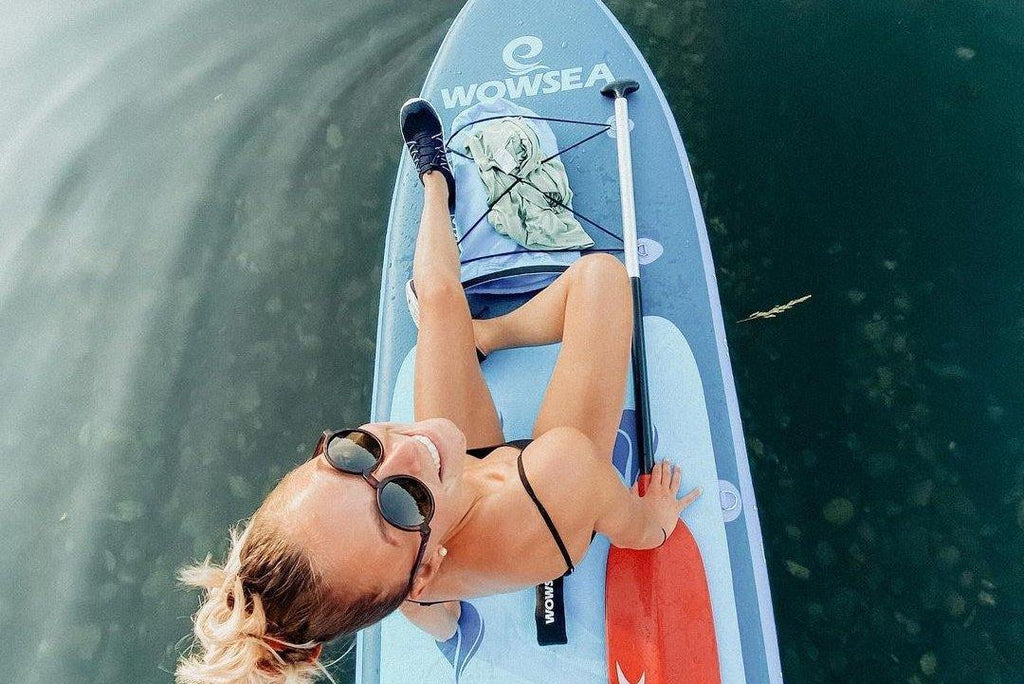 When it comes to paddleboards, there exists a great variety in the different types and shapes that might confuse a regular buyer. But for choosing the best paddleboard shape for a fulfilling SUP experience, you need to know what these shapes mean.
In this article, WOWSEA will introduce you to prominent SUP shapes according to the type of activities they are ideally designed for. For each shape, the article will mention WOWSEA's own paddleboards designed for specific water adventures.
What You Need To Know
To begin with, you must first understand that each paddleboard shape will not be ideal for every sort of activity. For example, a paddleboard that allows you to go fast will not necessarily be the ideal choice for doing yoga/fitness/travel/touring/family time, or going fishing/hunting/exploring, although it may still do the job fine. This is an important learning objective that all paddleboarders, beginners and experts alike, must realize to achieve the best experience.
Each board shape will impact how well it will perform during different activities. Therefore, WOWSEA suggests that you first figure out what sort of adventure sports or activities you are interested in trying, and then proceed to buy a paddleboard.
Types Of Paddleboard Shapes And Their Advantages
In this article, three of the most popular shapes of paddleboards will be discussed, namely, all-around paddleboard shape, touring paddleboard shape, and yoga paddleboard shape. In the last section of the article, you will find the advantages of each shape to help make an informed decision before your purchase.
1.
All-Around Paddleboard Shape
The all-around paddleboard shape is the ideal shape for beginners as well as more skilled individuals looking to engage in a wide variety of activities ranging from fishing to adventure sports. As its name suggests, this type of board can be used in various types of water environments, so it is quite versatile.
WOWSEA has an impressive collection of all-around paddleboards, such as the Trophy T1 and the Bluesky S2. Both these paddleboards are inflatable and therefore have much more portability while also offering smartly-designed features to enhance the overall experience of being out on the water.
The all-around paddleboard shape typically has a wider deck and a more rounded nose, which makes it the best board for balancing on water. Because of the wider deck, you might not be able to go very fast on this board, but should you buy a board of this shape, you will be easily able to maneuver the board around.
These boards typically are the safest choice for all beginners, as they offer more balance and stability in comparison with other paddleboard shapes. They also have more space in the back for a friend or family member should they want to tag along.
2.
Touring Paddleboard Shape
The touring paddleboard shape is designed for the adventurer, the wanderer who wishes to travel long distances while also going fast. Activities such as speed paddling and other sports activities are best suited to this shape.
WOWSEA's Traveller W1, Flyfish F1 and Bluesky S1 are recommended as the top touring paddleboards for these water adventures. The former is incredibly agile and offers more stability than other boards of this shape typically do, while the latter brings more exciting features and a sturdy design to the user.
The touring paddleboard shape – narrow deck and pointed nose – essentially allows it to cut through the water as opposed to the all-around paddleboard. This means that it allows for less water resistance, helping users go faster when paddling long distances.
However, the board is also less stable and harder to balance on because of these reasons, which is why we suggest this board to those who are more experienced with paddleboarding. Once you get the hang of balancing atop a board like this, there is no stopping you from conquering multiple water bodies!
All boards made by WOWSEA are produced with materials and processes that are eco-conscious from start to finish and are made to be as affordable as possible. We also offer boards with accessories and a bag for portability, as these boards are all inflatable.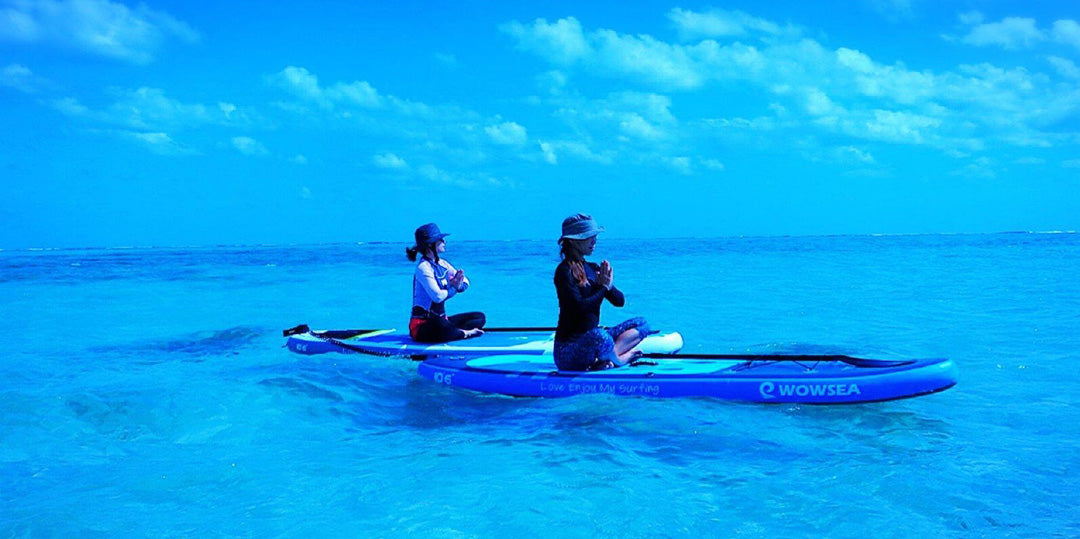 3.
Yoga Paddleboard Shape
Boards built for yoga always have a rounder nose in comparison to an all-around paddleboard shape and completely different from the narrow nose of the touring paddleboard shape. Because of this reason, these boards have the greatest stability of all three, making them perfect for yoga, fishing, and other activities that do not require a lot of high-speed paddleboarding.
If you are looking to try out a board for yoga, consider the Trophy T2 or the Bionics B1 by WOWSEA. Not only do both these paddleboards come as packages as well, but they are also both designed for slower water activities such as leisure paddling. Their greatest strength comes from the stability they offer, as every good yoga paddleboard shape ought to.
Overall, the yoga paddleboard shape makes the stability much easier to achieve, but as a consequence, it makes maneuverability more difficult. These boards are comfortable and sturdy, allowing you to relax into yoga as you begin enjoying yourself.
Why Choose WOWSEA's Paddleboards?
As a firm, WOWSEA has always held environmental consciousness and affordability of products to be important yet achievable goals while never compromising on the quality of designs or materials used. This makes our products superior to many of those currently being produced because ours is a labor of sharing love and a new lifestyle, generating awareness, and bringing the absolute best products to our consumers, finally realizes the slogan of Love Enjoy My Lifestyle.
For these reasons, all our paddleboards are designed and executed by experts and come in affordable packages to support your SUP experiences. These packages include items such as removable fins, pneumatic pumps, repair kits, ankle leashes, adjustable paddles, kickboards, and many more.
Therefore, WOWSEA is one of the top companies thinking not just about the product itself, but you and your experience as well. So, browse through our catalog to figure out which board appeals to you the most, and have the best of times out on the water with our paddleboards!