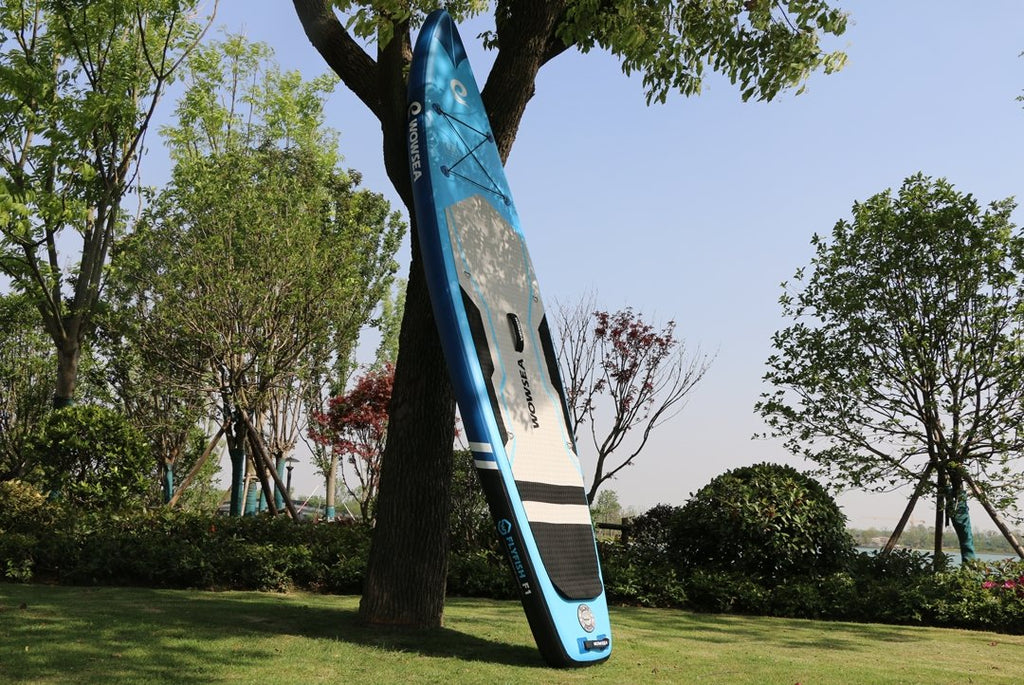 Do you find yourself easily getting confused and overwhelmed at the prospect of choosing the best inflatable paddle board for yourself? Are you frazzled with all the information online sources are highlighting as important considerations for a good inflatable board?
Luckily for you, you have ended up at this webpage and will now be introduced to WOWSEA, a leading company within the USA in recent years that provides the best services, products, and guidance on all things SUP. This article will show you a step-by-step guide on how to buy the best inflatable paddle boards in the states, and that too at affordable prices.  
The Reality Of Inflatable SUP Shopping
Like many adventure sports out there, paddle boarding tends to require a significant investment in the right materials and accessories to complement your entire experience. For most people, considering buying a paddleboard can be a big financial decision, so this article will help you make the best choice in terms of money and the value you will be getting for it.
To begin with, inflatable paddle boards are generally expensive. Prices differ and change based on the construction materials and methodology used, as well as the technology available to construct pieces well. Therefore, the price range for paddle boards is quite expansive; $299 to $1299.
If you are looking to get into paddleboarding but cannot afford to invest a whole lot on a paddleboard, then during Prime Day or other sales season, discount prices for paddleboards drop by $249 to $449 on WOWSEA boards. But there are a number of details you should consider before committing to one piece that we at WOWSEA wish for everyone into paddleboarding to be familiar with.
1.
Budgeting
The first thing on your agenda should be figuring out how much you are willing to pay. For most people, this stage is the most challenging as it requires a significant amount of research. But on WOWSEA's Blogs, you'll find other articles that have already done the research for you, so this would be a good place to start budgeting for your SUP.
Boards on the cheaper end lay between the $249 to $449 range, which can work for you if your activities include having fun with the kids out on the water. However, with a cheaper board, you should know that venturing out towards deeper waters may not be the safest thing to do like the quality of materials and technology used may not be as good as it needs to be for harsher environments.
Between the range of $900 to $1299, you will find boards of better quality. WOWSEA recommends that paddleboarding enthusiasts should begin their search for their ideal paddleboard in this range, as they offer better performance in terms of durability, agility, and protection. WOWSEA quality and experiences are similar to those big brands, but the price is much cheaper than those brands (like redpaddle, bote and starboards), because WOWSEA doesn't have selling agents, low pricing and benefits buyers.
Finally, boards above the $1300 marker are considered specialty boards that can be customized in terms of design and features. If you are sure of making paddleboarding a regular recreational activity, then specialty boards are the ideal choice for you. But if the price is way above your budget, fret not for WOWSEA offers cheaper alternatives without compromising on the quality and performance experience of the board.
Please note that WOWSEA's paddleboard is not inferior in material and craftsmanship, and the quality of the double-layer board is no different from the best paddleboard. Our paddleboards are cheap because we save a lot of intermediate costs, and choose direct sales from the factory to the consumers.
We only charge material fees, processing fees, logistics fees, and meager profits because we have a sustainable model of business, a commitment we are extremely proud of. At the same time, we also provide a two-year warranty for our paddleboards.  
2.
Activities
And SUP Type
The next thing you should be working towards is figuring out what activities you wish to take part in while paddleboarding. For each set of activities, the features required for a paddleboard will be different; flat water cruising SUP will not be the best choice for racing or fishing activities for example.
Having said that, many boards are also now being designed to cater to all the different experiences one can have while paddleboarding. Hence, all you really need to know is what sort of activities you may want to try out on the water to narrow down these specific features to a SUP type.
If you have been able to identify the kind of activities you wish to take up, then you have set yourself up to make a well-informed choice about the type of SUP you wish to buy. There are many types that you can choose from: all-around (versatile SUPs), racing, windsurfing, touring, travelling, family time, recreation, yoga, fitness, fishing, exploring, hunting, adventure, etc.
3.
Where To Buy SUP From?
After figuring out your budget and the type of board you want to buy, you now have enough information to move onto the next step: where to shop for your paddleboard?
The marketplace has a lot of retailers selling paddleboards for a wide variety of activities with multiple features and accessories. This is both a good and a bad thing because while you get to browse through multiple options, you will also encounter many people selling paddleboards without the right expertise to guide you best about the product they are selling.
Therefore, WOWSEA recommends that instead of going through all the various dealers in the market, you look for specialized online dealers that can guide you based on your paddleboard type. This will ensure that you get all the relevant knowledge about the board type you want that will help you make a better purchase.
WOWSEA is committed to providing a customer-driven experience, which means we center the needs and requirements of our consumers in every service and product we offer, WOWSEA MISSION: LOVE ENJOY MY LIFESTYLE, also The Eternal Pursuit. We are also motivated to being eco-conscious and have made sure all our production processes and raw materials used are environment-friendly.
Buy inflatable paddle boards from WOWSEA because we have high-quality boards and that too at affordable prices because of our commitment to sustainability! To learn more about our company and about our products and services, visit our webpage here: https://wowseasup.com/pages/wowsea-story