As paddleboarding becomes more popular among various demographics, many companies worldwide and beyond are investing in making paddleboards for a growing potential consumer base. However, this does not necessarily mean that every company out there is making good-quality paddleboards.
Where some companies use cheaper materials that compromise longevity, others have not considered the best designs for their paddleboards. Ultimately this means that the market is flooded with various kinds of paddleboards, some that are perhaps not safe to use and others that won't last as long as they should.
This is why WOWSEA has compiled this comprehensive guide to help you figure out which brands, board types, and accessories are trustworthy in terms of quality. There will be various sections in this article helping you through the choices available in each category.
This guide will be useful to everyone – from beginners to experts in paddleboarding. It will begin with the very basics of board types and reliable brands and then move on to the more technical aspects important for consideration, namely materials and accessories used to create the board.
So, sit tight and put on your reading glasses, for WOWSEA will help you answer the question you have been asking yourself recently: what should I look for when buying a paddleboard?
Types Of Boards
WOWSEA is a big proponent of inflatable paddle boards because of their portability, maneuverability, and a variety of other reasons that make it superior to other types of paddleboards. Hence, this guide will be specifically addressing the different kinds of ISUP paddleboards.
The first step in figuring out what type of inflatable paddle board you want is to list down the different activities you want to partake in or the skills that you perhaps want to learn. We recommend you do this first because ISUP boards come in a wide variety of designs and specifications, each constructed to enhance performance in certain respects over others.
For all beginners to ISUP paddle boarding, WOWSEA recommends that you go for the all-around inflatable stand-up paddleboard. This paddleboard has features that enable its use in different waters for different types of paddling activities, so if you are more of an explorer in terms of what sort of activities appeal to you, this board is ideal for you.
On the other hand, if you are someone looking for a paddleboard that would be ideal for specific activities like family time, yoga, fishing, fitness, travel, touring, or adventure sports, you are in luck. ISUP boards now come in tailored for one kind of activity over the other, making it quite a customized experience to suit your personal preferences.
Finally, some boards prioritize speed out on the water, which is called performance boards, and some are designed to be steadier than others. This one is called the ultra-stable inflatable paddleboard. Depending on your preferences, you can find just about any kind of board you are looking for.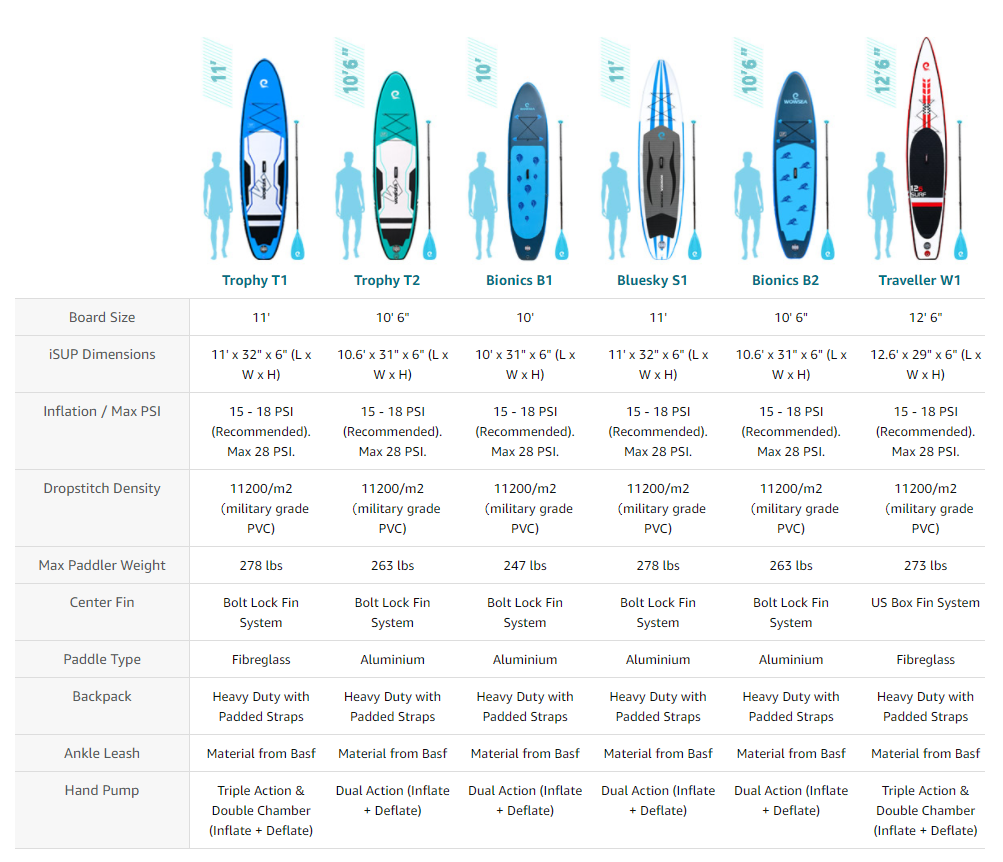 Noteworthy Brands Making ISUP Boards
Another way to also find the inflatable paddleboard of your dreams is to look at the following brands, most of whom specialize in building ISUP boards for specific activities. The list provided here is of brands that WOWSEA can guarantee make high-quality paddleboards, as many brands in the market are not using the best materials for their products.
Starboard SUP: This brand typically makes both hard and inflatable paddle boards that are ideal for windsurfing and racing. Therefore, their paddleboards can be categorized as performance boards.
Red Paddle Co: This company makes a wide variety of paddleboards for multiple user preferences but also makes specialized boards ideal for a variety of activities, i.e., racing and surfing.  
Earth River SUP: This brand's specialty is making all-around inflatable paddle boards, which are quite user-friendly for beginners that wish to try multiple different activities in various water bodies, such as rivers, coasts, and lakes.
It is not uncommon for there to be an overlap between these brands in terms of the board types they make, but knowing each brand's forte is important when considering which paddleboard to buy.
Suppose you find yourself struggling to pay a significant chunk of money for your paddleboard. In that case, WOWSEA has multiple paddleboard options of their own that are relatively cheaper than many other brands. As a firm, we believe in affordability and eco-friendly practices, so we ensure that each product is made with these principles in mind, includes the high quality and good designs for potential buyers.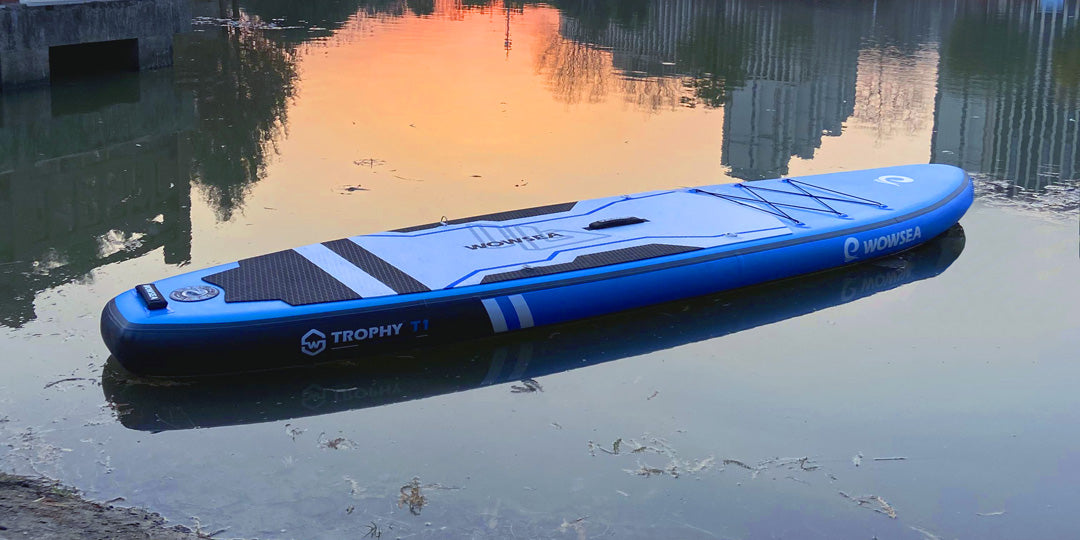 Board Shapes And Sizes
One of the most important facets to consider when you are asking yourself how to buy an inflatable paddle board is how the paddle board's shape and size affect your experience out on the water. If you find yourself getting overwhelmed at the thought of learning all this, pause and take a breath.
It is fairly simple to understand the general guidelines that one should adhere to in terms of size and shape. In the simplest of ways, a tall person or someone who is above a certain weight class should go for a bigger ISUP board for better balance, strength, and safety.
To have an even better understanding of how important shapes and sizes are, here are a few points to remember when investing in a paddleboard:
Boards that are wider will offer you more stability and balance on the water, while narrower ones will bring you more speed and maneuverability.
Longer boards will glide more than shorter ones, whereas the latter will offer you more sharp cuts and turns.
Thicker boards (6-inches and above) may afford you greater support in terms of the weight it can handle, but thinner boards offer better balance and stability.
WOWSEA recommends that a board over than 6-inches thick is not ideal for paddleboarding unless you have spoken with an expert who recommends it according to your height and weight class. However, for most people, a 6-inch-thick board combines the best features for a multitude of body types.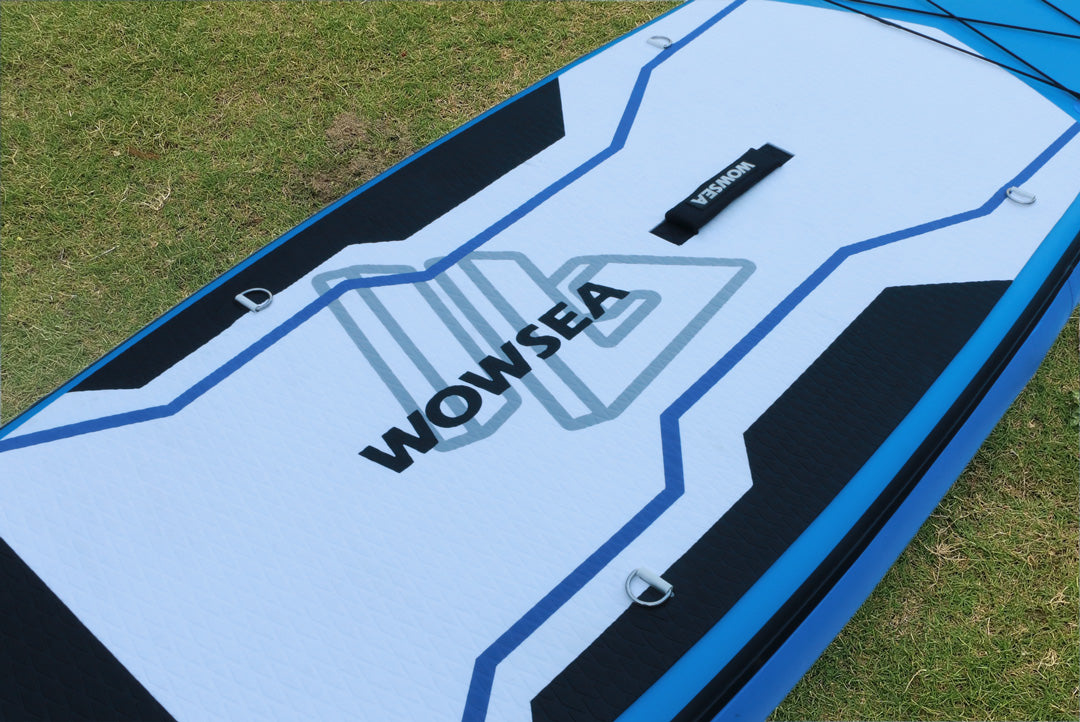 Materials Used For Paddle Board Construction
Buying a paddleboard can and should be a one-time investment in fun and adventure, but this does not always happen, unfortunately. This is because there are brands constructing paddleboards using sub-par materials or being dishonest about the making of their product.
These instances can not only be upsetting for someone paying a hefty sum for a paddleboard but also be potentially dangerous as you should know what environments your board can handle. For these reasons, WOWSEA always uses only the very best materials(11200 drop stitch), designs, and construction methods to make affordable and environment-friendly paddleboards for their consumer base.
A decent paddleboard should afford you durability and longevity at the same time. This is not an impossible feat, especially not when using the right materials. Inflatable paddleboards are now increasingly being made with multiple layers for these reasons, which include drop stitch and woven fabrics, with one or more layers of plastic coatings.
Normally there are two categories in paddleboard construction, which are single-layered and dual-layered paddleboards. Single layered ones are usually cheaper but offer less durability and protection in harsher waters.
On the other hand, dual-layered ones are pricier but offer greater protection and durability than single-layered ones. WOWSEA SUP recommends the dual-layered manufacture because it is less likely to puncture or damage easily, making it a more worthwhile investment as opposed to single-layered paddleboards.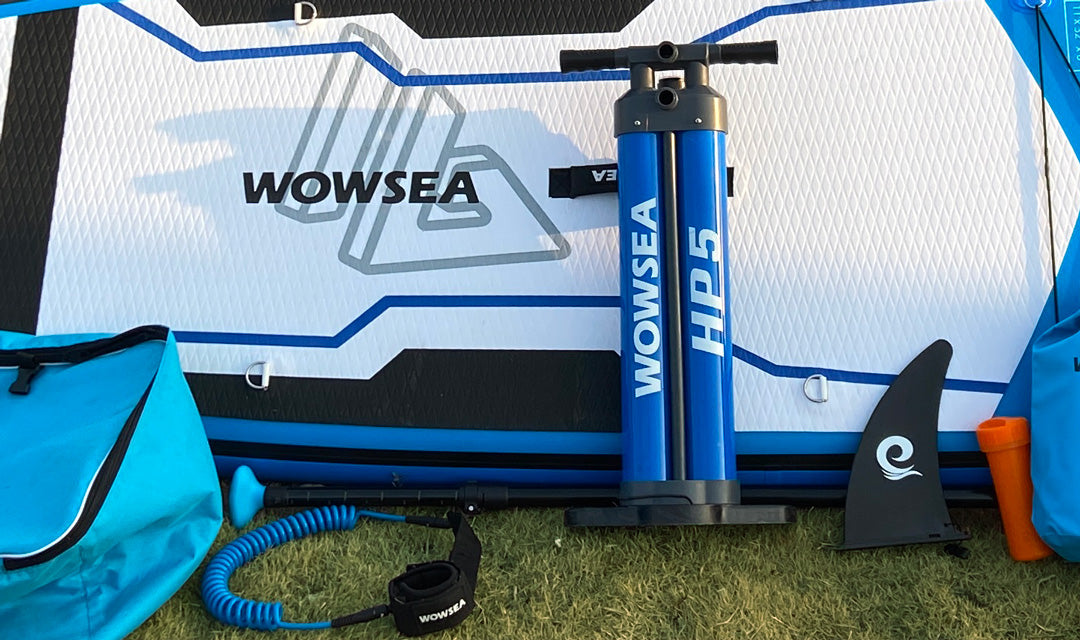 Accessories To Make Your ISUP-ing Experience Worthwhile
Perhaps the most fun part about paddleboarding preparation is buying the right accessories to support your needs and desires out on the water. This means that while you will be prioritizing safety and taking the necessary precautions, you are also allowed to indulge your inner child to a significant degree in this experience.
Because WOWSEA wants to make sure your time out on the water is as memorable as possible, here is a wide variety of accessories and products to elevate your paddleboarding experience. Some of these will enhance your skillset out on the water, while others will help you relax and enjoy whatever activity you are indulging in out on your paddleboard.
ISUP Leash
This item is a lot more concerned with your safety, as it essentially keeps you tethered to your board if you get knocked off of it when in the water. A leash is one of the most important accessories that make up your ISUP gear, for it is responsible for keeping your board with you, allowing you to climb back on it.
Like in all other areas described above, leashes also have different types, and being able to choose one that is both reliable and comfortable does not have to be a challenging task. Some leashes have a springing back effect, others are complete without it, but the one WOWSEA recommends the most is the hybrid version of both these former leashes.
Hence, the hybrid leashes will not drag behind you, hurting your ankles, or bounce back too hard, potentially hurting you everywhere else.
ISUP Pump
For any inflatable paddleboard, a pump is required to fill in air properly before getting started with paddleboarding. Whenever you typically go out to buy a paddleboard, you will mostly encounter only manual pumps and those too, which will vary in terms of their quality.
ISUP pumps can come as single cylinder pumps, in which air is pushed into the board only when you press down, not when you bring it back up. Additionally, there are also dual-action pumps and dual cylinder pumps, which are essentially designed to pump air into the paddleboard even when you pull the lever up.
Therefore, a dual-action pump or a dual cylinder pump will cut down significantly on time it will take for the board to begin filling up. But now that the market has made electric pumps available, it is very difficult to switch back to the manuals. For example, a 12-volt electric SUP inflator pump is incredibly convenient to use, as it can be powered by your automobile or a portable energy source even.
Personal Flotation Device (PFD)
Yet another safety accessory is the personal flotation device, otherwise known in its abbreviated form as PFD. In many states, this component is mandated by law to be used by paddle boarders and typically comes in two forms; an inflatable jacket or belt.
For all beginners, children, and people who cannot swim too well, they highly recommend that they stick with the inflated jacket. It can potentially be the difference between life and death. But it is not uncommon for good swimmers and experienced paddleboarders to prefer the belt instead.
The belt offers people greater movement and direct contact with the water, which can be an important facet of their ISUP experience. It is thus far less obvious on your body and comes with a string that you can pull on in an emergency. By pulling the string, you will be releasing the carbon dioxide from within a cylinder inside the belt to help you float to the top.
Nonetheless, however, many different activities when paddleboarding mandates the use of the life jacket, so wherever required, you should always opt for this safety precaution over the belt. Despite how confident you are in your skills out on the water, it is very easy to lose balance and find yourself in a dangerous situation, so stay safe and take all precautions that you possibly can.
And there you have it! Here was one of the most comprehensive guides on how to go about buying a paddleboard for ISUP, where you've been now acquainted with all the basics of paddleboards. If you are still interested in learning more about paddleboarding or wish to do more research before committing to a single product, visit our website and check out our blogs here: https://wowseasup.com/blogs/news
To learn more about our line of products, you can also check out our products via this link: https://wowseasup.com/collections/all; which we guarantee are made from the best materials possible, with superior design and execution, WOWSEA hopes everyone "Love Enjoy My Lifestyle" through paddling sports.