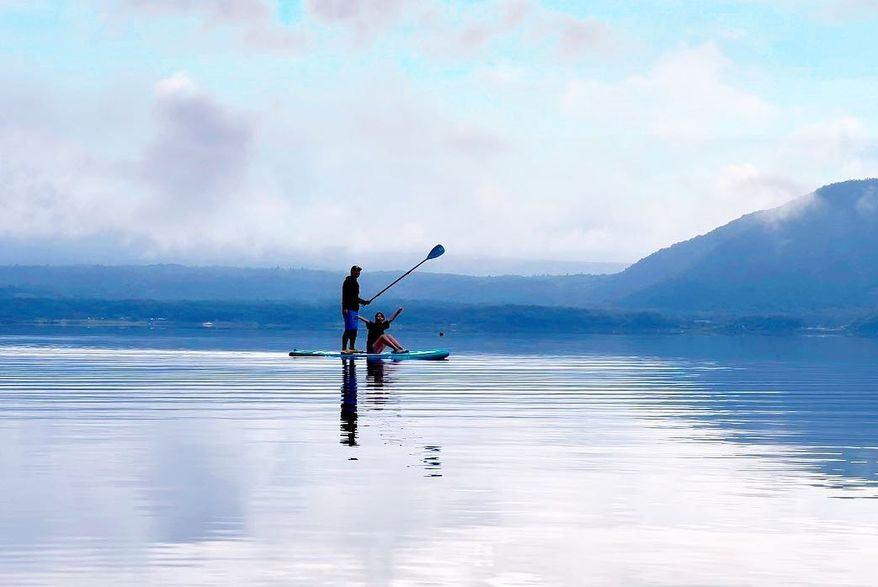 Over a bright summer's evening in New Zealand, my partner Alex and I were on the eastern coast of the North Island heading in the direction of a famously remote beach village, Opito Bay.
We had just travelled 3 hours from our bustling Auckland city lifestyle to be here with a beachfront Airbnb awaiting us. With what goal? To explore the coast, test out a pair of new boards we had purchased and to try our hand at paddle-fishing!
Optio Bay had attracted our attention for some time (but we of course had never found the time to visit with a busy work life). The rumours we heard were of crystal calm waters, wild beaches and an abundance of marine life. At the time we were completely new to paddle-board based fishing so we planned to start at a steady pace and with a relaxed rhythm. No rush necessary.
We had some new boards to make use of too so we were excited to arrive. As we conquered the last of the luscious forest in our small Nissan, the view of the bay spilled out before us. The salty surface of the clear blue water was calm and surprisingly in fact, without a ripple, there was a slight breeze that day. The seabirds were diving for small bait fish and the shoreline was deserted for all but a couple sharing a beer on their picnic blanket and a lone fisher woman casting her line. Heaven and tranquility is what we had been searching for and here it presented itself.
We checked into our Airbnb and without further ado, unpacked, changed, and we snatched up our boards and headed straight for the water. We were excited to go out as the new boards were from a growing brand known as "WOWSEA". Previously we had experimented with other brands which had passed our tests as acceptable but always each board presented a minor issue in one form or another. The WOWSEA boards had been recommended to us by surfing friends and Alex and I after some debate decided to invest in a pair of boards branded as the "Trophy T2". The T2 are 10'.6'' and described as innovative with it's technological advancements, environmental friendly production process and its usefulness as a multipurpose board which are all features important to us. We skimmed our T2's out into the bay, with paddles in hand and we began to make our way from seashore to open water. The sun began to set slowly and cast a romantic orange tinge across the landscape of hills and island waters. Our paddle was brief with the night closing in quickly but the boards certainly performed well and I noted they were easily maneuverable in the water. A good first experience with WOWSEA SUP Board, but they needed to be tested further!
The following day was the real test for adventure and of the quality of our new gear. Upon our return the night before we had planned to venture around to some of the neighbouring coves and begin to get a feel for fishing from the T2's. We had wanted a board good to fish from as well as something practical for coastal adventures. The boards were equipped with inflation equipment and we had a smooth assembly experience, gratefully as again we were eager to hit the water.
I was feeling slightly anxious in a mixed sense of nervousness and excitement. But we were going fishing! Something we had had interest in for a decade, but we had little experience with the combination of paddle boarding and fishing. I also didn't completely trust our new boards just yet as they needed further experimentation. Alex led the way as we directed ourselves south-east along the coastline to search for a nice spot to cast out our lines. We both made use of new full-size watertight backpacks (which had come with our new boards!) to place our phones and snacks inside. Further, our fishing gear and baits were securely held down to the front of the board on the built-in bungee straps keeping our hands free for paddling, we had a full load! 35 minutes had gone by as Alex slowed to a drifting stop (which took some time as the board seemed to cut through the surface of the water with dynamic speed and ease. "Do you think this is a good spot?" I questioned as I scanned our surroundings, there were no signs of anything fish friendly in our current position. We would only have to venture another 200 metres and arrive at a lone boulder poking out of the water's surface. I was sure that below there would be a nice shelf for a reef system which would surely be home to our target fishing species.
Alex however had her eyes focused elsewhere, "Look over there Luke, check it out!' she murmured in response, "I just saw a fin".
A what? My brain went into overdrive, Shark? Jaws? No, Really? This isn't a movie. But nonetheless after holding my breath for 30seconds I saw… "Dolphins!' Alex exclaimed, grinning from her left to right ear. I saw one fin, then eventually a tail and then... "wow Alex there is a family of them!". There were more than 10 dolphins within the pod containing both adults and young ones alike. All were leaping about excitedly, darting above and below the surface of the water at such speeds I could only catch glimpses of their finer details. We paddled an inch closer being cautious to respect their space. A young (girl?) dolphin no more than a metre in length began to race towards us, and at the last second she changed her direction veering left as if playing a game. The fishing was completely forgotten. An hour passed and our hearts were beyond full with joy. Eventually the dolphin pod tired of us and began to journey out to the more open ocean, "to go fishing, for us" I thought. Nature really allows people to feel a part of the world in an organic way from a different perspective.
Over this weekend we continued to relax on various beaches, yoga, touring, hunting, fishing and exploring (very successfully) and we even visited the nearby open surf beach. Our Trophy T2's excelled at all of the above without fault! Our encounter with the dolphin family is an experience which will remain in my own and Alex's thoughts for our lifetimes. I am overjoyed that we had the calmness of good weather, luck and a good quality piece of paddle boarding equipment within the Trophy T2. A "dolphin friendly" multi useful board which we continue to use to this day. WOWSEA is a growing SUP brand, worthy of savoring and following.