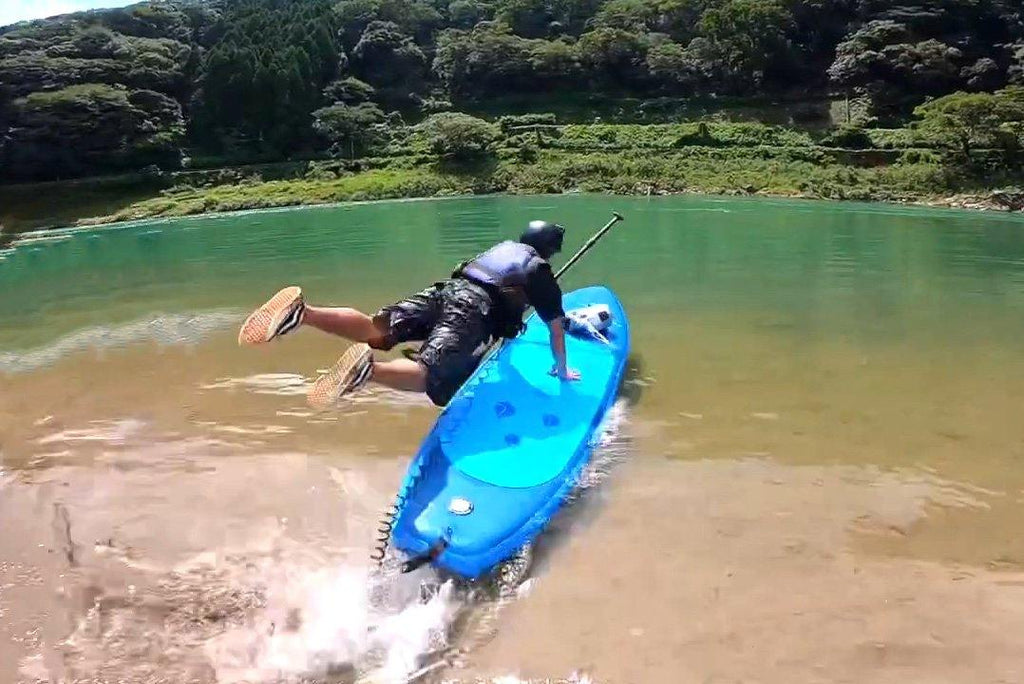 Guess what? We have some good news for you. You can run whitewater on a paddleboard now! We can assure you that once you experience river running on a SUP, you will not sit down to run whitewater ever again. These SUP Boards have the right rocker to surf on waves, carve, and turn in whitewater with maximum ease. Read our whitewater inflatable stand-up paddleboard guide to make sure your paddleboarding experience is worth a try!
In 2017, WOWSEA was founded by many young, ambitious college students due to their undying love for water bodies. They felt at peace being around waters which is why they thought it to be a good idea to introduce inflatable stand-up paddleboards.
The company was started based on the deep love and appreciation that these young men had for water sports and activities. Another important factor that gave way to their mission was the spirit of brotherhood that knit them close together, giving birth to the remarkable world of WOWSEA.
WOWSEA has inspired many people to not only take up paddle boarding as a sport but also to excel at it by learning and mastering the sport further. Paddleboarding makes a fantastic way to make the most out of your water adventure trips. It is also a remarkable way of achieving your fitness goals because it keeps you active and also burns calories, finally hope that PADDLEBOARDING will become a kind of lifestyle for all like the paddling sport, LOVE ENJOY MY LIFESTYLE is more than just a slogan.  
It is definitely a great investment that you can make for yourself and your family if you are in search of exciting things to do during the summer vacations or even for weekend getaways. Having an inflatable stand-up paddleboard for yourself will make the experience of yoga, touring, expedition, family weekends, fishing trips, fitness, or hunting adventures with family much more fun than before.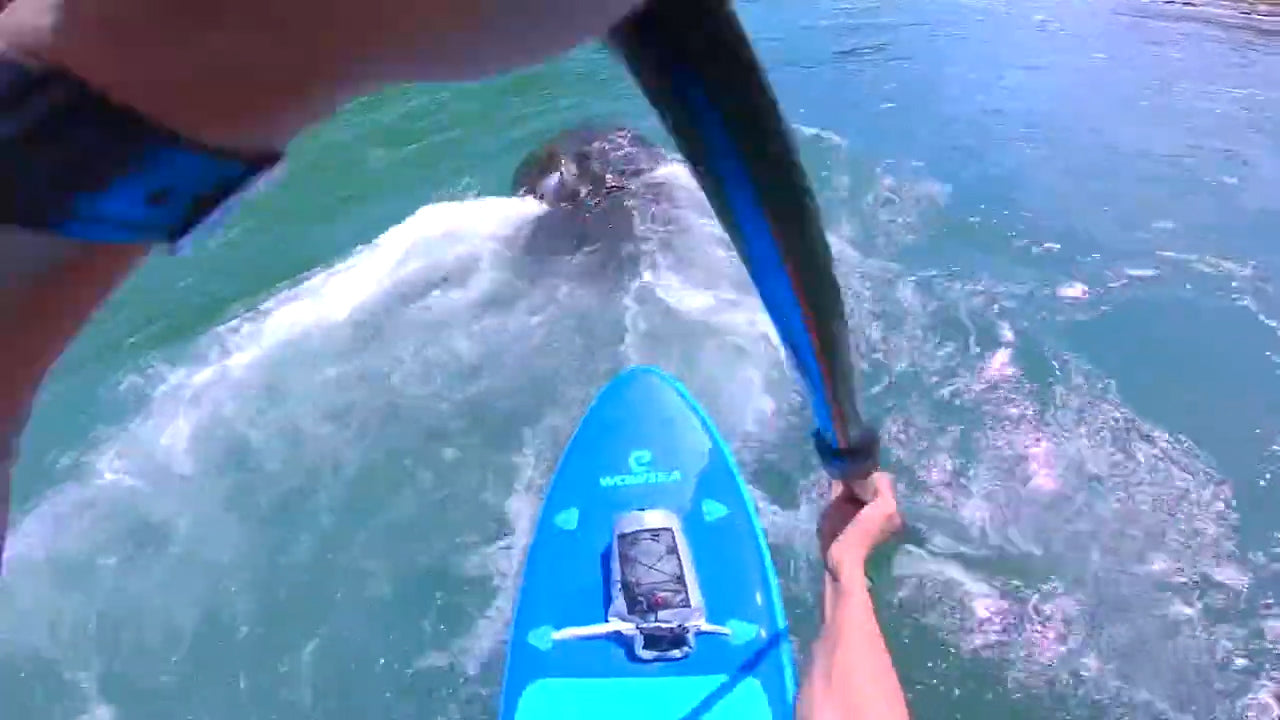 All You Need To Know About Whitewater and Whitewater Paddleboards
Whitewater starts to form when a river's gradient changes to the extent that it starts to generate enough turbulence to trap air within the water. This results in the formation of an unstable current that froths. Due to the froth, the water appears opaque and white.
Whitewater Rafting is an outdoor recreational activity that makes use of an inflatable stand-up paddleboard to navigate the river or other bodies of water. This sport is often done on whitewater or different degrees of rough water for entertainment.
Picking The Best SUP Board For Yourself
Inflatable stand-up paddleboards are undoubtedly the best type of paddle boards when it comes to whitewater. However, finding the best inflatable SUP for rivers is a challenging task for every beginner. The right inflatable paddleboard will feature sturdy construction and enhanced stability compared to rigid boards. These features make them an ideal choice for handling a whitewater's rough and unexpected course.
These inflatable SUPs can help you maneuver easily through protruding rocks to speedy whitewater rapids. With the right inflatable SUPs with you, you can take on the most extreme river conditions without even slight difficulty.
Start With Dimensions
To buy yourself an inflatable SUP that works on fast-paced rivers with whitewater rapids, you need one that comes with specific dimensions. The best inflatable SUPs that you can use for whitewater paddling have a wider template measuring around 32-34 inches and are relatively shorter, measuring between 10'6" to 11'0".
Another thing to note is that your SUP board should have a pointed nose that is well-suited for cutting through chop and rapids. You'll also want to search for a board that has a durable deck pad so that it offers as much traction as possible.
These specific dimensions on an inflatable paddleboard make it a great pick for a whitewater board because the extra inches on the width give you a more stable ride and better maneuverability when riding down rapids.
A shorter length is also better because it makes surfing easier around protruding elements in the whitewater, such as rocks or tree branches. 
Paddleboarding is supposed to be an enjoyable and fun sport. To make your day with family and friends more enjoyable, WOWSEA has designed a remarkable inflatable paddleboard that can sail on whitewater without any trouble.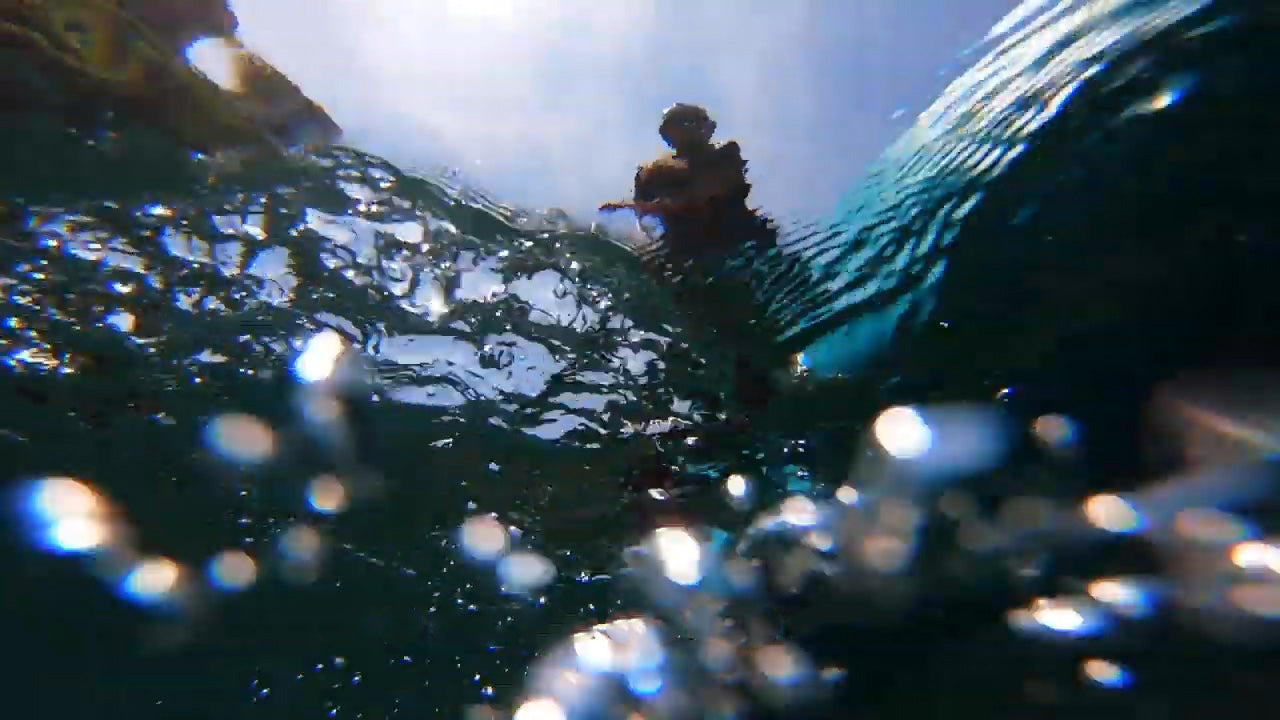 The Flyfish F1 and The Trophy T2, Which Deliver An Experience Like Never Before! 
It comes with a top paddler, easy to carry, and convenient to store. You can also travel around with it in a backpack with ease. The paddleboard is built with advanced WOWSEA F1 technology.
You will not find another iSUP that houses in as many features at a reasonable price point as the WOWSEA brand. It is a practical choice for most water conditions and an excellent pick for anyone who is looking for leisure paddling, iSUP Fitness, Fishing trips, Touring needs, Family time, Exploring expedition and Travelling adventures.
Simply unpack your inflatable paddleboard from its waterproof backpack, inflate it, and hit the waters straightaway. We also have some compatible accessories that you can use to prepare for some necessary adventures to carry out on the water if the need arises.
The Package Includes The Following Items
Paddle Board
Removable Center Fin
Coil Ankle Leash
Repair Kit
Dual Action Pump
Backpack Bag
Gauge Spare part
10L waterproof bag
Three Piece Adjustable Paddle
Support Our Cause
Do you want to support WOWSEA in its noble mission? Here's your ultimate chance to do so by donating up to One Million Dollars to us so that we can distribute it between different SUP paddling communities that help to support SUP activities.
WOWSEA wishes to establish itself as a promising famous brand, but we don't intend to become a high pricing brand premium. We want to help you Love Enjoy Your Lifestyle and expand the world of SUP by making sure everyone is included in it regardless of limitations such as age and fitness levels.