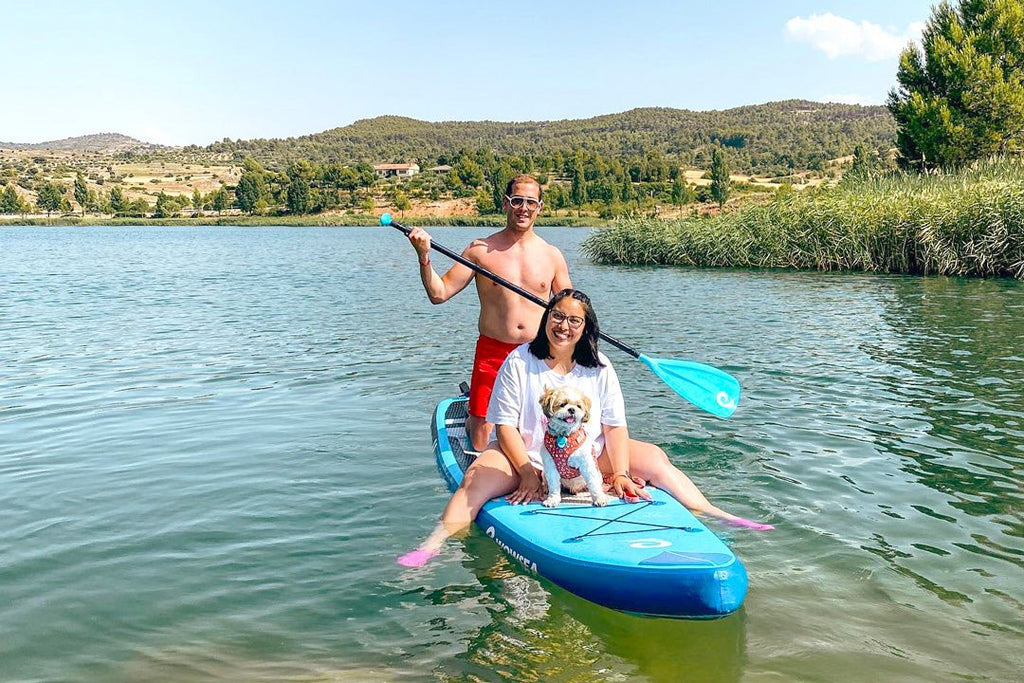 Rügen Island has continuously hosted our families winter getaways for more than 3 generations. An extremely tranquil place in the colder months and being located on the banks of the Baltic Sea, it has proven to be the ideal spot for everybody within our clan to breathe a bit of fresh air far away from the hustle and bustle of Munich.
My favourite childhood memory on the island was also my first experience paddleboarding. It happened over my 14th birthday in 1992, my family and I were all on the island for our yearly vacation. My grandpa John, who was a very spontaneous and experimental man,  proposed that we all go out for the day to try what he called "Easy Surfing". He had been reading a novel about the British explorer, Captain Cook, and his explorations throughout the Pacific. Here, Cook had apparently witnessed numerous indigenous Hawaiians utilizing the boards in calm waters with paddles for transport and fishing. My grandfather became inspired by the Hawaiians and went about renting a couple of cheap surfboards from the local surf shop and even borrowed a pair of canoe paddles from his old fisherman friend. Long story short we failed completely with paddleboarding, however to this day I nevertheless regard my 14th birthday as one of my greatest childhood memories.
Fast forward to 2019. I now have my own family consisting of my amazing wife Julie, and my beautiful 17 year old daughter Johanna. For Johanna's upcoming 18th birthday we all decided to take the trip up to Rügen Island and, semi-inspired by my late grandfather's ingenuity, I went ahead and purchased a far more modern version of the paddle board to give to my daughter. The board itself was marketed as the Trophy T2, by WOWSEA.
The 3 of us arrived on Rügen Island late in the evening, the night before Johannas birthday. Fortunately, it was an easy task to stow away the new Trophy T2 board within the car's trunk as it is an inflatable piece of equipment (which I must add is excellent for storage!). The following morning an ecstatic Johanna (to my delight) enthusiastically tore apart the packaging to reveal the flashy, new board and with the day already planned, we hurriedly packed the car to head out to one of Johanna's favourite beaches for the day.
We arrived at her beach just after lunchtime therefore we were hungry and scoffed down a couple of ham sandwiches and some "Bienenstich" cake before we all went to work reading the instructions on how to actually set up the paddleboard. This was extremely easy and with in no time, we had inflated the impressive looking board and Johanna had put on her winter swimsuit ready to go! The afternoon was full of sunshine and the water calm, however, German waters are notoriously cold and winter swimwear is very necessary, even when paddleboarding. We aren't polar bears!
Out on the water Johanna and her new toy looked great. She literally seemed like a professional paddler who had been at it for years. I'm not entirely sure whether it was her skill or the quality of the board itself (I assume both!). I was happy and so was she.
Fast forward once more to 2022. My wife and I have also purchased a pair of our own WOWSEA paddle boards and we have fully adopted the full time paddle boarding lifestyle (as best we can)! The 3 of us now visit Rügen Island multiple times per year thanks to our newly found interest in Stand Up Paddle Boarding. Much thanks has to be given to my grandfather's 1990s fantasies and to the impressive quality of the WOWSEA equipment which boosted our confidence on the water. Paddleboarding is now our family's biggest hobby!