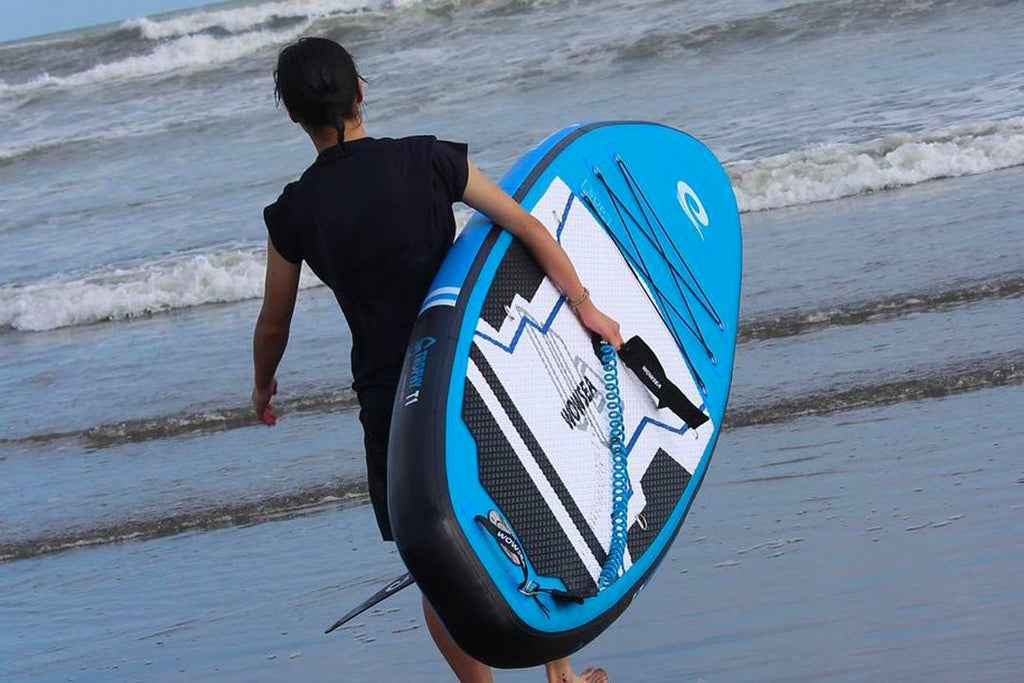 Regarding activities outside of work, I used to struggle to find something I truly enjoyed. However, I recently discovered my passion for water sports, which has been a game-changer. I purchased a moderately priced paddle board, the WOWSEA Trophy T1 SUP board, which exceeded my expectations.
Why WOWSEA Trophy T1?
I began to take an interest in paddle boards, but since I was just starting out, I didn't want to invest in expensive equipment all at once, especially since it was just for leisure purposes. As for racing, that's something to consider in the future - who knows? Of course, I wouldn't want to purchase anything too cheap either.
There are not many inflatable paddle boards at this price, and most are either expensive or cheap. Even if there are not many, I found several brands, and what attracted me to WOWSEA Trophy T1 is its simplicity. I wouldn't say I like fancy things.
With its 11-foot length and 32-inch width, this board is perfect for balancing on and stable enough for beginners alike. And it's a complete package, no need to worry about buying a paddle or accessories separately - this board comes with everything I need. The package includes a fiber-glass paddle, a turquoise crystal clear leash, and a backpack for easy storage and transportation, and so on.
Made from high-quality materials, the Trophy T1 is built to last. It feels good to the touch, the fitting parts at all positions are also very flat, and there are almost no wrinkles on the side. And the Trophy T1 can be used in various conditions, from calm lakes to small waves. Its shape and design make it easy to manoeuvre and control, even in choppy waters. So, whether you're looking for a relaxing paddle or an adrenaline rush, the Trophy T1 has you covered.
The benefit it brought to my life
One of the best things about the WOWSEA SUP board is the fun it brought to my life. Using it, I have made a few new friends, and we often plan trips to explore pristine waterways together. It's a great way to exercise while also enjoying the outdoors and the beautiful scenery around us.
But paddleboarding isn't just about fun and games. It's also a great way to improve my physical and mental health. Paddleboarding provides a full-body workout, engaging arms, shoulders, back, core, and legs. It's a low-impact exercise that is easy on people's joints, making it an excellent option for recovering from injuries or joint pain. Spending time on the water can also significantly reduce stress and improve my mental health. The calming sound of the water and the peaceful surroundings can help me relax and clear my mind.
Some tips to get you started
If you're a beginner and want to try paddleboarding, I have some tips to get you started.
First, start in calm water. This will help you get used to the board and the paddle without worrying about waves or currents. And always wear a life jacket - accidents can happen, and a life jacket can help keep you safe.
Learning proper paddleboarding techniques can help you avoid injury and get the most out of your workout. Take a lesson or watch instructional videos to learn the basics. And remember to stay hydrated - paddleboarding can be a workout, so bring plenty of water and take breaks as needed.
Last but not least, always be aware of your surroundings. Watch out for other boats, swimmers, or obstacles in the water. With these tips in mind, you'll be ready to experience the joys of paddleboarding in no time!
Overall, my WOWSEA Trophy T1 SUP board has been a fantastic investment. It has brought so much joy and excitement into my life, and I look forward to using it for years. If you're looking for a reasonably priced paddle board that doesn't compromise on quality, I recommend trying WOWSEA SUP.