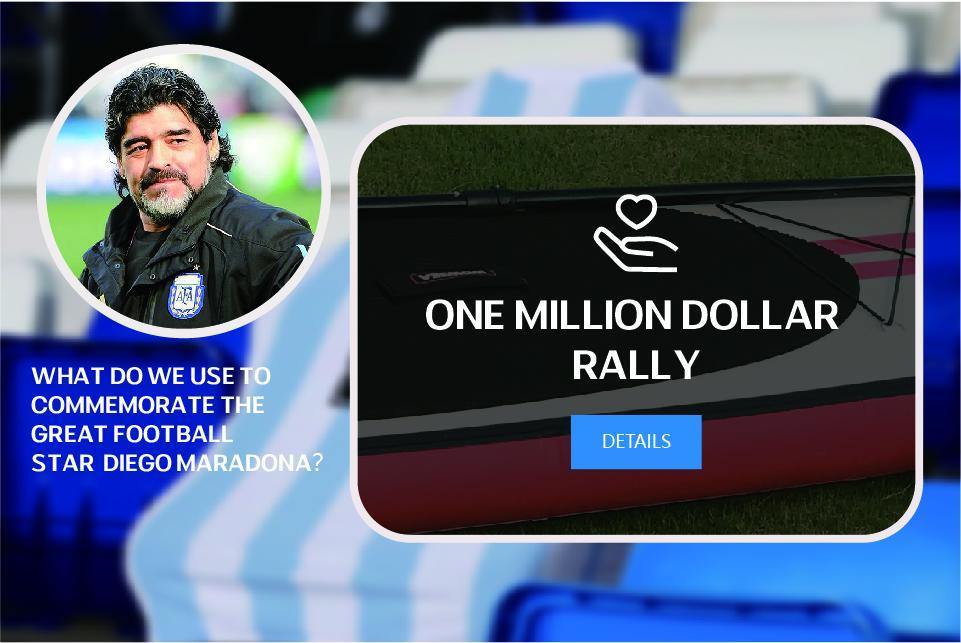 Every time a sporting legend leaves this world, it's a dark day for those not only involved with that particular sport but for anyone who holds even an ounce of passion for any sports in the world. As news about Diego Maradona's passing surfaced on the news, the world was left in a state of shock.
The Argentine sensation that has for long graced the front page of several newspapers breathed his last at the age of 60 as he died of a heart attack. Maradona was ill for a long time as two weeks ago, and he had to undergo surgery to resolve the clot formed in his brain.  
However, now with him gone WOWSEA Group wishes to highlight a part of his career and ignite a driving force amongst his fans and beyond to keep his legacy alive. We can do this by bringing about some changes in the society and reforming our behavior so we can keep Maradona's spirit evergrowing.
A large part of Maradona's post retirement life also revolved around donating to several organizations and playing charity matches that would generate funds to support the underprivileged. In light of these events, WOWSEA paddle board has decided to shed some light on his illustrious career and his contributions to society.
Maradona's History
His honor can be measured by the fact that back in his native Argentina, Mauricio Pochettino referred to him as 'El Pibe de Oro' - the 'Golden Boy.' He often stated that even sharing a room with Maradona was such a huge honor for him. Following Maradona's death, messages filled with heartfelt condolences and tributes poured in from all over the world by every sports player and beyond. It was truly witnessed to be one of the most heart-wrenching days in the history of sports.
He led Argentine to World Cup glory back in 1986, after which Maradona was considered by many as not only the most phenomenal player of his generation but the most impeccable footballer ever to grace the football field. His dedication made him win so many hearts.  
His dribbling techniques were unbeatable, and there was no way many could cut through his game. He played the game with remarkable passion and joy that, as a fan, you could feel the adrenalin rush inside you every time he kicked the ball, he brought countless honors to Argentina. WOWSEA Group wants to stimulate people's interest and enthusiasm for outdoor sports through paddle boarding, to commemorate his greatness.
Never Forget 'Hand Of God'
There's no way anyone can forget his contributions to the 1986 World Cup incident when Diego Maradona used his hand to record a goal in a match against England. Later, he termed it as the 'Hand of God.' Maradona was playing as Argentina's captain in the 1986 World Cup taking place in Mexico.
After his team's 2–1 win against England in the quarter-finals, he said, "It was the hand of God." Argentina became world champions that year for the second time on the basis of their Argentine captain in that World Cup.
In the final, Argentina went on to capture the trophy for the second time for his team by defeating West Germany 3–2. His statement following the match is included in the collection of most talked-about observations in the sporting world.
Tribute To Maradona
In Napoli, where Maradona became the club's all-time leading goalscorer, he transformed the city as well as his club. To acknowledge and appreciate his achievements, a 9 feet tall statue was designed for him, which still stands tall over the inhabitants of Buenos Aires, Argentina today. This statue was revealed on his 58th birthday.
The statue portrays his outstanding goal against England, which has been voted as the best goal of the 20th century by many fans around the world. The statue is placed adjacent to the Argentinos Juniors Club Stadium in Buenos Aires, where Maradona played his debut match in 1976.
How Can We Commemorate The Football Legend?
There are many ways in which we can make sure that we keep Maradona's legacy to stay alive for the upcoming generations. He deserves to have his name kept alive, even ages after he's gone. We may not be able to play a game full of talented kicks and passes like Maradona, but we can learn a lot from him to keep his name shining forever.
Even while we have sorrow in our hearts and we grieve with all that we have, we have to ensure that we always keep the spark of giving back to society alive in our hearts. That's what Maradona lived for. He received so much love from people of all ages, and he always gave it back to them by training endlessly so he could give his best performance for his fans every time.  The marketing concept of WOWSEA paddle board is also based on this.
He focused his charity works surrounding the following groups so he could create awareness amongst the public and also provide monetary help to them.
Children
Health
Human Rights
Poverty
Slavery & Human Trafficking
Aiding The Poor Through Three Charity Organisations
In 2015 Maradona reached Sri Lanka to assist three charity organizations in raising funds and collecting donations. Some thought he came there to show off his dribbling skills, but that wasn't the case this time. Maradona had bigger plans in his head this time, and he was here to make the right contributions.
The Argentinian planned to give financial aid to hundreds and thousands of poor people by setting up three charitable organizations. He also initiated an organization that would deal with making more charity homes for the homeless.
Maradona planned out a venture with Indian sportsman and businessman Boby Chemmanur. Together they launched the Boby & Maradona Gold Diamond Showroom located at the Nu Sentral Shopping Mall today. All profits yielded from the sale of gold and diamonds are given to the charity home.
The Boby & Maradona Gold Diamond Showroom happened to be the 37th outlet worldwide and the first one in South-East Asia.
With every purchase of RM1,000 that was made, customers received a 22-carat gold coin free. However, with every RM500 spend, they received a complimentary Boby & Maradona T-shirt or a football. This motivated more and more people to donate to this cause.
Besides this, Maradona often played charity matches. Due to his popularity, thousands would attend the match just to see him kick around the ball and score mesmerizing goals for the crowd. With a large attendance every time, he made sure that he could collect enough donations to support those in need.
The passing of Madonna is a loss to the world, but it does not prevent us from continuing to love this colorful world. Based on our ONE MILLION DOLLAR RALLY from WOWSEA Group, every single love-heart counts, every single supporter matters. When we are done, up to one million dollars in donations and the millions of supporters and increased awareness will make a huge difference on WOWSEA SUP paddling community.