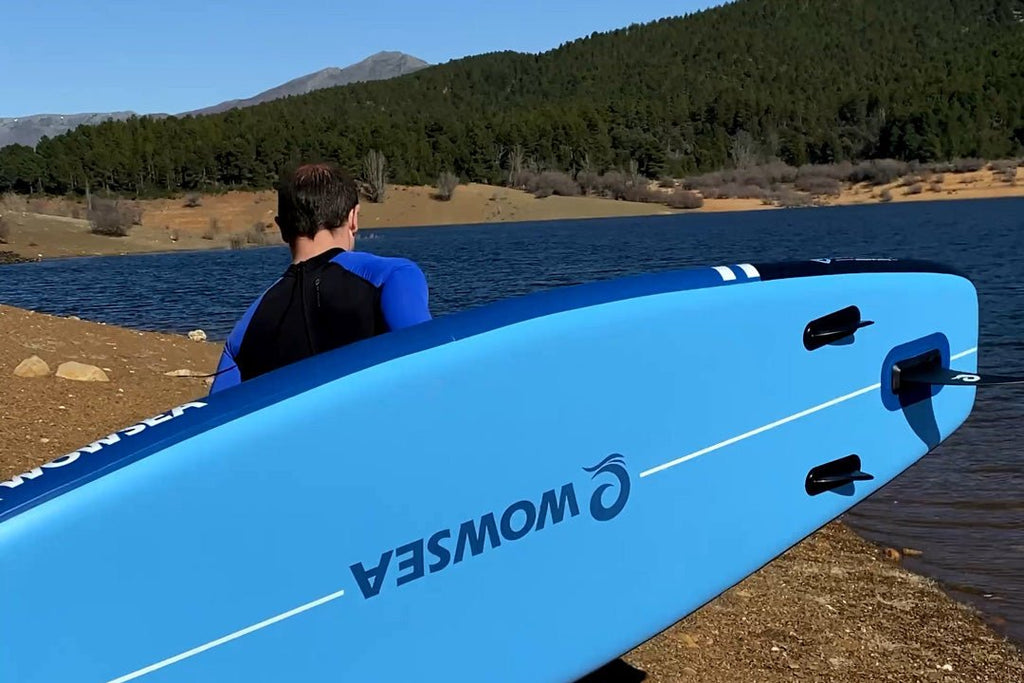 My wife Prisha and our two early teenage daughters were in the process of planning our yearly vacation to Goa, a coastal state of India some 20 hours driving from our home city of New Delhi. Every year we go here to enjoy the picturesque beaches, tropical climate and, of course, to paddle board. We always took our own paddling gear after a few years of renting equipment in Goa and eventually our family became complete enthusiasts.
At the time of discovering WOWSEA, I assumed the company as an up and coming brand as I had never heard of the company before a recommendation from a good friend. Despite this, I took the chance and purchased a Flyfish F1 model which was marketed as a newly designed and sizable 11.6 foot long inflatable. It thankfully arrived on time 2 days before our planned departure and without testing out the new Flyfish, I placed it into the back of our Nissan and we made the lengthy road trip down to Goa State.
We arrived in Goa early in the evening after two full days of solid driving. Driving in India is not always fun, as you can imagine, therefore after nearly hitting a dozen different cows that were sleeping on the highway, we were happy to be off the road and entering vacation mode. Post a restful night's sleep my youngest daughter Kaajal, was first to rise the next morning, and when she's awake, we all will surely all be awake shortly after.
"Mom! DAD!" Kaajal stormed into our room around 7am, "Can we go paddling, pleeeease!". Now to be clear, I am a slow riser when it comes to getting out of bed in the mornings.. But when it comes to vacations and testing out new gear, I could rise at 4am! Well, maybe. "Okay Kaajal, get your sister and go organise yourselves" Prisha sleepily replied, "and make sure you bring your hat please". I was already out of bed, a coffee on the boil and heading to the car to collect our boards, and my new Flyfish F1.
Around 8.15am we were on our way down to the lagoon with paddle bags strapped over our shoulders. Upon exiting the greenery of the forest we were greeted by our familiar "secret beach" which we had relentlessly returned to visit out of love. It is an old reminisce of what Goa was like 50 years ago, a picture perfect sandy lagoon with palm trees acting as shade to perhaps 10 or so small groups of people. Out on the sand we unpacked our boards and began to pump them up, I was as intrigued as ever to see my board in action. I inflated, strapped my waterproof pack beneath the elastic tie downs to the front of the board and went to the water. It felt heavy but in a solid sort of way and I slid out onto the lagoon's blue surface.
I paddled by hand until I made my way behind the calm rolling waves, stood up and looked around. I felt completely balanced atop the Flyfish as I watched my wife and children paddle in behind me, already standing upright on their boards, "come on guys, lets go explore!" I called out to them and spun around almost expertly and headed off following the coast with unintentional speed. "DAAD! Wait for us!". I glanced over my shoulder and to my shock I was already 10 metres ahead of them, never did this ever happen. My girls were always in front of me, even when I tried my hand at a race. I had put it down to my bad fitness, my Prisha and daughters maintained themselves physically much better than I did. Too much Panipuri and sweet lassis I guess. But no it wasn't that, it was my new board! WOWSEA hopes that with the help of the idea of FLYFISH, whether it is short-distance paddling or hiking adventure, users can glide briskly on the water like flying fish when exploring the aquatic world. And he was right, it did! The old board I had owned obviously wasn't the best in quality however, the Flyfish surprisingly delivered. 
For the remainder of that first day we ventured in and out of the water, sometimes sunbathing on the flour white sand or otherwise zooming around in the water on our boards. My daughters used my board after I grew tired and they doubled up together and fought on top of it, like in a gladiator match. We enjoyed the remainder of our holiday thoroughly even despite the fact that a group of monkeys trashed our apartment one afternoon in search of food. Keeping doors locked is essential, fellow paddleboarding friends!
I am grateful for my new board. It was a small risk to buy something solely from the recommendation of word of mouth, however this risk was worth it! GO GET FLYFISH F1!