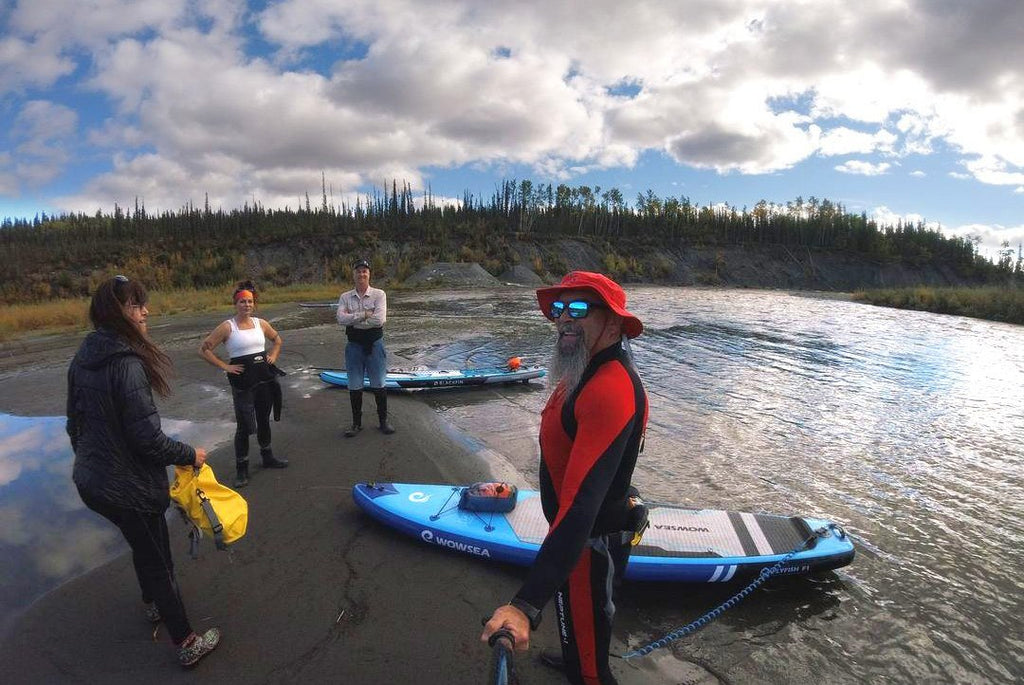 Living all my life in a metropolitan, I haven't been around nature a lot. However, it changed the day my friends forced me to go on a trip to one of the nearby mountain streams. And as everyone who knows me can testify, that experience changed me profoundly in the most unexpected ways.
I never imagined that I would develop an interest in fishing out of all the hobbies out there, but Stephen, one of my friends, got me hooked ever since we went on that work trip together.
As soon as we reached the mountain stream, I gushed over the serenity of the place when he, being an avid fly angler, started taking out his paddleboard.
His ability to analyze the fish, refine the fly, and just brainstorm amazed me. Truth be told, I was fascinated, and I couldn't help but ask him to lend me the paddleboard. In that moment, I wanted nothing other than to experience his world myself (let's be honest, I was intrigued by the calmness of the blue color).
He lent me his paddleboard, and I kicked off my lifelong journey of fly fishing – experiencing the cold breeze brushing my cheek. I wonder how I was spending my free time before.
A few months back, I went fly fishing on my own for the first time. Stephen had taught me enough about fly fishing that I could finally experiment on my own. After months of testing, tuning, and tweaking, I discovered my perfect fly fishing partner: WOWSEA Flyfish F1 Paddle Board.
To a beginner, fly fishing seems like a risky hobby, and rightfully so. People used to ask me why I didn't start with something easy like a skiff, kayak, or canoe, and I think it was the confidence that the F1 gave me. The stand-up paddle design makes the paddleboard safe enough for me to confidently stand up straight and get a clearer look at the path ahead (Stephen taught me the importance of reading the water).
Flyfish F1 is my favorite because of the visibility and stealth it offers. The rigid structure allows me to get on it without any hassle. Ever since I discovered my love for fly fishing, I experimented with some other equipment as well; a bay boat seemed like a good idea until I just couldn't stand the idea of loading the board for hours and getting it off the lift.
It's hard to go back from the convenience the F1 provides. Whenever I'm ready to fish, I just mount my equipment on the paddleboard, customized according to my fishing needs. It has enough room for carrying all my essentials for the perfect fly fishing experience.
Ranging from the sharp start to a slim profile and buttery smooth glide, the paddleboard is an epitome of perfection (fly fishers would fall in love with it instantly).
What I love about this paddle board is that it's inflatable, so I can enjoy in the water, catch some fish, and deflate it within seconds to go back home. Also, did I mention that some of my friends borrowed it for their tours and leisure paddling; they absolutely loved it too. So I really appreciate WOWSEA's brand value positioning: LOVE ENJOY MY LIFESTYLE
It can be easily packed and unpacked in its own backpack, and a set of accessories come with it for fishing. For instance, it has a repair kit, a triple hand pump for inflating, and a gauge spare part, everything one could possibly need for a relaxing fly fishing experience.
I have had countless memories with my F1. However, the one that I remember to this day, was a month back when the weather was perfectly overcast, and the light breeze was blowing around. I took out this Flyfish F1 11' SUP Paddle Boards Package and went to the same mountain stream, half an hour away from my apartment. I inflated the paddleboard with the triple hand pump, and it blew up into a 32-inches wide and 11-feet long, slender paddleboard. The width is perfect for providing stability (even when I inflated it to 15 PSI).
Mostly, I fish while standing. The flat bottom adds to side-to-side stability, and the deck pack grips my feet tightly. It doesn't let me slip off the board.
While I'm talking about stability, I do want to talk about the fin system, which keeps the paddleboard on a straight track and keeps the tail from slipping around (did I mention how its fin reminds me of "Finny The Shark" I love those videos!).
I always wanted to test the fin system, so I directed the paddleboard into the water, adjusted the SUP paddles with the aluminum shaft, and put my phone and snacks with the bungee straps since they are adjustable and provide instant storage for my extra stuff.
The side fins kept the board steady when the breeze went a bit hard, and it managed to maintain its track on the water. The same day, the spot seemed to be too rocky, but the 3 paddle board fins thruster design helped me make quick turns. I absolutely love its dynamic action. As for turning, the kick-pad feature helps carve and make sharp turns on the water surface, and there is a 10-inches removable central fin that improves stability and tracking when I'm paddling.
I'll be honest – I experimented with various paddleboards. Still, I couldn't find the ease, advanced features, and stability at such an affordable price anywhere else. The winning point is the advanced WOWSEA F1 technology and an entry rocker that nearly eliminates the running resistance. In addition, the high-tensile drop-stitch and six-inch yarn thickness promise it won't tear up when I'm on the edge of catching the biggest fish out there.
If you are pondering my experience with the impact waves, well, this little star has a coiled ankle leash that absorbs those impact waves and stretches five times its length while a D-ring is there to keep you secure. Over these months, I've tested this paddle board for fishing, just relaxing around Jones beach, and touring, but F1 11' SUP Paddle Board never disappointed, and it's one paddleboard that I will keep using as long as I love Flyfish F1 board. Not only designed to resemble a flying fish, but also to experience gliding like a flying fish while paddling, flying on the water for a while, have you experienced it? 
Kudos to WOWSEA for this on-fleek paddleboard package!