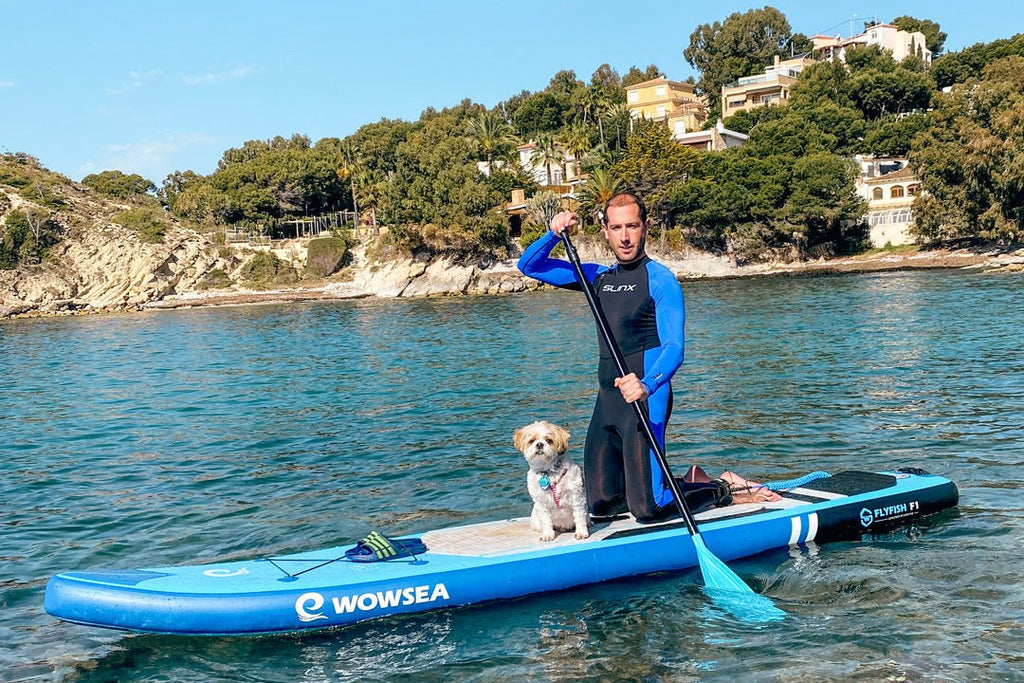 All of us like to enjoy some outdoor water sports with our families. One of the most popular watersports nowadays is SUP. Although it is quite safe, but you still need to take care of SUP safety for your family's well-being.
When using inflatable paddleboards, you should be extra careful with the equipment that you use. In case of an equipment failure, you can find yourself or your loved ones in danger. It is common to think that there can be a puncture or a tear with an inflatable SUP that can cause a leak to occur in your paddleboard.
Therefore it is important to consider the hazards while using inflatable paddleboards.
Dangers
The most dangerous thing to do is to take part in any water sport without wearing a lifejacket. This is essential for first-time users or people who have ample experience in this sport. For the sake of SUP safety, it is important to wear the lifejacket in case a leak occurs in your paddleboard, and you may find yourself in the waters. Lifejackets are a little uncomfortable to wear, but they are vital for your SUP safety.
Another hazard is not checking the weather conditions before leaving for paddleboarding. Even if you are a skilled paddleboarder, do not underestimate the power of nature. One simple miscalculation and you can get hit by harsh and rocky waves. Therefore it is advised to check the weather forecast before planning your trip for SUP safety.
If you want to enjoy any water sports, then it is essential to emphasize the need to learn swimming. Things at sea can go wrong at any time; therefore, you should know the basic level of swimming. Being able to swim can help you save your life in times of need.
Paddleboarding in shallow waters can make you fall prey to coral reefs, rocks, or an oyster bed. Moreover, if you are paddling in areas of shallow water, then you may need to paddle slowly to ensure SUP safety.
All of the above-mentioned reasons are important to consider while paddleboarding as the water bodies are pretty unpredictable, and you may find yourself in a difficult position. The condition on a paddleboard can go the wrong spontaneously; therefore, it is important to use the best quality of inflatable paddleboards like the WOWSEA paddleboards.
Choosing A Paddleboard
The most confusing thing is choosing between an inflatable and a rigid paddleboard.  Especially if you are a new user of the paddleboard, the choice can be very confusing. The most important factor to look for is the safety that the paddleboard offers. There are certain factors to consider while selecting a suitable paddleboard. With WOWSEA's advanced, new-tech inflatable paddleboard, this has become very easy.
As you can make out from the name, the inflatable paddleboards require a pump to be inflated. The paddleboards are made from PVC vinyl and drop stitch material that is put together by glue. This board comes into shape as you start inflating it.
As the seams are glued together at the middle, there is a chance of the board losing its air instantly by a puncture or a leak. Without any warning, you can have a hole in the board, and it can start to deflate. However, while using our WOWSEA inflatable paddleboards, we ensure that safe SUP is of the topmost priority.  
WOWSEA inflatable paddleboard is a great investment to make if you want a fun-filled water adventure with your family or alone. With these paddleboards, you can add a fun twist to your experience of yoga, fitness, fishing trips, and hunting.
A New Addition To The Paddleboards
The 2021 design called WOWSEA Flyfish F1 inflatable paddleboard is inspired by a kind of fish called the flying fish. Its structure has a sleek and slender body with a smooth, hassle-free glide. It is also very easily portable, making it more suitable. Made with the advanced WOWSEA F1 technology, there isn't a better model with this many features at such an affordable price.
Precautions You Can Take
Most of the rocks or harsh water conditions that you may face on your adventure are not a problem for our WOWSEA inflatable paddleboards. Their great design and uncountable features ensure a safe SUP and can endure coarse sea conditions.
However, if you are planning a trip on sharp reefs, you may need to be careful. These ridges can get damaged, which will then harm your board. Therefore you need to be a little attentive as to where you are paddleboarding.
Moreover, an inflatable paddleboard has a greater edge over a conventional paddleboard in terms of safe SUP. The inflatable ones are safer and portable compared to traditional paddleboards. Moreover, our WOWSEA paddleboard can be used by all age groups easily because of its user-friendly features.
All in all, WOWSEA inflatable paddleboards ensure the complete safety of your adventures and can be used for your paddleboarding experiences.