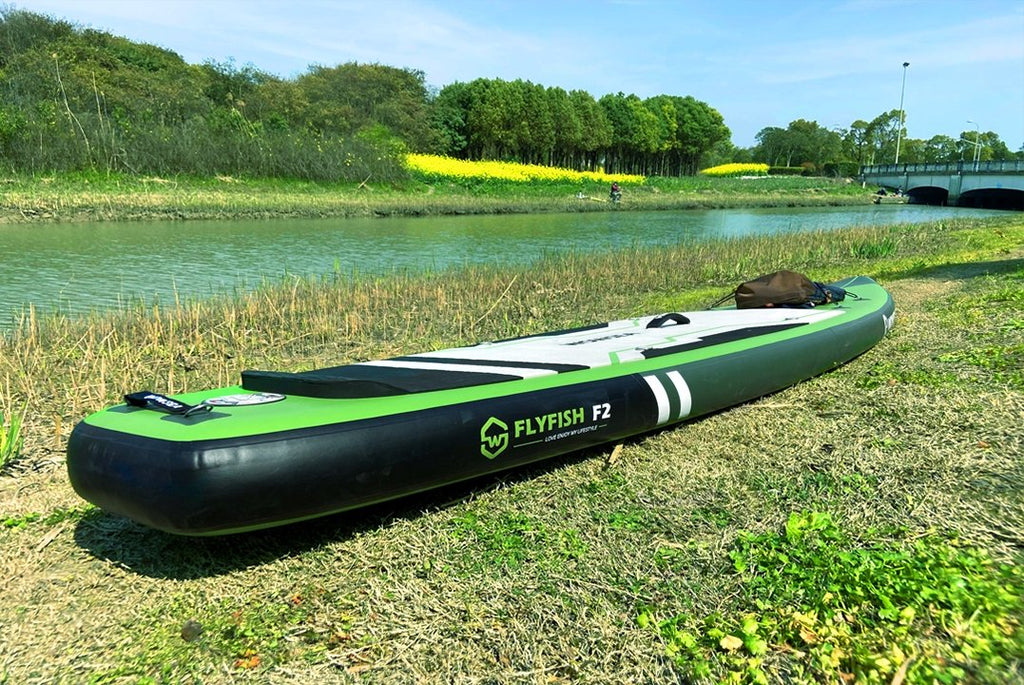 Stand-up paddle board fishing is gaining popularity these days. SUP fishing is quite enjoyable and the best way to get you into the waters. SUP fishing with WOWSEA Flyfish F2 inflatable paddle board is a perfect platform to fish.
Water activities and sports above the water surface are way more fun and interactive than underwater games or diving. Many people consider water surface activities safer and more convenient than underwater activities.
This WOWSEA SUP Board measures 12′ L × 32″ W × 6″ D making it highly stable and highly convenient for fishing and other water activities. It has been built, considering especially the structure of fishes.
You would know that there is a cluster of fishes near the water surface these are pretty active, and they detect danger quite fast with their slender tail fin. Keeping in view this factor the WOWSEA has been specially designed with a slim tail. This is how the design has been optimized for WOWSEA.
Inspirational Design:
The model name Flyfish comes from the fact that the flying fishes jump out of the water being in a large number near the surface, resembling that the model has been named. Similarly, the ocean's natural blue and green color has been the inspiration for the board's color. This is how the board has been specially designed, considering every detail.
The arrow-shaped figure on the head is a visual sign allowing you to enhance the visual experience of swiftness when you move forward. This will allow you to experience the fun of eliminating fatigue and full of power.
This model is a fantastic addition to the world of paddle boards with all the specs and features you need for efficient fishing and paddleboarding. Many people are liking it and acknowledging its excellent design and properly designed structure. WOWSEA Flyfish F2 inflatable paddle board is an entirely new model designed especially for 2021, keeping in mind all the needs and modern requirements.
You can have the most refreshing experience with it. Not only will it lighten up your mind, but it also will improve your mental and physical health. Paddleboarding and SUP fishing are the best water sports that you can do to freshen up yourself. And all this is even cooler when you have WOESEA with you.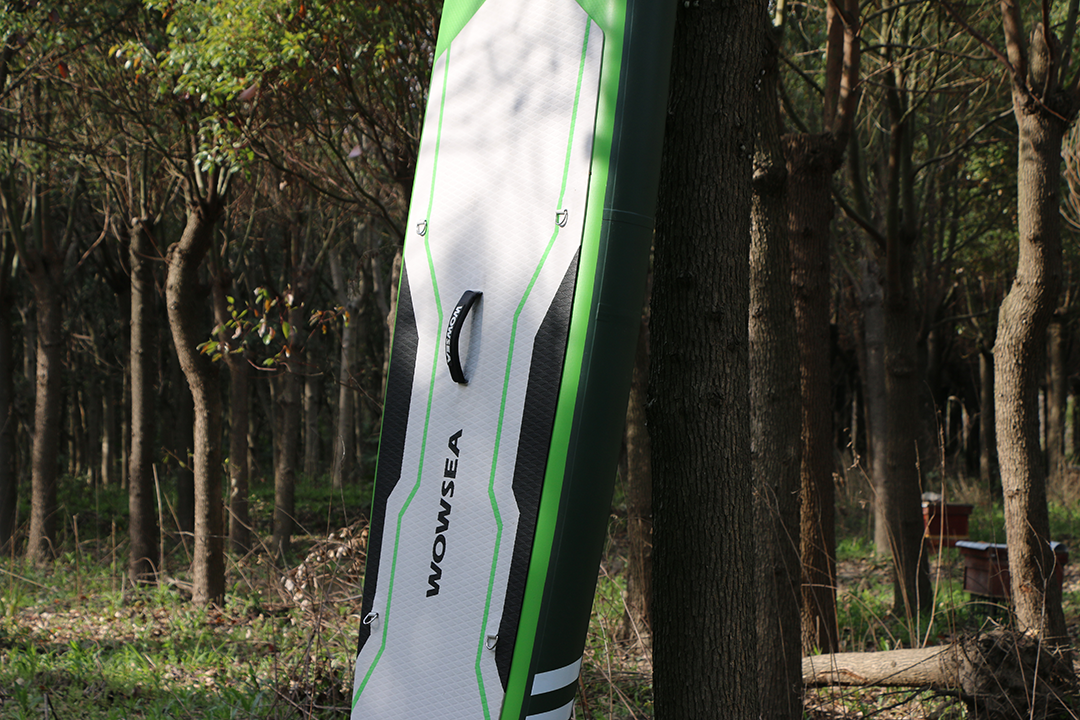 Safe and Comfortable SUP:
Safety is the first and foremost concern for WOWSEA. It has all its paddle boards perfectly engineered so that there is no chance of a problem. The size and dimensions are well-considered regarding water sports. This could be your best partner in the summers and can give you the best experience.
In case you like fishing or are a paddle boarder, then the WOWSEA SUP Board can make your life different and enhance your fun while keeping you safe. It offers maximum protection with a tripled layered composite. It enhances stability and durability along with offering the rider decent rigidity.
The board has a slender and slimmer structure based on F1 technology that offers you a brisk and smooth experience. One significant factor is that it offers the portability that you look at in an inflatable paddle board. Whether you are considering it for a short or long-distance trip, you can have the best experience with this slim and stylish WOWSEA board.
D-ring mounting points and paddle holders offer extra safety. Also, the grab handle is made of thicker memory cotton and fabric for a more comfortable grip. Being lightweight, it is pretty good for many water activities, including water yoga. You will enjoy the stability and comfortable structure while you are using it.
The side design has been optimized. The current design of WOWSEA F2 combines the model Flyfish and the slogan Love Enjoy My Lifestyle very well. That is how it is more refined and looks more succinct and grand.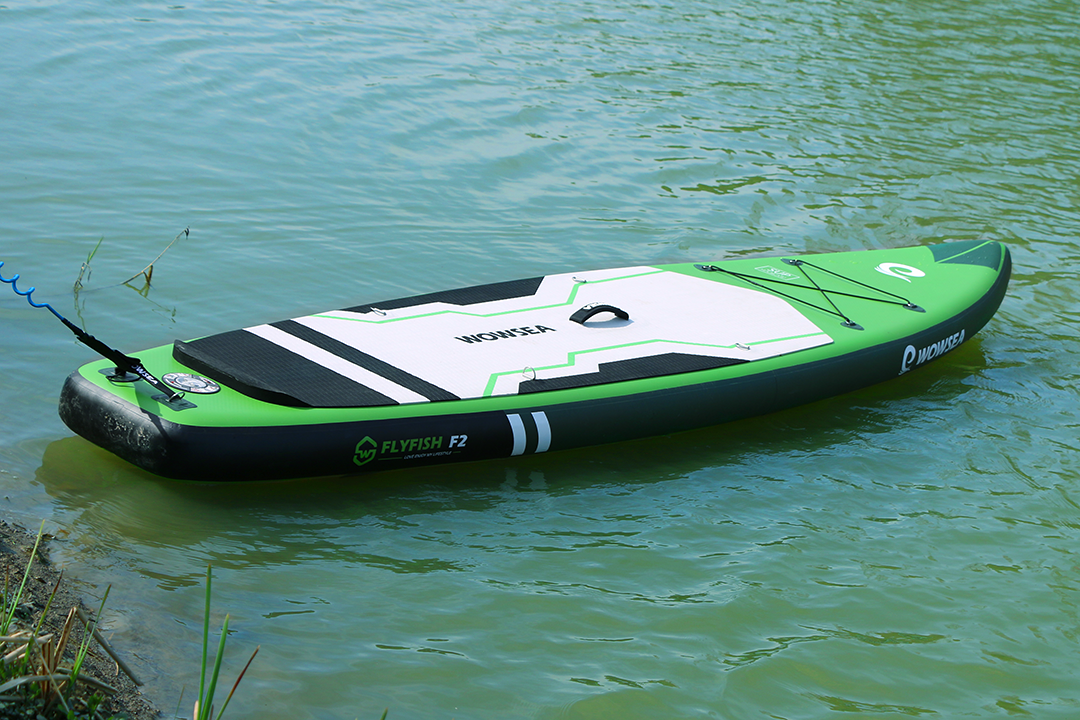 Refreshing Effect on mind and body:
No doubt that any water activity is refreshing, and any sport in nature has a refreshing effect on your mind and body. But when you have the right tool for it, then it magnifies your fun and enjoyment.
Coupling up with a decent paddle board makes a perfect synchronization with water bodies allowing you to ride the waves and fish with maximum east. On the other hand, the safety that WOWSEA offers is a factor that separates it from others.
Such a SUP as WOWSEA will offer you to improve your body posture and balance, thus enhancing your stability. One of the most significant benefits of paddleboarding is that you won't get any injuries while practicing with it if you are a neophyte in paddleboarding or SUP fishing. It is also the best design for other fitness activities like yoga.
In other words, such a water sport offers you decent muscle exercise and will allows you to lose calories. It engages all your body arts and, as a result, improves blood circulation and thus improving mental health. Sports are already considered good for mental health, and such a fun and refreshing activity with the right choice of a paddle board will surely make your life and vacations wonderful.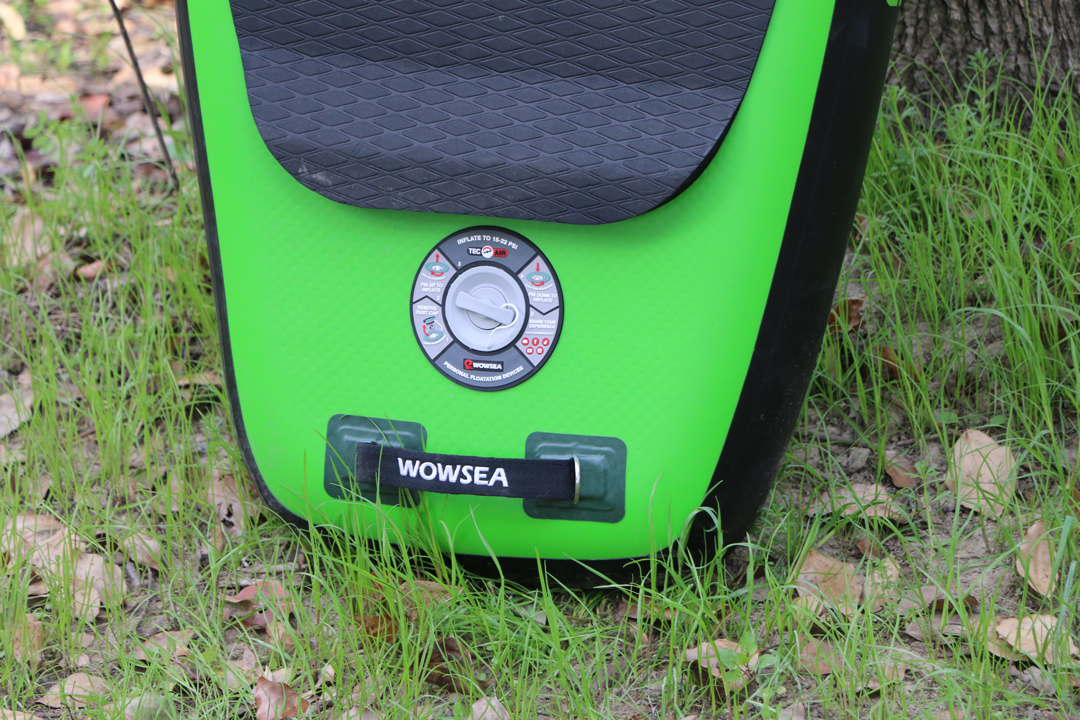 Accessories:
Considering the accessories, this SUP board has much to offer that you will surely love. You will not have to buy many things afterward as all the essential things are included in the package of WOWSEA Flyfish F2 inflatable paddle board. It includes:
Paddle Board
Removable Center Fin
Coil Ankle Leash
Repair Kit
Triple Hand Pump
Backpack Bag
Gauge Spare part
10L waterproof bag
Adjustable Fiberglass Paddle
All of them are just an addition to this great paddle board. Many other boards have a central handle that can act as a paddle handler while wrapping around the shaft, but here in WOWSEA, you will see the best paddle holder.
When you compare it to the other paddle boards, you will see that it is better than many of the all-rounder paddle boards. It has its shape tapered in front and back, making it more slender and stable. This design makes it fast and easy to glide through the water.
A lightweight handle has been added on the tail to facilitate the drag and drop by the water. This handle feature also retains the D-ring to fit the ankle leash. The critical difference between the Flyfish model and other basic models is that the EVA tail has the same bumps as the racing board, which means that this paddle board will have more skills and fun.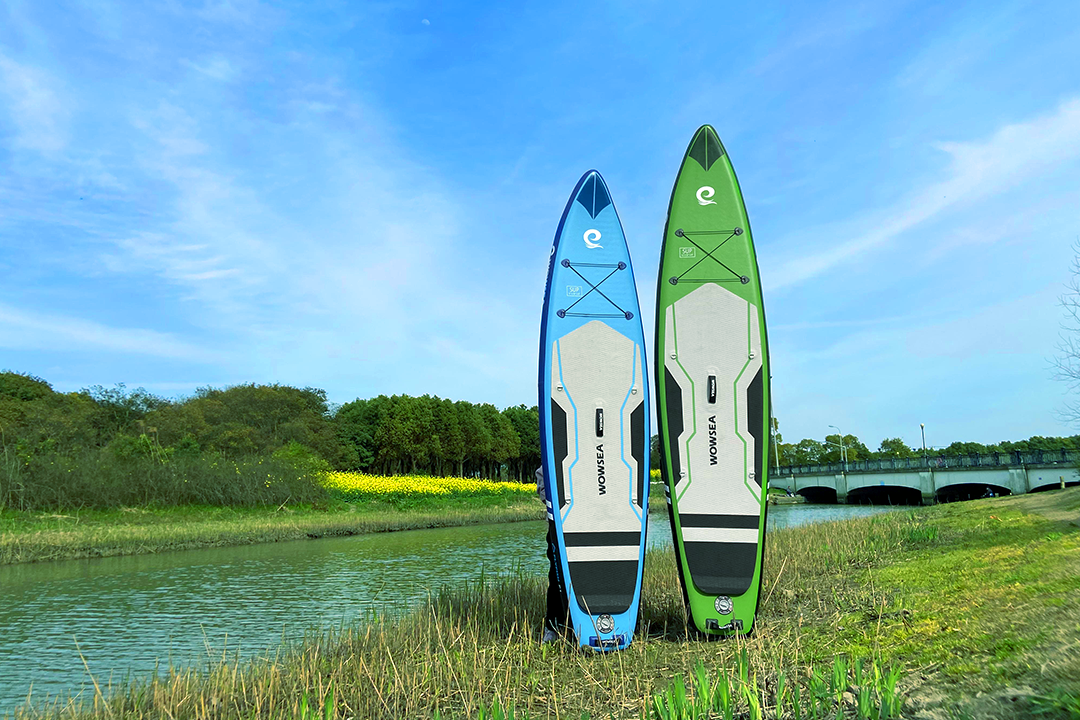 Try it yourself!
The quality of this paddle board is quite decent, and you also get a guarantee. All of these flying fish boards are double layered. WOWSEA Flyfish F2 also provides a one-year after-sales service, including all the accessories.
Regarding price, sincerely speaking, it is the cheapest of the same quality paddle boards and is only equivalent to the basic model's price. The price of similar brands has reached 1.5 times or even higher than ours. It's a done deal when you get so many benefits within an affordable range. Such a generous offer that offers fun with quality and is approachable for everyone is a top choice. Love Enjoy My Lifestyle is not just a slogan, we hope that WOWSEA SUP paddle boards can penetrate into the hearts of paddlers and feel that WOWSEA FANS are different, REALLY different!
With so many benefits offered by the WOWSEA, why not come for a test drive?