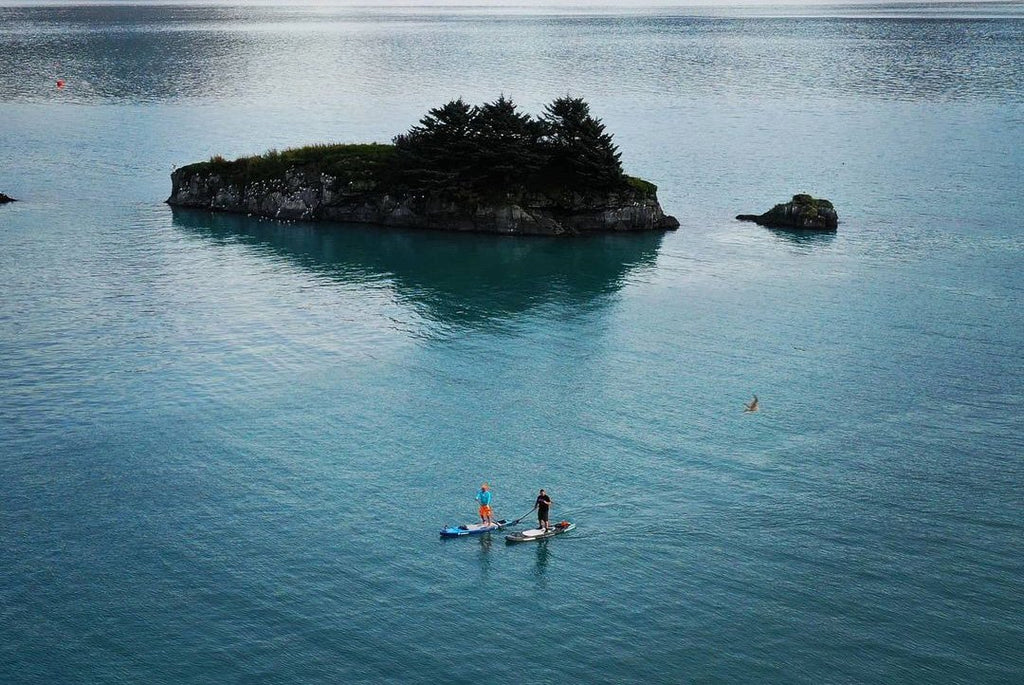 There's a good chance you will see another variation of the time-honored partnership between humans and floating boards on Britain's seas and rivers shortly. There is a new sport or a new lifestyle on the scene: stand-up paddleboarding. I think it's time to set aside surfing, windsurfing, and bodyboarding.
A single oar is used to propel yourself forward as you ride across the water on a big board in the style of surfing, punting, and canoeing. In addition to being a full-body workout that targets the core, swimming is a ton of fun, as it requires you to balance and twists to reach the end.
Due to its rapid growth, stand-up paddleboarding has become the fastest growing water sport globally, as indicated by the Watersports Participation Survey, registering the highest increase in participation among all water sports. In the UK, its popularity soared even more in 2020 – many stockiest reported that they could not meet demand following the lockdown as Brits sought out socially dangerous paddles in their backyards. In recent years, WOWSEA, the leading manufacturer, has seen its sales increase substantially.
But advancements in technology behind boards themselves contribute to their newfound appeal as well. Although stand-up paddleboarding has been around for a while, the original boards were heavier, heavier, and harder to travel with than standard surfboards. Inflatable stand-up paddleboards (or SUPs) have changed everything with the advent of compact sizes that can be stored in a boot and even taken on trains with ease. Currently, 80 percent of the market is dominated by these products.
The WOWSEA Compact board (paddleboards that fold down to half their size and weigh just 15.4kg) will allow paddleboarding adventures even without a car.
Three years ago, I first tried paddle boarding and had been hooked ever since. This form of exercise is freeing and enjoyable. As part of my quest to find the best inflatable paddleboard, I tested a range of boards and accessories with expert instruction from TJ Board Hire on rivers, canals, and the ocean.
While reviewing each board, I considered weight, speed, ease of inflation, rigidity, buoyancy, portability, and the accessories that came with the package.
I focus on inflatable surfboards rather than the longer, faster, and narrower sports boards, which are unsuitable for new surfers and those learning to surf. Professional paddlers often use hard boards because they are quicker and more rigid.
After testing and judging all, I found the Flyfish F1 SUP Paddle Boards' the best inflatable SUP board.
All-round and capable of handling various conditions, including dry lakes and surf, the Flyfish F1 11'6'' can also handle the occasional wave or two.
After purchasing your first board, this versatility will prevent you from buying another one for different water conditions.
Flyfish F1 SUP Paddle Boards'  shone brightest on the River Arun. Nifty and responsive, it allowed me to do sit-backs and step-backs with ease (in which you put your weight back against the back of the board to pivot around), maneuver tight spots, and avoid obstacles effortlessly.
However, it was equally effective at sea. With its narrow pointed nose, it flew downwind at breakneck speed in a straight line. My strength and the large fins allowed me to turn it while remaining streamlined (I suspect this resulted from both). The board, which is double layers, has a cargo bungee attached to it so that dry bags can be secured.
Additionally, it's incredibly effortless to get the board's air pressure right, thanks to the triple action, three-setting HP5 pump.
Maintaining stability, rigidity, and buoyancy in choppy waters requires the correct air pressure (PSI - pounds per square inch). SUPs usually need 10-15 PSI to work; I found that I had to place both my feet on the pump to generate the necessary PSI for all the boards I tested. In the absence of enough air pressure, your board will drag and sit low in the water, which will cause it to sink and cause you to slow down.
Despite the appearance of pure fiberglass paddles, they're lightweight and strong; I felt they improved my wasteful strokes, creating a more usable turn of speed. According to the director at WOWSEA, the paddle is one of the most critical components of the kit. The blade's shape, weight, and size will have a tremendous impact on the paddling experience. Meanwhile, all components and board material must be friendly to our environment.
To make sure that the product is right for you, try it out before making a purchase."
A leash on the board was also impressive to me. You and others will be safer if you keep your board attached to your foot leash (a loose board can easily collide with someone else). Curl your leash instead of keeping it straight, which reduces weed-catching (which can cause you to become stuck).
There's hardly any water trail on this last one since it doesn't tangle. Waterproof bags can be easily carried on the water using elastic cargo tie-downs. In addition to that, you could easily deflate, roll up, and pack your board back into its bag when I completed my paddle. In shallower waters, its large fin may contribute to a splash when entering or exiting the water (although the speed it offers more than compensates for it).
This Flyfish F1 11'6'' is well suited for all types of riding, like all the boards I tried. These all-purpose boards are good for beginners, and they are equally at home in flat water and surf for cruising or longboard wave riding.
The iSUP is suitable for most water conditions and is an excellent choice for leisurely paddling, iSUP activities, fitness, fishing, touring, and travelling etc. With our compatible accessories, you're ready to enjoy your time and want to say Love Enjoy My Lifestyle on the water - unpack from the waterproof backpack, inflate, and hit the water.