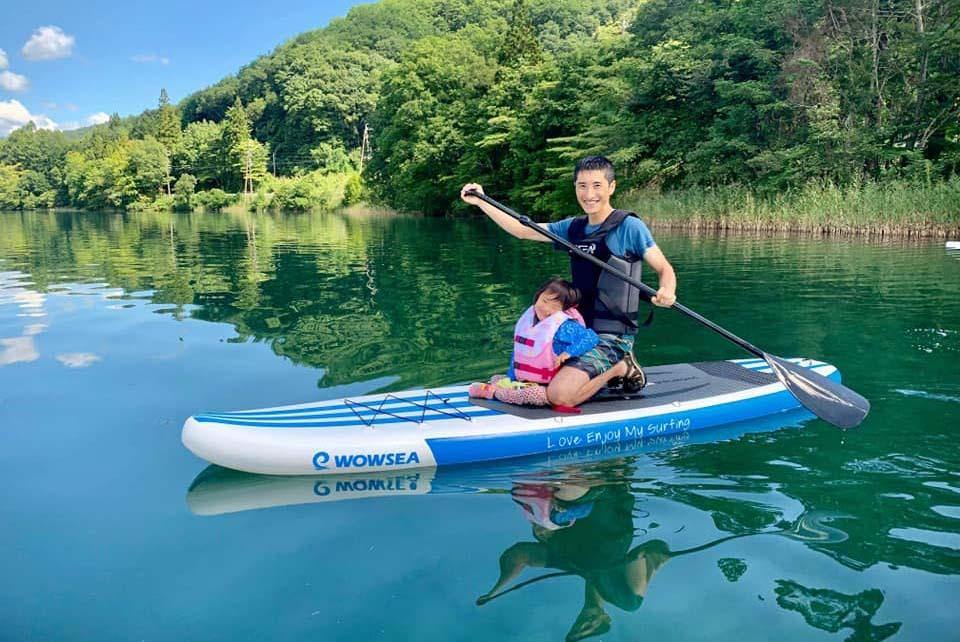 This article will take you through a variety of features and functions of paddleboards that WOWSEA can stand behind, as well as recommend you some of our best paddleboards. With this article, you will learn some important lessons on sup lifestyle and how to choose the best inflatable stand up paddleboard for you.
Types Of Paddleboards
Generally speaking, WOWSEA has identified two broad types of paddleboards: all-around and touring or racing displacement. Both these paddleboards fulfill a wide variety of unique functions, and depending on your preferences and usage, and you will change the way you experience being out on the waters.
While all-around type paddleboards can be used for multiple purposes such as surfing and other water sports, touring, or racing displacement, paddleboards are typically made for speed. This means that if your only interest is to race through a river without much else, this is the board for you.
Because of this feature, the touring/ racing displacement boards are made for flat waters, which makes them an ideal choice to be used in lakes, coastal creeks, and inland waterways.
But that is not all! In recent years as interest in water sports and iSUP has grown, so too have the types of paddleboards available for people to buy. For example, three more notable categories have emerged:
Paddleboards for kids, which is about 9'0" long, comparatively narrower and smaller in size due to their user's shoulder width, are fairly easier to carry around and move in while on water.
Paddleboards for entire families that are perhaps the longest boards to be on. Come with a planning nose and a squash tail for balance with the entire family while "on-board!"
Finally, paddleboards for women have been designed with the consideration that many can be heavy and hence difficult to carry around. So, lighter boards have been designed for women users and others to ease moving their paddleboards around.
WOWSEA is committed to the overall SUP experience of its customers out on the waters. This means that we not only aim to provide the best paddleboard to you. We also want to make sure that it is affordable. We have hence committed to making paddleboarding a fun activity for all at economical rates and done so in environmentally responsible ways.
Paddle Functions And Applications
A good paddle board for beginners as well as those deeply immersed in the SUP lifestyle comes with the ideal paddle, allowing it to be used for a wide variety of activities. These functions include fishing, yoga, fitness activities, hunting, and other adventures out on the waters.
WOWSEA recommends that when searching for a paddle that affords you balance, ease of use, and versatility, you might have to spend around twenty percent of the total cost of your paddleboard. If it costs more than this, the paddle can become too expensive, but any less might compromise function and agility.
Perhaps the most important thing to think about in terms of pricing is that whatever quality and style of paddleboard you settle on, you should be spending a fifth of the total cost on the paddle itself. This may require additional research on what suits your personal needs the best, which WOWSEA's other articles can definitely help with.
Trophy T1 11' SUP Paddle Boards Package
When it comes to both paddles and paddleboards, combining the very best of qualities is WOWSEA's Trophy T1 11' package, which includes a paddle, a bag, and other accessories. Together, these accessories make your experience out on the water both enjoyable as well as memorable with your loved ones.
And what's more is that this board unites an incredible set of functions and applications with the best possible price point. Because our company is dedicated to affordable options that are eco-conscious as well, we have put together this incredible package for our users to enjoy.
Ultimately, the Trophy T1 11' package brings to you the best products ideal for a wide variety of water activities, ranging from iSUP fitness, touring, fishing, and simply even leisure paddling.
Current Climate For Paddleboarding
As COVID-19 cases in the United States are at an all-time high, taking the necessary precautions while paddleboarding, as well as other outdoor activities, has never been more important than it is now. Hopefully with Joe Biden being sworn into Presidency in January will bring forth robust policies and adherence to SOPs to protect everyone wanting to enjoy the waters.
We at WOWSEA encourage everyone to remain vigilant and follow all SOPs to curb the spread of the virus. Wear masks, sanitize, and listen to what the experts are saying. In order to find a way out of this crisis, we must always remember to act responsibly.
Giving Back With WOWSEA
Perhaps now more than ever, WOWSEA's commitment to giving back has found a renewed motivation. This is why we have dedicated ourselves both in the past and will continue to do so today to make our products even more innovative, economical, and produced with environmental responsibility in mind.
Our goal is always to help our clients make memories for a lifetime by combining their passion for the outdoors with a civic sense of responsibility. This is because we believe everyone has a part to play in making the country a safer, more inviting place for everyone.
Giving back to the people who trust us and to nature is hence, at the core of our company's values. So, if you are impressed not only by the quality of our products but also with the beliefs we hold dear, WOWSEA is the best company for you whose products you must look out for. Happy browsing!