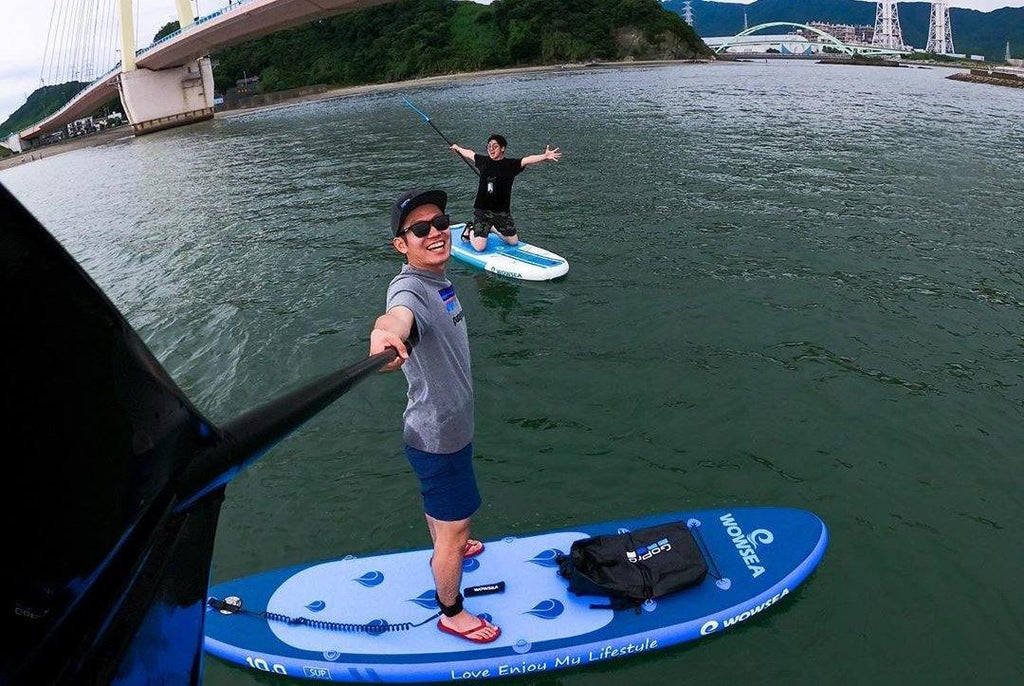 Paddleboarding should be an enjoyable experience, and a day spent on water should always be a day to relish. That is why WOWSEA paddleboards' design gives you an incredible experience in water like no other. The system is done based on customers' feedback, making it satisfy customer needs. As such, the WOWSEA paddle boards have the edge over other paddleboards in areas such as:
Durability
Being more durable, the WOWSEA iSUP has an advantage over the other paddleboards. You can experience this when you go SUP boarding on rivers or shallow waters with rocks. Because it is an inflatable board, it rebounds off the rocks. The case is different for other boards. For example, if you expose a hardboard to waters with stones, it comes out cracked and with dents.
The cost of repairing the board is also cheap if it gets punctured. Just some glue and a PVC patch are all you need. The repair kit that comes with the board will serve you this purpose, as it comes with glue, patches, and a valve tool. However, it is not easy to puncture the paddleboard. WOWSEA uses multiple layers of PVC, which makes the board rigid and durable when inflated.
Stability
WOWSEA paddle boards are so stable that even beginners can be comfortable while using them. The paddleboards have a flat bottom that lies safely on the water, making it easy to balance. The entry rocker allows the board to shed water, therefore, reducing resistance.
Additionally, the board comes with fins that help in its stability. For instance, the WOWSEA AN16 has three fins. It has a removable center fin, which ensures increased tracking and stability when paddling. It also has a round tip. With a lightweight nose rocker that can bend easily, the board glides over water and does not dive into waves.
Functionality
The development of WOWSEA paddleboards mainly focuses on the feedback received from the paddling community. In short, WOWSEA considers every opinion of users so that the users can enjoy the product even more. Being that the boards glide over the water quickly, you can use them when you go fishing, hunting, or even when you are just on an adventure.
Most of the boards have a 6" thickness, which adds them more volume and sustains more weight. WOWSEA paddleboards pick the pace and give you fast speed when you are on the water. The high speed is useful when you are on an adventure or having family time. Such experiences will provide you with an easy time keeping iSUP love and enjoyment.
Design
The designing of WOWSEA paddleboards always focuses on the need for consumers. Consumers still want products that are durable and affordable. WOWSEA paddleboards are inexpensive, costing averagely 30-40% cheaper than other boards. The paddleboards have a flat bottom that makes sure that the boards are stable enough when you are on the water.
WOWSEA uses several layers of military PVC in the making of the inflatable paddleboards, making them durable. The layers ensure that the products are of high quality. Through the use of information technology, they develop affordable innovation without negative impacts on the environment.
The paddleboards have adjustable bungee straps that enable you to store any extra belongings on the boards when paddling. The paddleboard has a comfortable grab handle. The grab handles ensure that you will not have any numb hands and balance when carrying the board.
As they put it, WOWSEA products are "designed by users for users." It is a formula that is the complete opposite of the manufacturer to customer formula. Therefore, the paddleboards are simple to use, working in tandem with the WOWSEA values of simplicity, affordability, and friendliness.
Portability
When you purchase the WOWSEA SUP boards, they come with a backpack. You can use the bag to transport and store the paddleboards. You use the bag to carry the pump, paddle, fins, and leash on top of the board. In case you have more than one panel to transport or are holding a lot of things in your hands.
For people who are low on space where they live and don't have a spare room to store a fifteen-foot long hardboard, the WOWSEA paddleboard is perfect for them. The iSUP paddleboard can fits in a three-foot bag, saving you a lot of space. The WOWSEA iSUP boards can also fit in the trunk of a car, making it easy for you to transport them. You do not need any special equipment to transport them.
Accessories
On purchase of the WOWSEA paddleboards, it comes with all the equipment you need to go paddleboarding. In case you are going for a long tour, it comes with a SUP dry bag where you can carry some commodities. Such things may include clothes, provisions, and other equipment. You only need an air pump, the leash, the paddle, and a backpack on short trips.
The paddleboards come with a paddle that you can dismantle into two parts for easy transport. The process of disassembling and assembling is easy, and it can take only around 30 seconds. It is also not massive, as it weighs only 1.05 kilograms. You can also adjust the length of the paddles, from 175cm to 215cm. Therefore, anyone up to 1.95 meters tall can go paddling.
The pump that comes with the paddleboards is so simple to use, and you can switch from single stroke mode to double stroke mode by closing the air intake. The leash has a holding line that only reaches its full length when getting into the water, preventing it from getting stuck on underwater plants and stones.
Comparison with Other Brands
WOWSEA vs. Red Paddle
Like WOWSEA, Red Paddle also provides SUP boards for different users.  Both offer all-around paddleboards that can be enjoyed by all kinds of riders. Wider SUP boards are suitable for family riding together, while the shorter ones are suitable for surfing. The most significant difference is that WOWSEA gives a one year warranty on its paddleboards while Red Paddle gives a five-year warranty.
WOWSEA vs. Bote
Bote paddleboards are ideal for someone going on fishing or adventure. Unlike WOWSEA, with several paddleboards suitable for family fun, Bote has only one – the Bote Flow Aero Inflatable paddleboard.
WOWSEA vs. iRocker
The most significant difference perhaps lies in the years of warranty offered by the two brands. WOWSEA offers a one year warranty while iRocker offers a two-year warranty. However, iRocker does not have a repair kit. WOWSEA has a repair kit that would come in handy in case your paddleboard punctures.
WOWSEA vs. Fanatic
WOWSEA paddleboards can support weights of up to 300 pounds. On the other hand, Fanatic paddleboards support weights of up to 230 pounds. WOWSEA paddleboards are also built with a multi-layer technology, making it hard to puncture. Fanatic makes paddleboards with double layers.
WOWSEA vs. Star
Both WOWSEA and Star produce all-around paddleboards. Star has a two-year warranty provision for customers who buy the paddleboards, while WOWSEA's warranty covers only one year after purchase. However, WOWSEA has a warranty for leashes, pumps, and bags. Star does not provide such a warranty.
Conclusion
WOWSEA paddleboards are way better than other boards. They are affordable and efficient and will give you value for your money. Since WOWSEA designs products to fulfill consumers' interest, the paddleboards will always last long and satisfy your needs.