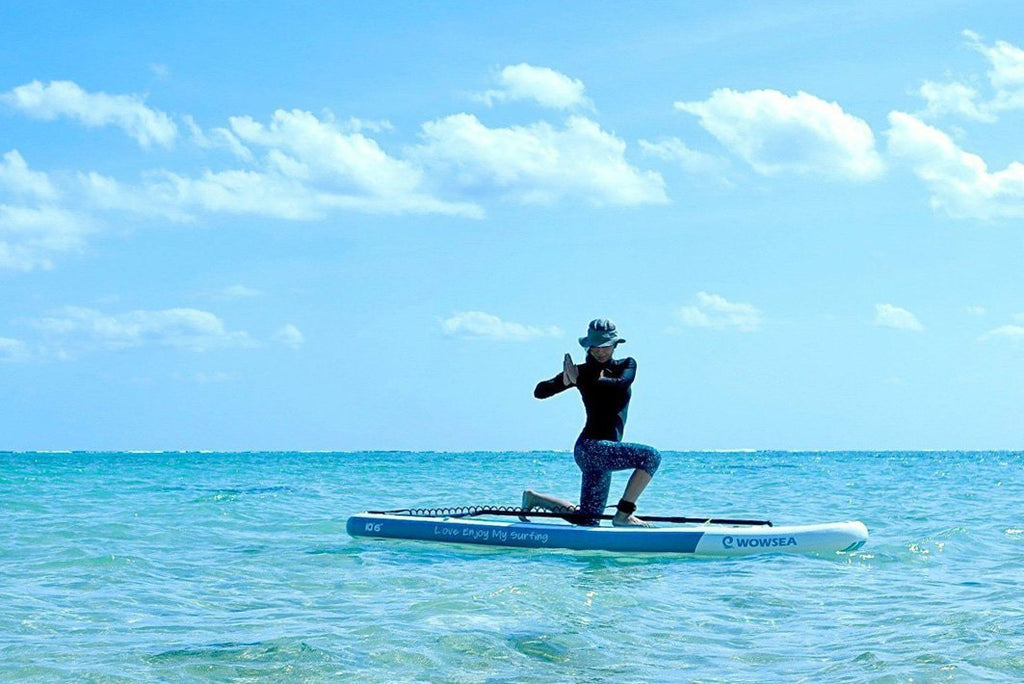 Are you looking to combine fitness with a taste of adventure? Reaching fitness goals to attain that perfect summer body might seem like a pain for many people. But with more entertaining additions to your routine, you can make sure that you enjoy even the toughest of fitness schedules. SUP Yoga gives you a perfect chance to do so. If you are looking for something that is both fun and productive, then SUP Yoga might be the golden answer to all your questions.
Paddleboarding makes a great way to make the most out of your water adventure trips and weekend getaways. It is also an outstanding way of getting close to your fitness goals with activities like SUP Yoga as it keeps you active, on the go, and also burns calories.  It is undoubtedly a great investment that you can make for yourself and your family if you search for fun things to do during the summer break or even for long weekend getaways.
Having an inflatable stand-up paddleboard to yourself will make the experience of yoga and expedition, family weekends, fishing trips, fitness, or hunting adventures with family much more exciting than before.
What Is SUP Yoga?
SUP yoga refers to practicing yoga while being mounted onto a stand-up paddleboard in the middle of a water body. SUP yoga is best practiced on calm water bodies such as lakes, bays, or harbors. SUP yoga has gained popularity amongst yogis in the past two years as emerging water sports, especially for those who already enjoy paddleboarding.
In fact, many yogis are looking forward to polishing their yoga skills by practicing SUP yoga. SUP Yoga requires much more strength, balance, and focus than regular yoga.
SUP Yoga makes things exciting for you by giving you a chance to get a different workout done. For example, doing yoga on a stand-up paddleboard engages the core and postural muscles that you may neglect or not pay much attention to during your on-land yoga poses.
SUP Yoga is a fantastic way to develop mindfulness. With the added challenge of doing yoga on a wobbly stand-up paddleboard, it forces you to be present at the moment and pay great attention to every single flow during all your movements.
One of the best things that SUP Yoga can do is to encourage a beginner's mindset. If you've been into the yoga world for some time now, you may be on autopilot as you do a downward-facing dog for the umpteenth time.
However, even the most experienced yogis always have room for learning something new from simple poses and approaching yoga practice with a much more engaged and curious mind than that of a beginner.
SUP yoga is an excellent way to work on maintaining a beginner's mindset because it introduces us to new challenges in the yoga routine every day.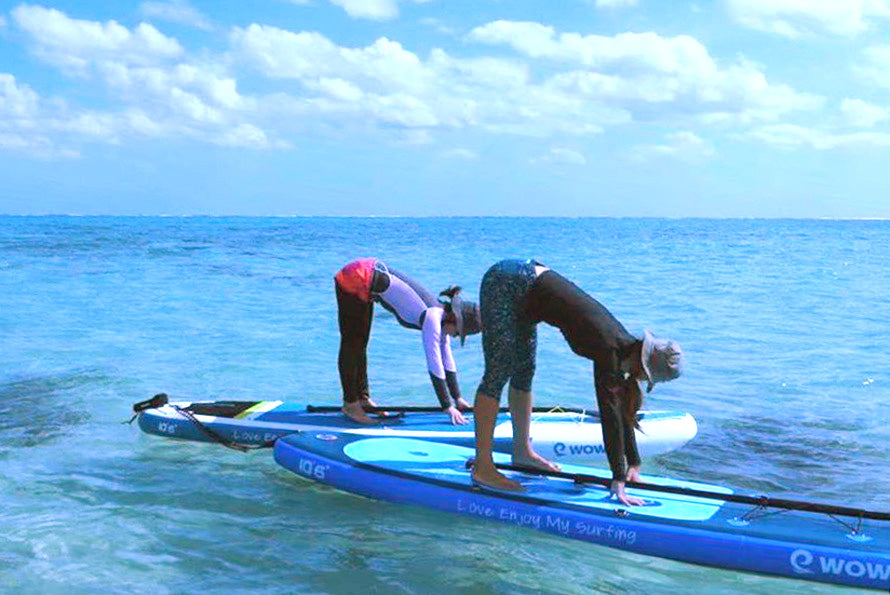 Benefits Of  SUP Yoga
SUP Yoga has several mind-blowing health benefits, and so does stand-up paddleboarding. If you were to put both paddleboarding and SUP yoga together, your workout would enhance in quality immensely.
In short, paddle boarding feels like a full-body workout which means it works through your legs, core, back, shoulders, and arms.
What Does SUP Yoga Help You With?
Refine your yoga techniques on land
Strengthens and builds new muscles
Relieves emotional and mental stress
Improves your breathing techniques and pace of breath
Increases muscle flexibility
Drastically improves your balance
It gets you working outside for a fresh breath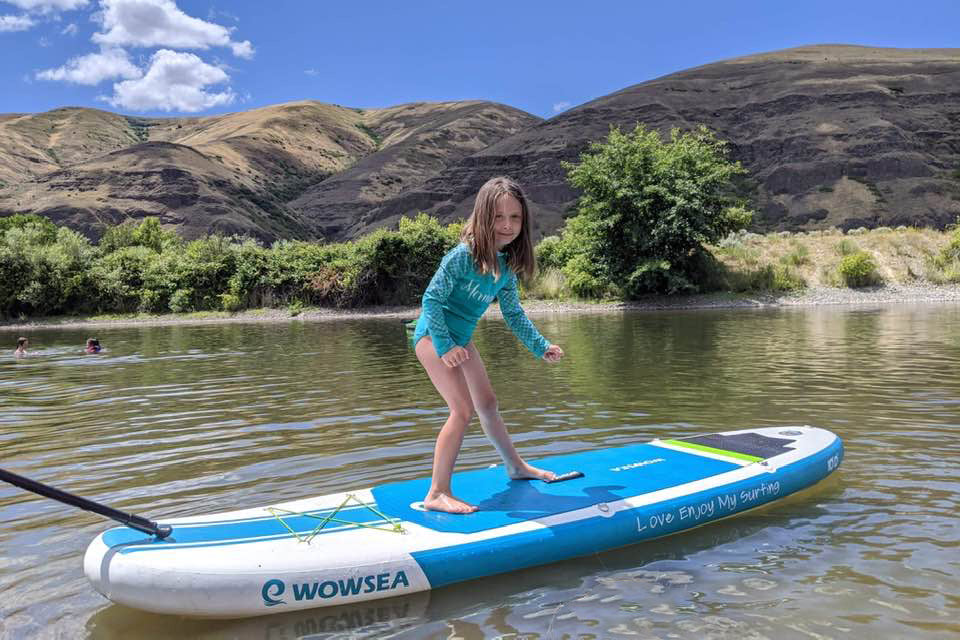 Trophy T2 10'6" Best Paddle Boards Package
Paddleboarding is supposed to be a treat to enjoy and to love. We love enjoying a day on the water with our friends and family as it is very relaxing. Designed as such, the Trophy T2 delivers on this experience with a top paddler, easy to transport, convenient for storage, and even easier to travel within your backpack.
Built using advanced WOWSEA F1 technology, there isn't another iSUP that lets you have as many features at an affordable price point as the WOWSEA brand. It is a practical choice for most water conditions and serves to be an excellent choice for leisure paddling, iSUP Fitness, Fishing, Touring, and Travelling adventure.
The package includes the following items. Just unpack the waterproof backpack and get going.
Paddle Board
Removable Center Fin
Coil Ankle Leash
Repair Kit
Dual Action Pump
Backpack Bag
Gauge Spare part
10L waterproof bag
Three Piece Adjustable Paddle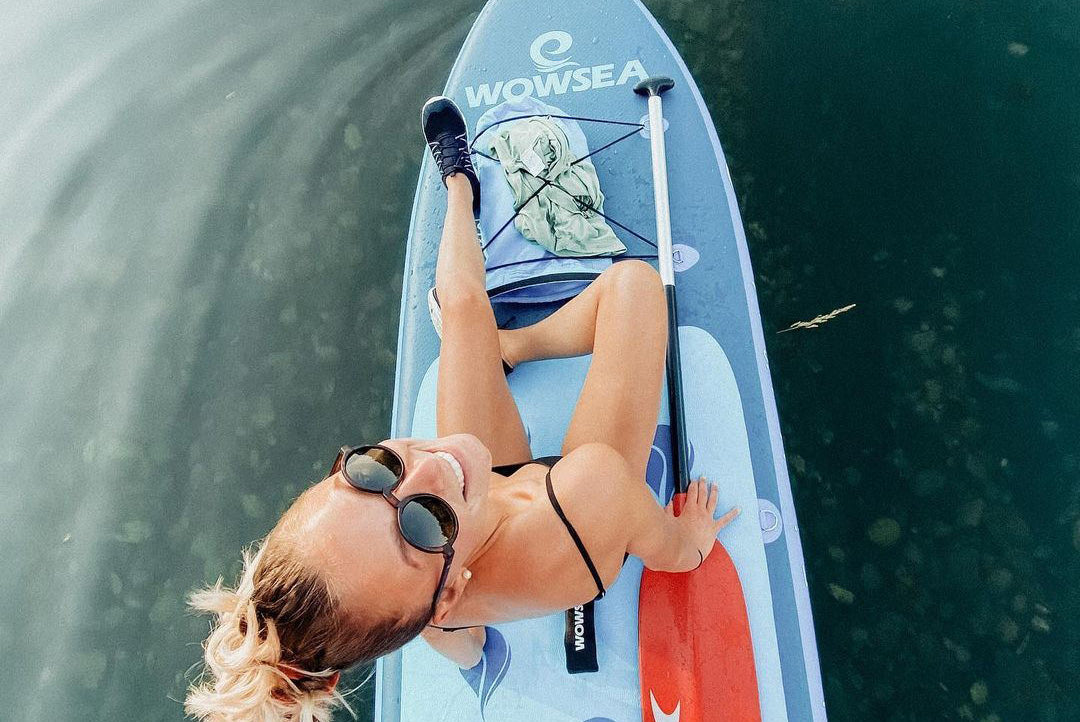 Bionics B1 10' Paddle Boarding Package
Bionics is a more popular design idea in the WOWSEA collection. It was designed using F1 Technology. WOWSEA created this design keeping in mind the water-falling shape, which looks great and is also lightweight.
The Bionics is fun to paddle and a very stable choice. Whether you are a part-timer or full-timer, the Bionics B1 will make sure your next paddle is your favorite love.
The package includes the following items. Just unpack the waterproof backpack and get going.
Paddle Board
Removable Center Fin
Coil Ankle Leash
Repair Kit
Dual Action Pump
Backpack Bag
Gauge Spare part
10L waterproof bag
Three Piece Adjustable Paddle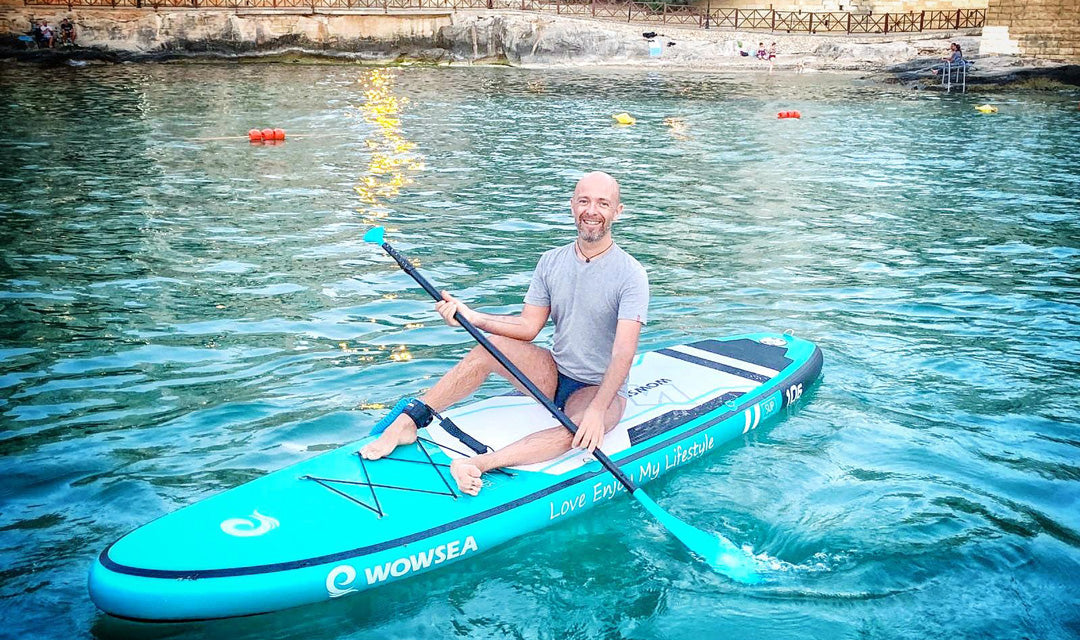 Bluesky S2 10'6" Kayak Paddle Board with Kayak Seat
WOWSEA SUP Carry Kayak Compatible to transport your hands-free over long distances safely on the water. The kayak has been redesigned to have the most comfortable grab handle found on WOWSEA iSUP. As a result, you will not experience numb hands or a weak sense of balance while carrying your board anymore.
We have adjustable bungee straps to provide quick and easy storage of extra belongings. The EVA multi-textured deck pad is sealed with heat to shed water and provides plenty of cushioning to decrease foot fatigue and anti-slip traction.
Designed with F1 technology, it has a military-grade multi-layer PVC, with the hull being durable and rigid once inflated.
All inflatable boards have an entry rocker style hull. The entry rocker is designed to reduce the running resistance of iSUP and shed water. In addition, all WOWSEA boards come with a flat bottom for increased side-to-side stability and quick movements.
They also have a 6'' thickness military-grade PVC which allows for enhanced stability to keep you steady on the water once you're on the go. The center fin on the stand-up paddleboard is removable with the help of a tethered attachment pin to allow for easy storage and transport at any time.
The side fins are molded into the hull for greater stability and easy tracking on water. In addition, the portable backpack allows you to transport your WOWSEA board anywhere you want to go easily.
It also has a manual pump that inflates your WOWSEA SUP board by inserting the end of the hose straight into the inflated ports and pumping up. The coiled WOWSEA leash is manufactured from heavy-duty materials to offer sturdiness and durability. The leash can absorb the impactful waves that stretch 5X its length.
Get Going!
WOWSEA wishes to start a well-known brand for SUP, but it doesn't have to be a brand premium because the main goal of WOWSEA lies in giving back to society instead of taking from it.
We wish to make the world of paddleboarding grow at an exponential rate by ensuring everyone is included in it regardless of the limits and restrictions that can get in their way. With your help and endless support, we can see our vision turning into a reality!
Here's your chance to support WOWSEA by coming forward to join hands with us by making generous contributions of up to One Million Dollars. We provide to several different SUP paddling organizations to support SUP activities and make them accessible for everyone. Through your participation and sharing, you will help WOWSEA to realize the donation plan, everyone can have the golden opportunity of paddleboarding to bring up their game and experience one of the most fun water sports.