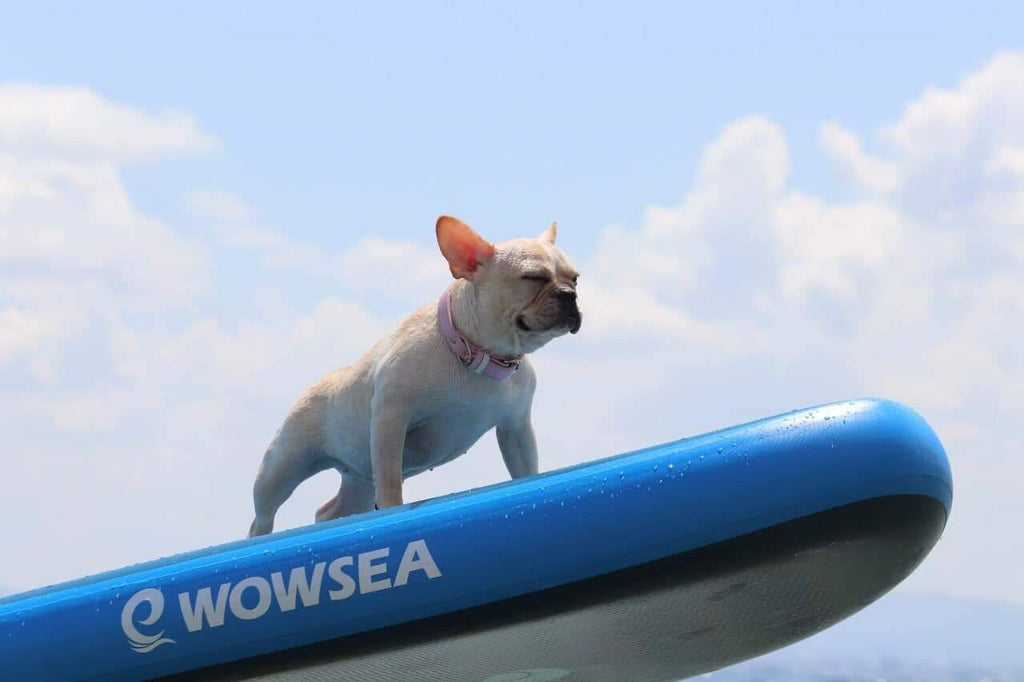 I have been using iSUP boards for the past 3 years and had some amazing adventures, loved and enjoyed my lifestyle. They were surprising adventures I got to share with my pet dogs on paddling board. The idea may be incredible at first but it is possible, and the rewards are amazing, meanwhile loved the water leisure sport more.
The way to do this experience is by training your dog before the paddling so that eventually both of you can enjoy leisure time together, wading across calm waters,creeks, lakes, rivers,  or the gushing waves of the ocean.
It helped that my pet dog was the guy who liked the paddling adventure as much as I did, and together we'd had some great experiences on water adventure, especially summer!
There are 5 definite ways to train your pet dogs for water adventures on an iSUP that would last a lifetime, did you have a try ever?
5 Ways to Train Your Pet Dogs for iSUP Adventure
1 Step: Take A Week With Your iSUP In The House for Your Pet Dogs to Get Comfy
Lay down your stand up paddle board for 1 week where your pet dogs are comfortable enough to train.
Place an iSUP in a place where the pet dog would not be scared by the board, and feel comfortable and fun. Perhaps they would sniff the board and start liking it.
2 Step: The Treat Step by Step
Probably, after a couple of days getting accustomed with the iSUP being around, it is time to give them a treat on the paddle board. They may not take the treat at once, but enough patience gets you where you want your pet dogs to be. The next day try another treat on your pet dogs. This time they may take it or like it.
Continue giving them treats on the iSUP until they get the idea and begin to like this lifestyle on the paddle board. Comfort by treat is the keyword. Once they get comfortable, it's time to move on with the process, you like it and they like it more.
After your pet dogs get used to the iSUP, it's your chance to place a lifejacket or a PFD on them. This will make your pet dogs associate boarding with the vest, safety comes with challenges.
3 Step: Getting Your Pet Dogs to Learn Special Commands for Going Up and Down
It is essential to emphasize the significance of getting on and off the iSUP with special commands. He might find an insect or a bird skimming on the water, and decides to jump off and follow the distraction. This might cause you to fall off the board as well.
Teach your pet dogs special commands to signal when they may go off the iSUP by giving them a treat for doing this training. For getting back on paddle board, a treat would be done as well. If the pet dogs go off the paddle board without following your signal, do not grant them a treat, Repeated training till they get all.
Teach them how to stay still and remain on the paddle board. After some time, you may teach them easily how to go off or get on the iSUP, you can enjoy the leisure time on water with your pet dogs.
4 Step: Outdoor Practice of Being Onboard with your pet dogs
Once they have managed to sit in the iSUP and keep quiet, it is time to get on the paddle board with them. Gently sit behind them and if they sit, grant them a treat. Try to stand behind them and paddle the board a bit. Some pet dogs are afraid of doing so, but proper training and encourage will get you there. If everything goes well, go on with the process. If won't enjoy the paddling fun until your pet dogs can get it done right.
The way to do this teaching is by making them as comfortable as possible. Trust your pet dogs and hope for the best, and they can sense this positive signal. Now, once they get it done, you may now start practicing with a paddle racing, this padding lifestyle will be loved and enjoyed by you and your pet dogs.
5 Step: Paddling on Water
Different pet dogs have their different natures. Here is just where the challenge comes in. Your pet dogs may not take to the outdoor water too fast, so best stay next to the water for a while until they get accustomed with this new challenge.
Eventually, your pet dogs get all teaching signals, you will be able to take the iSUP to the water with them. It's all a matter of taking the same steps you did when practicing them, but this time in real time, they won't be afraid and love it.
Soon you and your best buddies will be cruising calm waters, rivers, lakes and seas. It all takes time, but the rewards for you and your pet dogs is absolutely an amazing experience to behold. If you love them more than yourself, remember to tie a life jacket on your pet dogs, maybe need a pair of doggie goggles to stave off some water spray while paddling. little caution, never tie them to a leash on paddle board because it might tangle them.
If you can follow these training instructions very well, your pet dog is good to cruise. The bonding you and your pet dog will have will last a lifetime of beautiful memories for WOWSEA iSUP. SUPs, actually we are talking about the foldable iSUP, just as perfect as the stiff boards, maybe even better because of its convenience for travelling and portability. Meanwhile, not to worry over the dog scratching a hole into the inflatable stand up paddle board, it doesn't happen.
So, go on and have that great adventure on different waters. Your pet dogs will love enjoy it. Everyone too.