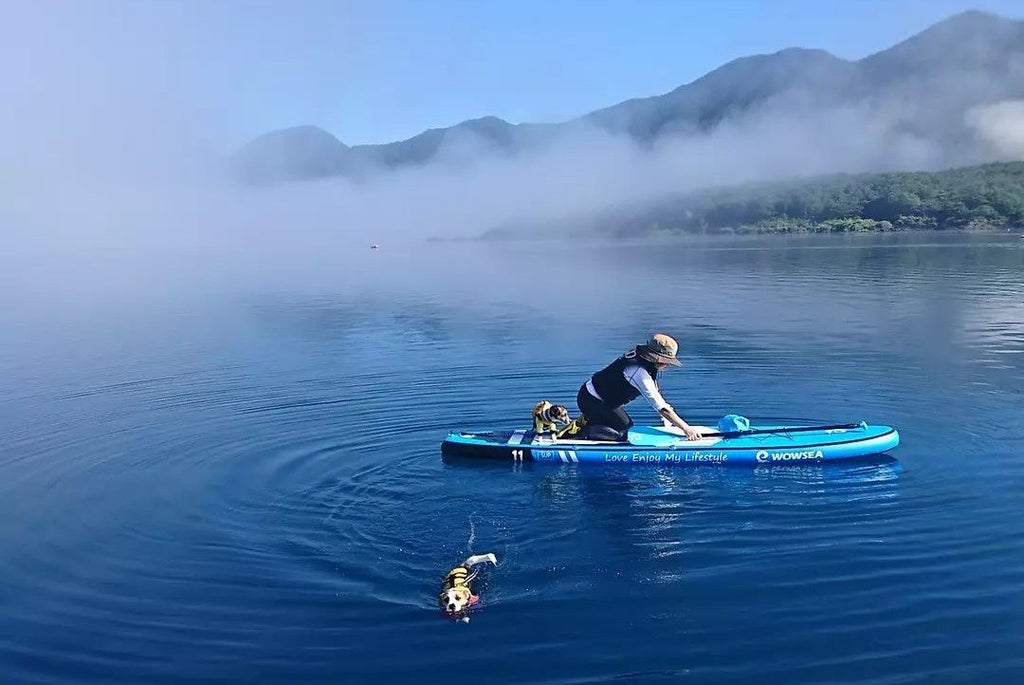 Who doesn't like spending some quality time with their families outdoors in the water having fun? All of us do, no one wants to give up their own lifestyle, it's just a different way of experiencing. However, all outdoor activities come with some hazards that we need to keep in mind while enjoying ourselves with our families. Similarly, leisure paddling or SUP is also an interactive water sport. This type of activity can be enjoyed alone or with a group of people too. With WOWSEA paddleboards available, this opportunity can be easily appreciated.
SUP safety is a very important aspect to consider as the water bodies are unpredictable, and things could go wrong at any time. The situation on the paddleboard can become dangerous in an instant; therefore, it is important to know the safety precautions while using WOWSEA paddleboards for safe SUP. 
In 2017, WOWSEA was initiated by three young, energetic college students because of their immense passion for water bodies and the peace that it brought to their lives. The company was built on the foundation of its undying love for water sports and its determination to improve its facilities. Moreover, the strong sense of unity and compassion that this activity installed in them was also a driving force to set up WOWSEA.
Their main aim to design a board was because they wanted a steady and sturdy board that could endure the harsh conditions of the sea along with being cost-efficient. It should also be easy to use and eco-friendly. On top of that, such a board could be used by all age groups.  
WOWSEA has encouraged many people to enjoy leisure paddling and also learn and master the sport. Paddleboarding accounts for a marvelous way to have maximum fun for your water adventure trips. On top of that, it is a remarkable way to achieve your fitness goals and burn a few calories.
WOWSEA board is a great way to invest in your and your family's entertainment if you are interested in making your vacations or weekend getaways super fun! With an inflatable WOWSEA paddleboard, you can rejuvenate your experience of yoga, family weekends, fitness, expeditions, fishing trips, and hunting, have you experienced a new way of life from the perspective of water? what should you pay attention to when experiencing?
Be Careful While You Enjoy!
This piece of writing will provide you with some tips on how to do SUP safely while also having fun during water activities.
1.
Weather Conditions
Undoubtedly, the most important point during leisure paddling is to be well aware of the region's weather conditions. It is highly recommended that you be prepared for any sudden changes in weather conditions or a possible capsize. Planning and checking the weather forecast can help you be more aware of what might come.
If you are paddling in cold water, it is highly beneficial to wear a wet suit or a dry suit for your warmth and comfort. On the other hand, it is generally advised to wear a long sleeve shirt with UV protection to avoid sunburns in warmer weather.
2.
 Wearing A Life Jacket
It is equally important for you to wear your protective floatation or lifejackets for your water adventures. Depending on where you are going, most coast guards make it compulsory for you to wear your life jackets. Having a lifejacket on will keep your head above the water level and provide insulation to your body in the cold water.
The biggest reason that people have not to wear lifejackets is that it is not comfortable to paddle while having the life jacket on. You can invest in a lifejacket that is specifically designed for leisure paddling for a safe SUP experience.
3.
Dress for Immersion
When you are surrounded by water, it is important to consider the consequences of hypothermia. Therefore it is vital to check the temperature beforehand and be prepared. According to the U.S. Coast Guard's safety recommendations, wearing a wetsuit or drysuit becomes essential when the temperature goes below 70 Fahrenheit.
4.
Avoid Having Solo Adventures
If you want to maximize your security, then it is advised that you go leisure paddling with a partner or a group. Either of you will be able to help the other if you get into trouble while paddling. Besides, you can Love Enjoy Your Lifestyle better with WOWSEA SUP boards when you have good company around you.
However, if you are traveling in a group, it is important for you all to stick to each other. This way, you all will be better able to help out each other in times of need.
5.
Keep Extra Safety Gear
Depending on the course of your trip, you might want to carry some extra safety gear with you. Going for leisure paddling on a Sunday afternoon will require less equipment compared to a weekend trip. But it is always advised to be prepared for the worst conditions. Planning will help you from any hazardous situation that you may face.
6.
Practice More
Always remember that the more you practice, the more perfect you can master your art. As you go on more and more trips, you will be better skilled in the sport. Moreover, if you are going with a group, make sure the group's skill level as a whole is similar. This will ensure your comfort, and you would thoroughly enjoy your trip.
Also, you would want to warm up and stretch out before the paddling. This will help your body to be fully prepared for a safe SUP adventure.
Support Us
Do you want to support WOWSEA in its mission? Here's the golden opportunity for you to do so by giving up to One Million Dollars that we are distributing to various SUP paddling communities to encourage SUP activities.
WOWSEA vows to become a capable brand, but we don't need a brand premium. We want to encourage SUP activities by making them more feasible for people of all ages and fitness levels.