Inflatable paddleboards are quite the rage now, especially as new advances in their technology continue to enhance the product's individual user experience. Paddling out on the sea is increasingly becoming a favorite way to spend time with friends and loved ones while also destressing from urban life.
This is why WOWSEA is committed to offering the best advice, services, and products for paddling, specifically water-related adventure sports. There are plenty of activities that one can partake in when out on the waters, such as fishing, yoga, and even stand-up paddling!
Contrary to popular opinion, WOWSEA and other experts believe that inflatable paddleboards may, in fact, offer a safer and ultimately more exciting experience while paddling. However, just like a musical instrument needs tuning and care, so does an inflatable paddleboard.
This article-WOWSEA will take you through the various ways you should take care of your inflatable paddleboard while also highlighting its importance. Overall, an inflatable paddleboard, when maintained well, can last up to 5 years!
Inflatable Paddleboards Are More Durable Than You Think
You might think that materials used to make inflatable toys such as small swimming pools, rubber ducks, and others like them are also used in inflatable paddleboards, but that is not necessarily true.
Sure, inflatable paddleboards utilize plastics and other materials similar to that used in these products, but their strength and quality are military-grade. This makes most of the latest iSUP boards stronger and more durable than boards that aren't inflatable.
This durability suggests that inflatable paddleboards can actually withstand a lot of pressure and bumps to their structure while out in the water, as it can absorb shocks as well. In addition, leaving your board inflated for a certain amount of time will also not cause serious damage to it, therefore making it easier to maintain.
At WOWSEA, all our products, including the inflatable paddle boards, are borne out of a commitment to adventure and memory-making while also remaining eco-conscious and friendly in all our practices. This means that the processes we follow, manufacture, distribution, etc., are all environmentally responsible.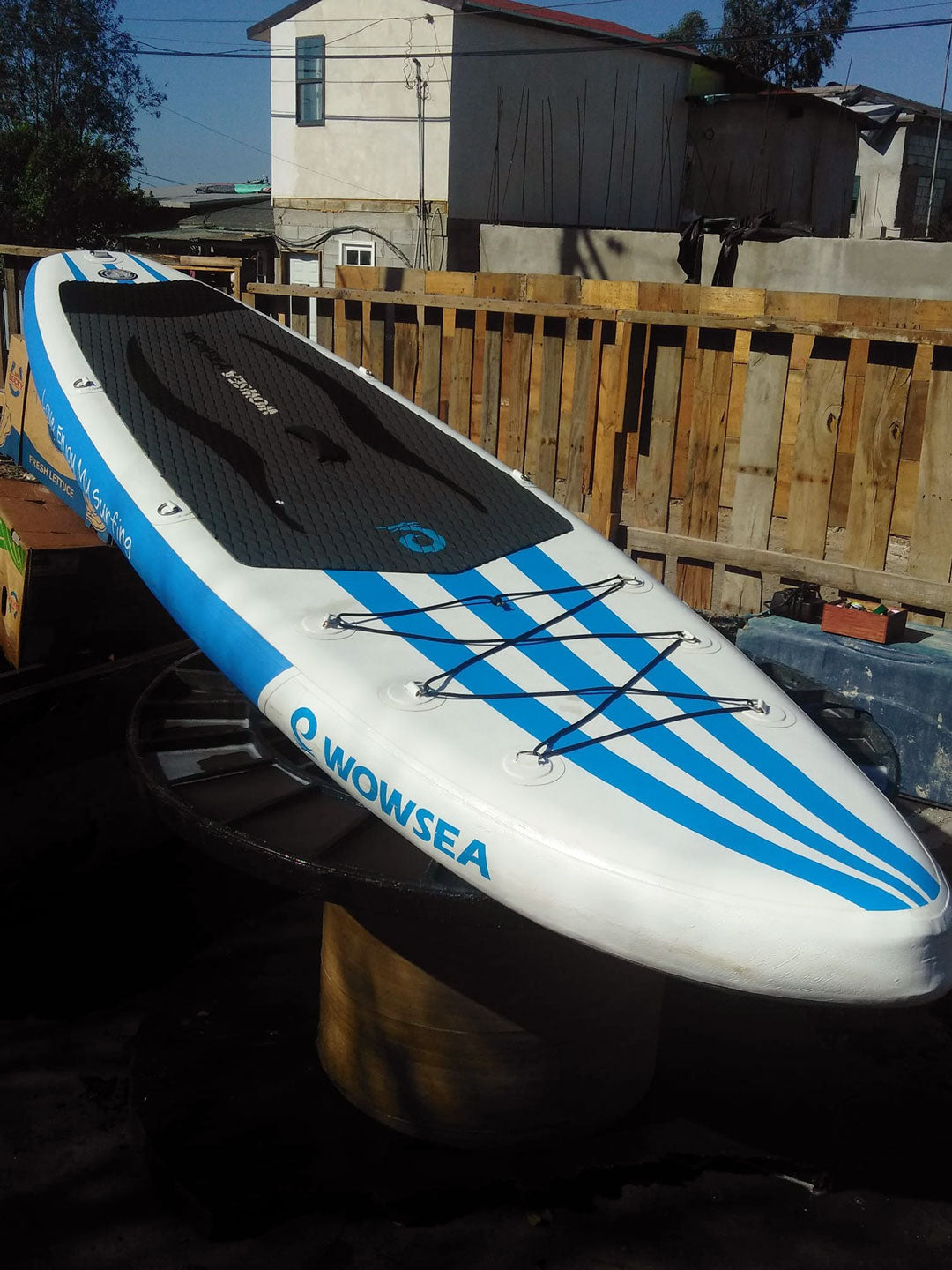 Storing Inflated Paddleboards
Given the notorious durability of inflatable paddleboards, there are still specific conditions under which it is ideal for storing them, for too much deviation from these conditions will cause deterioration of the board itself. Hence, if you are planning on storing your paddleboard for some time in its inflated form, here is how to do it properly:
Drastic spikes or drops in temperature will cause the air pressure within the inflatable paddleboard to change, which will make it less resistant to wear and tear. In addition, the increase or decrease in air pressure itself can be damaging for the board, so you should always consider keeping the board in an environment where the temperature does not fluctuate much.
Inflated paddleboards should always be stored indoors so as to protect them from the elements. For example, you can store it as is in your shed, away from the direct influence of the weather.
Finally, you should never expose your inflated paddleboard to direct sunlight for too long, so when storing it, the paddleboard must be safely secured in a shaded space. Sunlight can cause the plastics used to make the boards deteriorate faster, making them more susceptible to rips, punctures, and even premature fading.
Ultimately, if you are to leave your inflatable SUP inflated, these are the conditions under which WOWSEA recommends you do it. After this basic criterium is met, you can leave your paddleboard inflated for at least a few months before expecting any serious, long-term damage.
The Importance Of Deflating Paddleboards Occasionally
Having said that, deflating your paddleboard once in a few months is recommended by WOWSEA as it helps keep the paddleboard in the best shape. Once you deflate your paddleboard, the pressure being applied to its plastics and other layers within is released for a while, increasing its overall lifespan.
Besides this advantage, deflating your paddleboard can also help reduce wear and tear caused by usage. To make your paddleboard last as long as possible, here are some suggestions from WOWSEA as to when you should consider deflating your paddleboard.
If you have exhausted paddleboard activities for the season and will thus not be using it for the upcoming few months (like in winter, for example), you should deflate your paddleboard to avoid potential damage.
When traveling via air, bus, or train, you will most likely need to deflate your paddleboard should you plan on carrying it with you, for carrying as it can be harmful. This is because you can personally not tailor the conditions in which the board will be transported.
As plastics are used to make inflatable paddle boards, hotter climates will make the pressure inside your paddleboards greater as air within will expand with heat. To relieve this pressure, you should seriously consider deflating your boards at least slightly to avoid probable wear and tear.
Carrying non-inflatable paddleboards wherever you go is one problem, but storing it entirely another. If you lack the space to keep the board in its inflated form, you should deflate it for ease in storage. After all, this is one of the biggest benefits of using an inflatable paddleboard.
One integral aspect to remember here is that when deflating the paddleboard, you should not pack it super tightly, for that can also cause rips or tears in the board. Ideally, you should loosely pack it by rolling it up, for example.
Nonetheless, inflatable paddle boards are quite resistant to damage by design. So, if you end up leaving yours inflated for a few months, there isn't necessarily a huge problem. Just make sure to provide it the care it may need, i.e., occasional repairs, for starters.
Preparing For Deflation!
WOWSEA has found that there are some important steps you should take before deflating your paddleboards and packing them away for the season. For if not prepared appropriately, inflatable paddleboards may get moldy, developed weakened seams, and deteriorate in terms of overall performance.
Having established that, here are some steps to follow when preparing to deflate your inflatable paddleboard.
Immediately after use, you should rinse the board with clean water to remove dirt or trapped mud atop the board. If you find something stuck to the board at this stage, you should use a soft brush to scrub it off the surface without causing any damage to the paint job.
If you specifically went into salty water with your paddleboard, you should always quickly run the board through freshwater, as the salt, if left on the board, can corrode the paint and weaken the plastics.
Owing to our company values and the sense of responsibility we all feel towards the environment, WOWSEA recommends using biodegradable soaps such as Onitpro Deck Pad Cleaner or ReviveX Pro Cleaner to properly remove saltwater and other materials from the board. These soaps will also provide a layer of UV protection for the paddleboard.
After the board has been cleaned with soap, you must thoroughly rinse the board clean. Once this step is done, you must dry the board completely if you are immediately planning on packing it.
Drying your board after rinsing it clean is necessary to do before the board is to be packed to prevent the growth of mold or weakening of its seams. So, be sure to carefully execute this process because finding either of these problems months later will be quite annoying to deal with.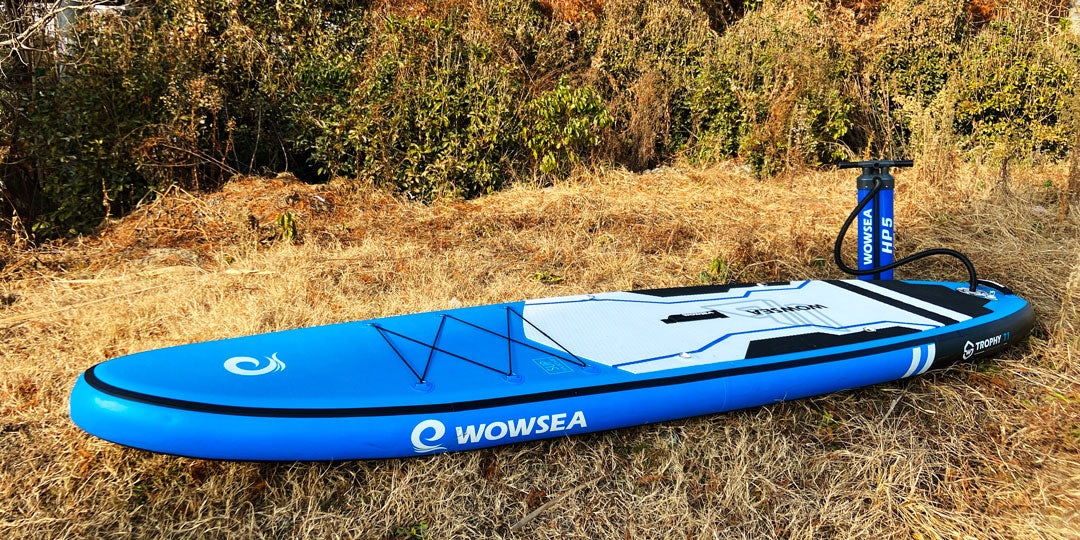 And Finally, Let Us Get To Deflating
Without much delay, here is a step-by-step from WOWSEA guide to how to go about deflating your inflatable SUP.
You must locate the valve or opening on your paddleboard and turn its lock to release the air from within.
There are two ways in which air can leave your board, either naturally or via a pump that can be attached at this same position. Using the air pump, you can pull out the air from within the paddleboard significantly faster and tighter.
Once you have deflated your board completely, you can begin rolling it for storage. Begin from one end and tightly move to the other. Remember to not roll too tightly, for that can also result in rips or tears.
After all the air has left the board, the valve needs to be closed shut to avoid air coming back into it.
Now, you are ready to assemble the rolled-up paddleboard within its packaging. Follow the instructions to remove the center fin and secure it within the belt that comes with most boards. Finally, your board is deflated, packed, and ready to be taken anywhere you wish!
Can I keep my inflatable sup inflated? Yes, you can, but we recommend store it deflating.
With this guide, WOWSEA hopes that your SUP experiences are enriched by having made maintenance and care of your inflatable paddleboards more manageable and easier to move through. For more guidance on inflatable paddle boards, be sure to visit our web page at https://www.wowseasup.com/