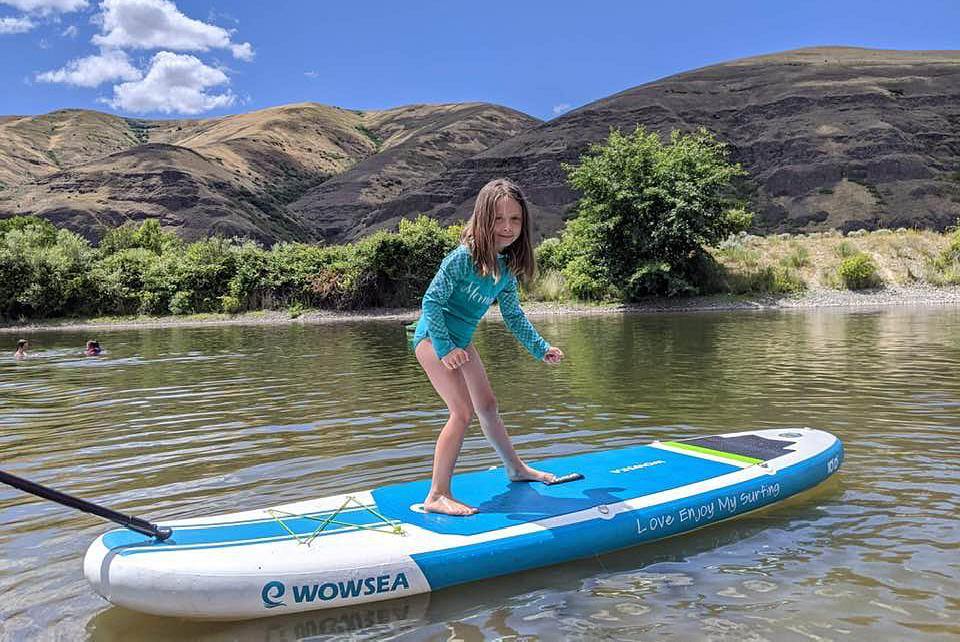 Do you wish to make your weekends more fun? Well, we have a suggestion for you! Before we reveal it, we will give a hint – it's daunting, but it gets more fun as you do it. That's right! It's paddleboarding. As you read ahead, it will become clearer if stand up paddleboarding is hard to learn or there are just a few tricks that you need to get down to the T, and you're good to go.
In 2017, WOWSEA was introduced by a group of young, aspiring college students as a result of their unmatched love of enjoying and being at peace with water bodies. The company was the effortless and remarkable product of affection and acknowledgment that the young boys had for water sports and activities. Of course, one can't dismiss the spirit of brotherhood that brought them close together.
Through WOWSEA, they have inspired numerous people to take up paddleboarding, not only as a challenge but also as a sport they can learn from and enjoy. Stand up, paddleboarding makes a great treat for most of your water adventures. It is an exceptional companion for anyone who is looking for options to get more fun out yoga, expedition, family weekend, fishing, fitness, or hunting with friends.
But what is it that makes paddleboarding so intimidating for most people? Well, the only thing that comes to mind is diving straight into a pro-level situation without having any experience beforehand. If you start by heading out into the rough seas with raging waters on a narrow professional touring board, paddleboarding will become tricky for you as a beginner.
However, besides this, there are a couple of other things that WOWSEA thinks are important to know before starting to stand up paddleboarding.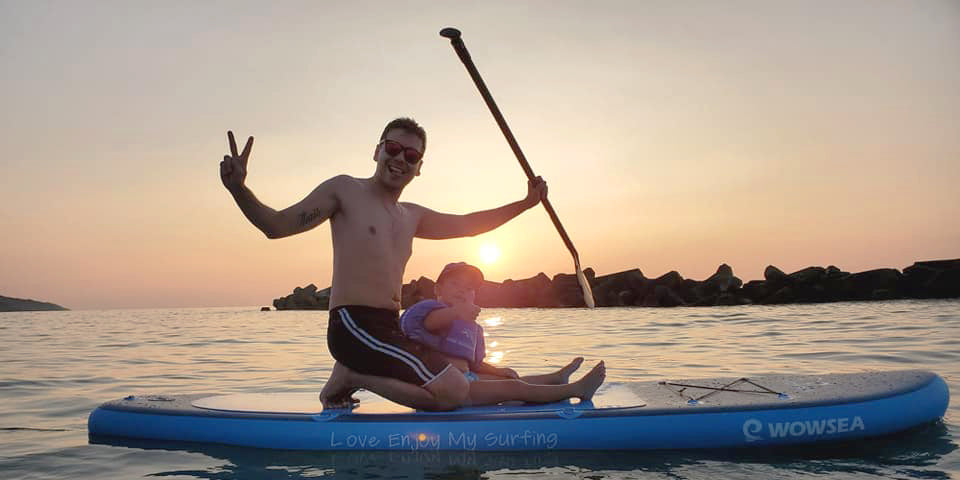 Is There A Way To Make SUP Easier?
As we discussed above, there are several ways through which you can make SUP less hard for yourself. You will notice that as paddleboarding becomes easier for you, you will start enjoying it more. Go through the following easy steps and witness paddleboarding become your favorite sport!
Ø
Get Your Hands On The Right Size And Type Of Board
To find the perfect stand up paddleboard for yourself, you have to start by knowing how you plan on using it. You also have to know how well it should fit your body and the exact way you want to handle it in the water.
The highlighted decision points that should be taken into account are the following. 
The shape of the board
Appropriate volume and capacity
Proper dimensions (length, width, and thickness)
Whether you opt for a solid or inflatable board, it will heavily depend on transportation methods and the amount of storage space you have. This will help you in determining the board's fins and any extra materials or accessories that will work for you. Ensure that as a beginner, if you aren't a strong swimmer, you have to pick a life jacket for yourself.
Ø
Select Your Waterway Wisely
As a beginner, starting on calm, sheltered waters will be your best bet. The positive aspect of starting on calm waters is that you don't have to overcome the wind, waves, and water current all of a sudden. Once you build more confidence and trust in your skills, that won't be a struggle because you'll be easily riding waves. 
WOWSEA recommends lakes to be the calmest water that you can find. You won't find lakes to have strong currents or waves as that present in the rivers or oceans. However, you may still experience high winds and frigid temperatures. Due to this, you need to make a habit of checking the weather forecast every time you go out for paddling.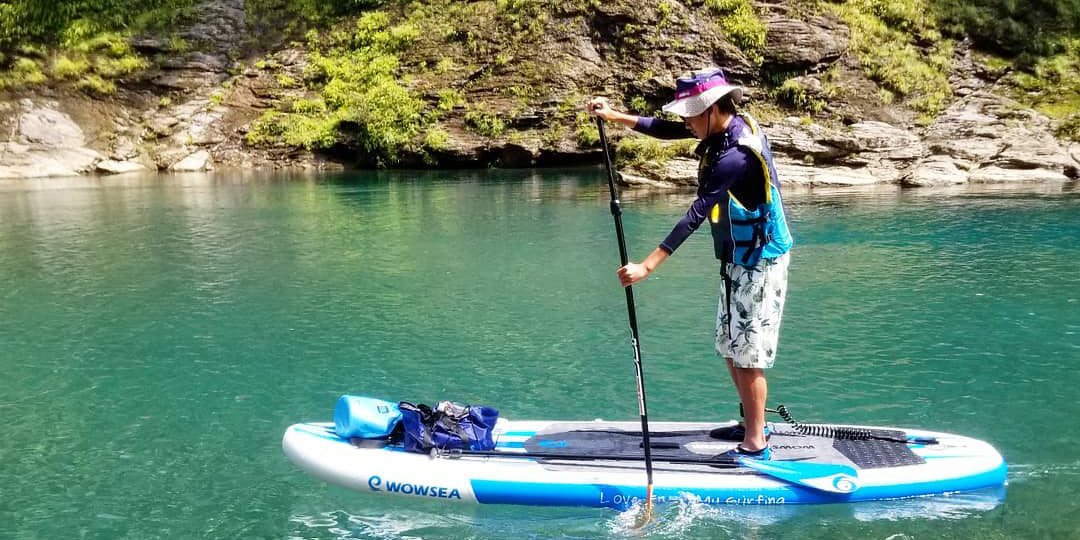 Ø
Create A Comfortable Balance On The Board
There is no need to start on your feet. There are other options that you can try, such as sitting, laying down, kneeling, or standing up to paddle. WOWSEA recommends getting into a comfortable kneeling position for your first time to get things started. After you are done feeling comfortable with knee paddling, you can try standing up.
The most crucial factor in how fast you can adapt yourself to stand up paddling is how skilled your balancing techniques are. If you feel that your balancing game is far out, then start with some exercises to improve your balance. These exercises are recommended by experts not just for beginners but for advanced paddlers as well.
Ø
Work On Your Posture And Stance
These two elements will aid in building an effective and efficient stroke. Both these things together will make your paddling game stronger. WOWSEA advises you to keep your knees slightly bent forward, with your feet slightly apart, to maintain a posture that supports your body weight. This also aids in providing you with a strong base that can maintain your stance.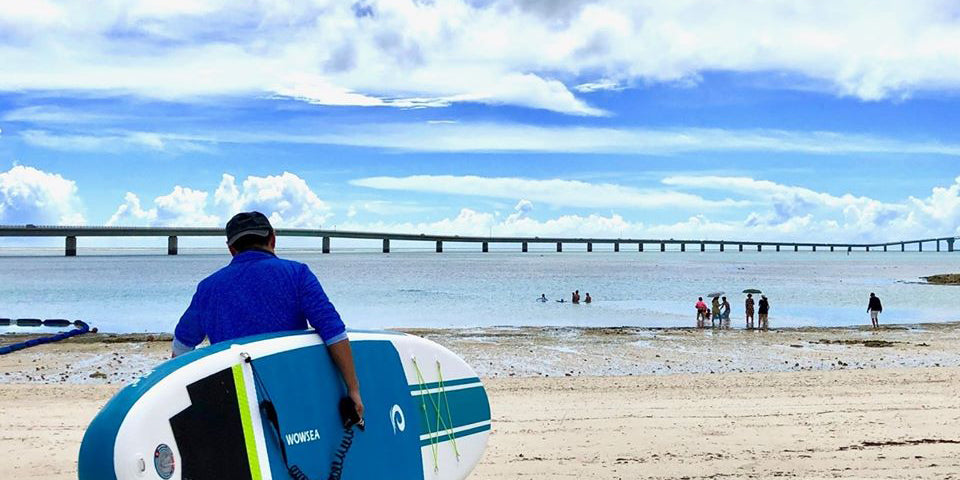 Get Going!
WOWSEA wishes to create a well-known brand for SUP, but we don't require a brand premium because our main lies in returning to society instead of taking from it. We want the world of paddleboarding to grow exponentially by including everyone in it despite restrictions, and you can help us do that!
Here's your chance to support WOWSEA by contributing up to One Million Dollars that are provided to support SUP paddling organizations. Through these donations, everyone can have a fair chance to enjoy paddleboarding.
Stand up paddleboarding isn't tough at all and what makes it even more entertaining is that it is a versatile sport. Once you're a beginner, you have countless options to pick from. So what are you waiting for? Get out into the water give it a try!