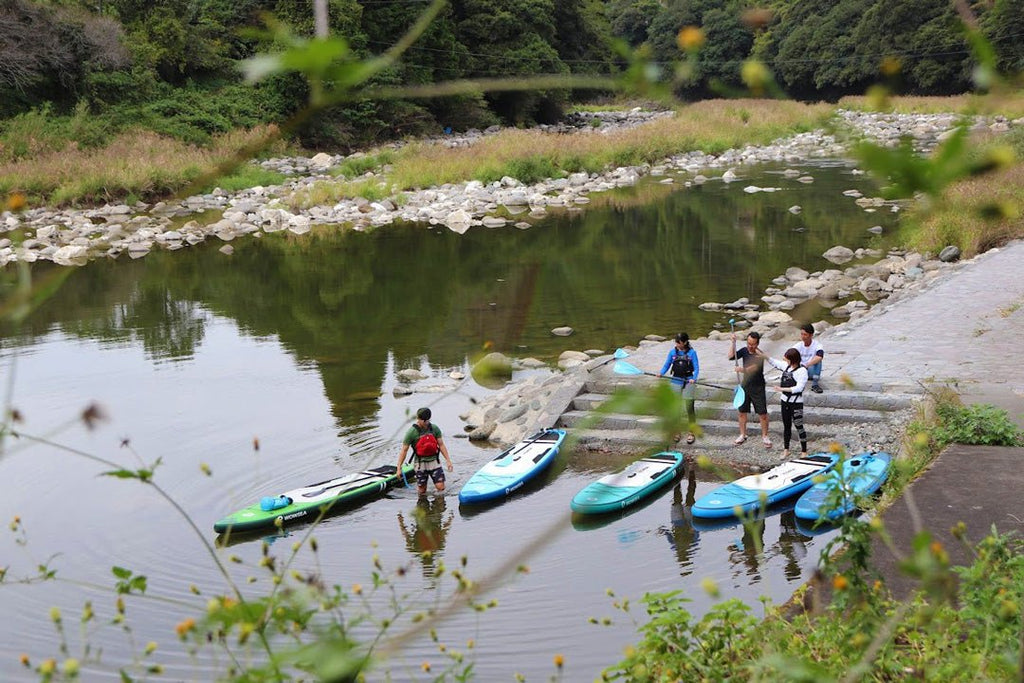 The sport of stand-up paddleboarding is enjoyable on the water and can be done on lakes, rivers, and bays. The activity is a great way to exercise your core and experience the beauty of nature. Additionally, it can be performed by people of any age, body type, or skill level. Whether you're paddling with your dog, friend, child, or significant other, there is enough space. Due to its ability to explore the beautiful water that surrounds our planet, paddleboarding has been on the rise over the years.
REASONS YOU'LL LOVE WOWSEA STAND UP PADDLEBOARDING
It is the experience you will never forget once you have tried SUP. Find out what makes it so fun.
On your board, you can board with your friends, your partner, or even your dog.

WOWSEA SUP

enables you to work your core muscles while staying hydrated - no need to trudge through the crowds at the gym!
SUPs are a great way to escape the humdrum of daily life. You can have an extraordinary working session with the beautiful scenery surrounding you.
FOLLOW THESE 8 STEPS TO STAND UP ON A WOWSEA SUP:
Step: 1
It depends on what type of SUP you want to do. It is usually best to start with a comprehensive, thick SUP that is easy to balance on both flat and choppy water. Prepare a paddleboard that is suitable for your height and weight. At 10.6 feet long, the WOWSEA Trophy T2 paddleboard, which is the base model, can handle a weight of 250 lbs. It may be right for you. Then, find calm waters to practice.
Step: 2
A common mistake is getting on the board in the wrong direction. Observe the surrounding environment, pay attention to the wind, water flow, and safe entrance and exit.
Step: 3
Standing on the board is difficult, so, tie the foot rope to your ankle. If you fall, it allows the SUP board to attach to your body. 
Step: 4
Walk into the water until it is about knee-deep to prevent the fins from stranding, and then place the board on the water.
Step: 5
Go up onto the SUP board from the middle part, place your knees on both sides of the handle, stand in the middle of the paddleboard, and keep your balance.
Step: 6
Please stay away from the sand and other obstacles until we have a safe standing area.
Step: 7
Hold the oar and put it in front of your knees; stand up with one foot at a time.
Step: 8
Put the whole paddle into the water and start paddling. You also need to change the hand upper and lower when switching sides. Dip the paddle into the water and touch the bottom with the face tilted forward. This should increase the stability and dispel any lingering instability, at least until he starts moving.
ESSENTIAL PADDLEBOARD GEAR
These gear are the essentials to have on hand so you can enjoy a seamless SUP experience.
STAND UP PADDLEBOARD
This one was already known to you. SUPs aren't complete without them, of course!
SUP PADDLE
During your SUP adventures, your trusty paddle plays the same role as your first assistant. It is essential to adjust your surf paddle to your size - we will discuss this in a moment.
FLASHLIGHT AND SAFETY WHISTLE
The safety whistle and flashlight are essential if you intend to paddle in the dark. Always keep safety in mind!
SUP CLOTHING AND SHOES
If you're planning to paddleboard in different weather conditions, you'll need other paddleboard clothing. Wetsuits are necessary if it's cold. Paddling can be done in a swimsuit if it's warm enough, but adding a rash guard and hat will help keep you from getting burned. 
It won't be necessary to wear shoes on a SUP on warmer days, but if it's chilly out, you most certainly should. Shoes won't damage your SUP. A water shoe, such as a deck shoe, or a water sport shoe, would be appropriate. 
SUNSCREEN
There is no doubt that sunscreen is crucial, but here's another reason why: open water reflects UV rays. 
WITH A TOWEL, ACTION CAMERA, AND PHONE CASE, A DRY BAG STOCKED
Your most valuable possessions can be protected from water with a dry bag. If you plan to keep your phone inside the bag, you may also need a waterproof case. A GoPro action camera will make your adventures even more exciting. In addition to keeping your towel safe from water, your dry bag is a great place to keep it. 
But no worry, there is a waterproof bag in every WOWSEA's SUP board package.
ONE LAST THING 
Here we are - are you prepared to leap? Remember these tips for your first SUP adventure.
Check the wind first: You will be safer and won't have a tiring SUP experience if you check the wind first. Wind speeds of around 10 mph are an excellent limit - anything higher than that will mean staying on land. If you paddle against the wind in the mornings so that when you're tired when you're paddling back to shore, you'll have the wind to help push you along. 
Consider SUP lessons: Taking a few SUP lessons will significantly improve your skills. Classes will make your skills better as they become almost second nature, so why not give them a try?
When paddling, keep your core active. It works. It lets you paddle farther and faster.
Know your limits in the waves: Take it slow while getting used to it, and don't underestimate the current power. SUP surfing is a fun way to ride waves, but make sure you learn the technique safely by taking small steps at first.
Over time, know that this will get easier! You are only at the beginning! Getting started on the water can be challenging, but don't get discouraged. 
To experience a learning curve is expected. With the best practice, you will be able to do it naturally. If you keep trying, you will succeed because it will all come together soon enough. 
With these recommendations, we are sure that you will have the advice you need to enjoy your next adventure on a WOWSEA paddleboard, and, of course, you will fall in love with practicing it by saying, Love Enjoy My Lifestyle on the water.