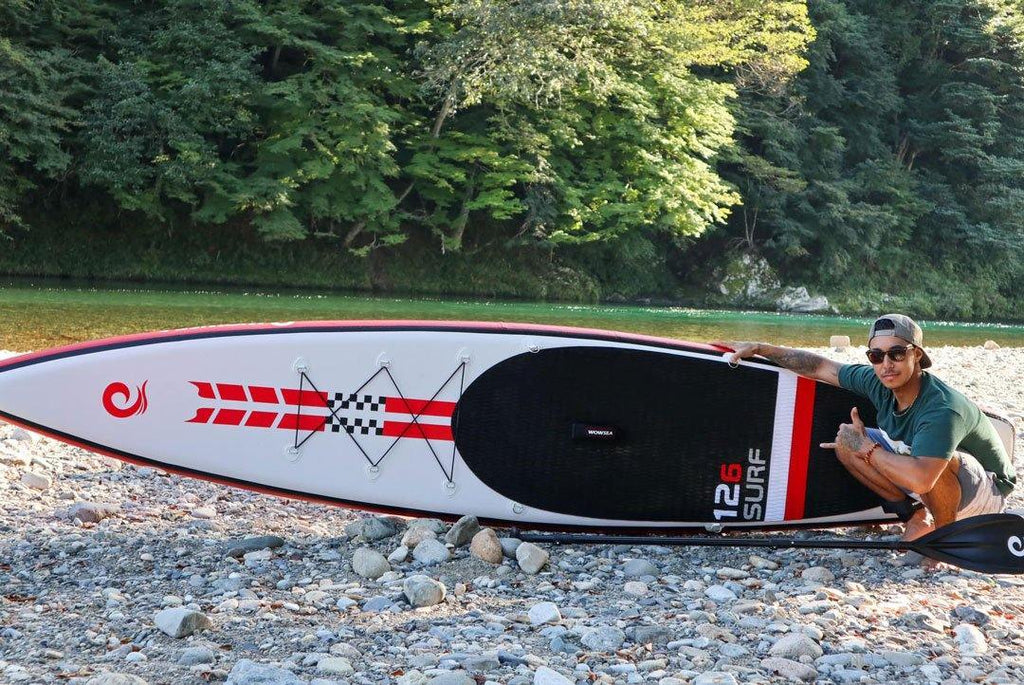 Many people use inflatable SUP's when it comes to having a portable and sturdy paddleboard. However, even the best quality of Inflatable SUP requires the proper care.
WOWSEA has one of the best quality collections of SUP boards out there. If you ever want to invest in a WOWSEA inflatable SUP, you should know how to care for an inflatable SUP too!
Here are a few simple steps on how you can store, and clean your SUP so it lasts you long, but before that, let's find out more about WOWSEA paddleboards and how you can enjoy them.
The Many Uses Of An Inflatable SUP
WOWSEA provides their customers with a range of inflatable SUP's that come with entire storage and inflation kit.
It can be used to relax in the water, fishing, or even water yoga. They make sure to not only create a premium quality collection but one that is affordable too.
The consumer-driven designs last long, are durable and can be used for various activities.
How To Clean Your Inflatable SUP?
There are many ways you can clean your WOWSEA inflatable SUP. Make sure you are gentle in the cleaning process to you don't rip or tear any leaks in the PVC layer.
Try to follow these few simple steps and get your paddleboard good as new.
Step 1: Rinse the Outer Cover.
Try to take this to an outdoor space. If you have a backyard, try to use a hose and rinse the paddleboard under freshwater.
If you use it often then you can also do this step every time you go in the water to wash off any debris. Otherwise, this step can be skipped if you are using the board in freshwater.
Although, it is recommended to rinse your board after you are done paddling it in seawater. Saltwater tends to corrode the material and can over time weaken the seams.
If you make it a habit to rinse the board after a dip in the ocean, it can help prolong the life of your WOWSEA boards.
Step 2: Cleaning the PVC Material
Most premium quality WOWSEA boards are made with PVC material. This makes it easier for you to clean your board regularly.
You can use any natural soap in your home, or even a biodegradable cleaner. It is recommended to use something less harsh, and with no acidic value so it does not harm the PVC covering.
An additional tip to clean your inflatable SUP is to not use any chemicals either. You can use Pro Blue Goo to protect it from UV rays so there is no shrinkage.
There are other cleaners available that remove tough stains from your PVC covering, just be sure to use a gentle hand or a sponge to scrub off stains.
Step 3: Rinse It Again
You can end the cleaning process, by rinsing off the board one last time to take off the soap and cleaners.
Step 4: Dry Your Board Out
Try not to keep your board wet all the time. Once you are done with the cleaning process, let your board dry completely.
You can do this by using a rag or towel to soak up excess water before deflating it. Since you have to roll it up and pack it away, you should ideally keep it dry so there is no bacterial growth.
How to Store Your Inflatable SUP?
There are many ways you can damage your inflatable SUP. Apart from cleaning methods, there are other ways to keep it in tip-top condition.
Since storage is also a concern for your inflatable SUP, here is how you store a paddleboard then we have some tips and tricks for you to follow.
Don't Store in Sunlight
Try not to store your paddleboard in direct sunlight. It won't immediately damage your board but can deteriorate your board over time.
UV rays tend to damage the PVC layer and the seams. Dry, windy areas are ideal to dry off your board.
The Right Temperature Matters
Many paddleboard users might not know this but the right temperature for storage also matters. Some essential things to keep in mind are, where ever you store it, make sure the area is dry.
The ideal temperature would be anywhere 5 to 40-degree Celsius so it does not deteriorate the board, as it stays in storage over time. Freezing conditions are not ideal nor our super-hot climates.
To Store Inflated Or Deflated?
Another pro-tip is that you can store your SUP both inflated and delated. Many people don't have the space to store an inflated paddleboard, which is why drying and deflating is a better technique.
However, it is not a bad option to store it with air. Just make sure you keep the board away from house pets, outdoor animals, and a place with sharp, or pointed objects. It makes it easier when you take the board to enjoy your lifestyle.
Position of The Paddle Board
Another ideal position to store your paddleboard is to store it laying flat. WOWSEA has a whole kit that includes a bag, where you can wrap up the board and safely keep it inside.
If you leave it loosely or hang it somewhere, you might end up having abrasions, tears, or damage on it after some time.
Try to keep it flat in a cupboard, or a shelf so it is out of the reach of animals or children and does not damage the PVC or its shape.
Always Remember to Remove Your Fins.
The WOWSEA inflatable SUP collection has a removable quick-lock fin set. It is recommended to not leave your fins attached to the boards.
You should remove the fins, and store them in a separate bag before wrapping up the PVC board. The fin if the store with the board can cause tears or abrasions as well.
Try not to roll the fins either, they too can lose their shape, or show damage after some time. Make sure to remove all accessories like seats, and then store your board so everything lasts you long and you don't find yourself investing again and again.
Storage While Traveling
The whole point of inflatable SUPs is that it makes the experience travel-friendly. If the beach or the local river is a 30-minute drive away, you need to keep the board secure while you travel with it.
Try to pack a small cleaner so you can clean your board anywhere, any time. Additionally, keep a small rag to wipe down the board before you go into the water.
You can also take the WOWSEA kit to make the board compact and easy to travel with. It keeps the board secure, and out of direct sunlight.
Short-term storage also matters as the PVC can tear or rip due to many factors. Once you figure out a secure space for your paddleboard, there is no further issue!
Important Tip: Have Fun with Your Paddle Board
Most people who own a WOWSEA paddleboard know that they can rely on it! Once you have set yourself a pre and post paddling routine, there is not much to it.
It becomes very easy to maintain and use your inflatable SUP and there are not a lot of hassles involved. You will see the process getting quicker and more doable over-time!
WOWSEA provides its users with an all-around experience that helps you store, enjoy and clean your paddleboard easily. The company comprises paddleboard users who want to create the best experience for other users.
Have fun and use your paddleboard to love and enjoy your favorite activities, A Healthy Lifestyle.