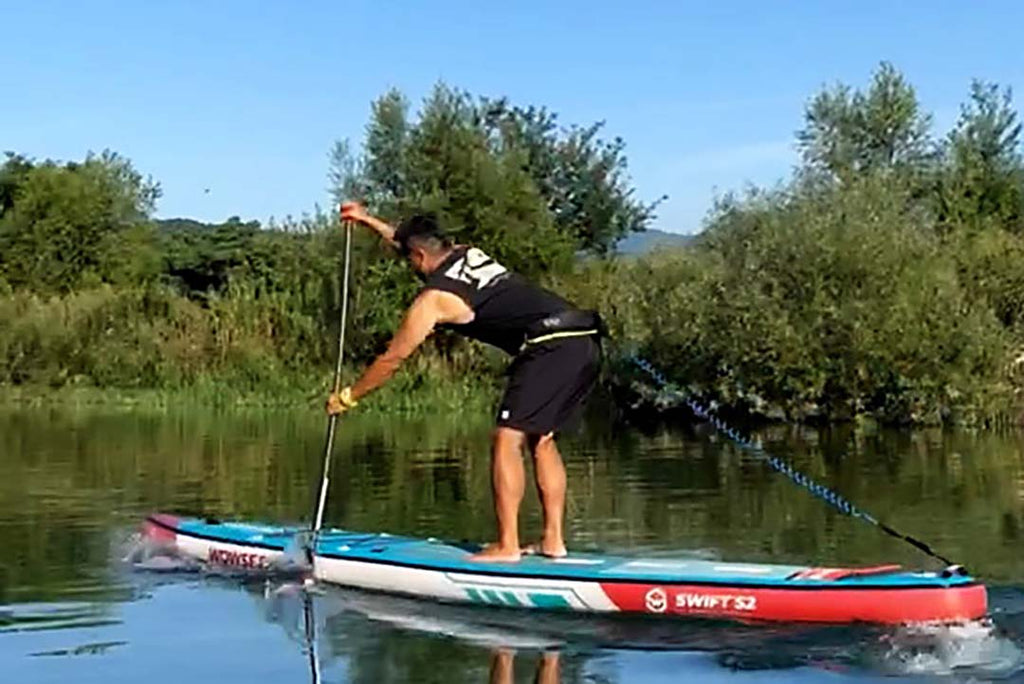 Are you considering participating in a Stand Up Paddleboard (SUP) race or competition? Do you want to challenge yourself and push your limits on the water? Have you ever wondered how to prepare effectively for a SUP race? If so, this article is for you. We at WOWSEA understand the importance of proper training and preparation for SUP races and competitions. In this post we will guide you through the steps to build a successful training plan for your SUP race or competition.
Please read our prelude first: Getting Started with SUP Racing: A Beginners Guide.
Understanding SUP Racing
SUP racing isn't only for elite athletes. It is open to anyone looking for the challenge. Whether you are aiming to complete a local club race or an international endurance event, having a solid training plan is essential. This will ensure you meet your goals without burning out or getting injured.
1. Choose a Specific Event and Focus
The first step in building a training plan is to choose a specific event and let it be your focus. The calendar includes:
Casual racing: These are local races and races that are beginner friendly, organized as community events.  This is the place to start and you could even create a local tradition yourself.
Competitive racing: Coastal Battle of the Paddle (BOP) events.The main feature of the BOP competition is its challenging wave environment, where participants need to row on rough seas while completing a series of tracks or tasks. These tasks may include sailing such as around a mark, crossing swells or surf, and other skill and technical requirements.
Endurance racing: Endurance challengesare long haul races where people concentrate on covering massive miles rather than short, sharp bursts of speed.
Downwind racing: Down wind doesn't mean easy but it does mean fast. This type of paddling requires more skill level in order to read the waves and use wind and swell to help push you forward.  
Your training plan should target the specific needs and requirements of the event. Choosing a race or challenge over three months away is advisable. This gives you sufficient time to establish an initial level of fitness and focus on improving your endurance, strength, and paddle technique prior on race day.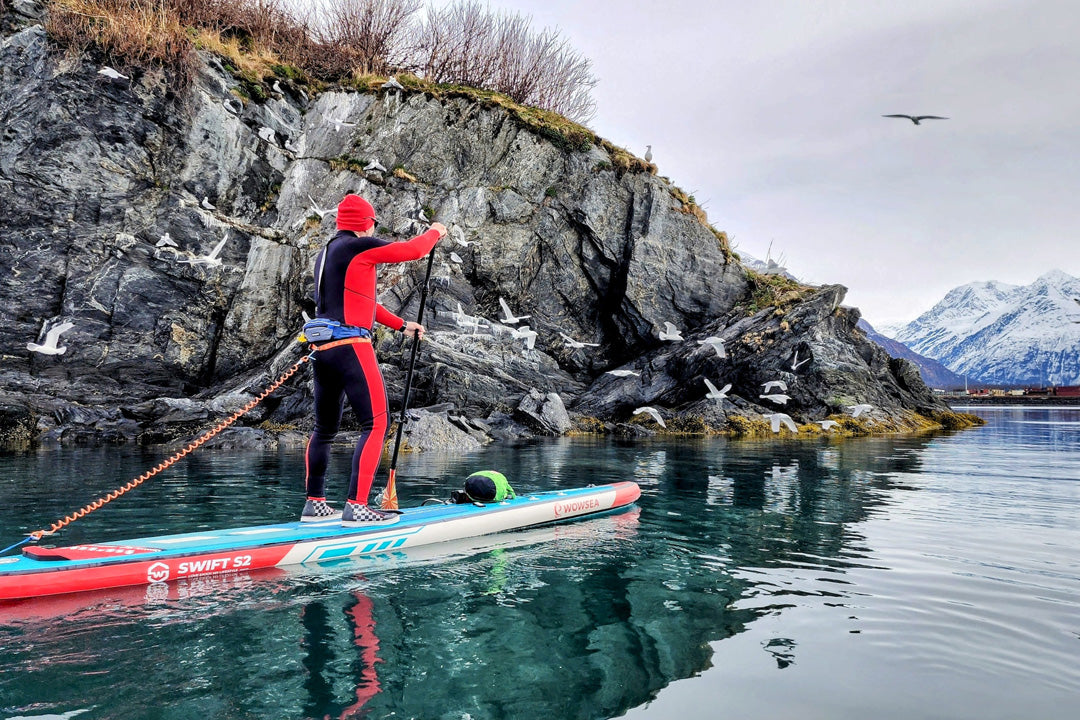 2. Build a Base Level of Fitness
Before diving into specific training, building a base level of fitness is important. This involves establishing a routine, getting accustomed to following a plan, and utilizing the muscles and joints you will use during training. Activities such as daily paddling, rowing, running, or biking and exercises like press-ups, pull-ups, and free weights are beneficial during this phase.
3. Increasing Your Ability to Handle the Distance
It's time to start planning three months prior to race day. Meet with a personal trainer or members of your community's SUP club and create the official schedule of your time in the water, important training sessions, and cross-training. This month is about increasing your ability to handle the distance of your race and increasing the speed at which you paddle at.
Time spent on the water is crucial. Here's a guide for how much time you should aim to paddle each week:
- Novice: 6-8 hours
- Intermediate: 8-12 hours
- Elite: 12-20 hours
Having more time on the water gives you a competitive advantage. Take at least one rest day each week for recovery. Set specific goals, including two intense workouts and one hour of weight training each week. This will improve core strength, power, and injury prevention.
4. Interval Training
The second month will be your training regime's hardest and most important. The aim of every session is to increase the intensity you're working, and to build toward your desired goal. This is the time to focus on good technique and consistency. Sprinters might consider interval training, while long-distance paddlers should focus on base mileage and one long-distance paddle each week.
Sprinters can improve speed and endurance with interval training 2-3 times a week. Set up a course to measure progress against the stopwatch. Example workout:
- 3 x 8 minute sprints at 70% effort
- 3 x 6 minute sprints at 80% effort
- 3 x 4 minute sprints at 90% effort (race pace)
Rest with a 2-minute paddle between sets.
For those dedicated long distance paddlers, the key is to prioritize daily base mileage while adding an exciting twist with a weekly long distance paddle. By the way, participating in an organized SUP event can boost motivation and offer race day insights.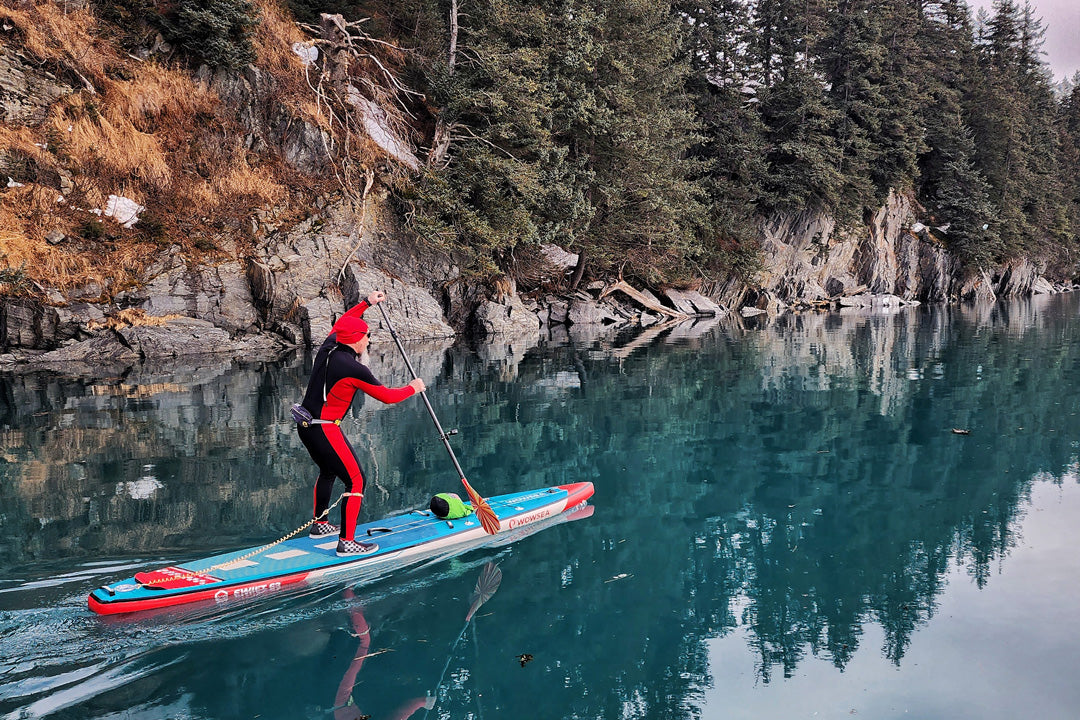 5. Maintaining and Improving the Fitness
By the time you reach the third month, you'll be basking in the glory of conquering all the grueling challenges of your training plan. But don't rest on your laurels just yet! It's crucial to strategically dial back the distance you paddle during the last two weeks of your training program. This tactical maneuver will not only make you feel razor-sharp and supercharged, but also fortify your defenses against pesky injuries. So, buckle up and channel your energy into preserving and even enhancing the incredible fitness you've worked so hard to build.
6. Race Day Preparation
In the final week leading up to your event, it's crucial to grant your body the well-deserved respite it needs before unleashing your full potential. Limit your paddle sessions to a mere 2 or 3 times during this period. Embrace the power of rest, allowing your body to recharge and prepare for the exhilarating race that lies ahead.
Additional Tips
Know Your Heart Zones
Understanding your heart zones, aerobic and anaerobic thresholds is crucial. Many articles and resources help you understand the importance of training in a specific zone. Doing your homework will help you develop speed.
Invest in a Heart Monitor
Investing in a heart monitor can help focus your training on specific physiological abilities. It helps track your heart rate and ensure you are training in the right zone.
Participate in a Preparatory Event
Participating in at least one organized SUP event during your training is a good idea. The experience will boost your confidence and inspire you to learn some race day do's and do's and don'ts.
Nutrition and Hydration
Learn about the importance of hydration and pre-race nutrition. Ensure you consume enough nutrients and stay hydrated, especially during long races.
Rest and Recovery
Make sure you have at least one every week you take a day off your body and mind will require a break. The importance of rest is the same as training when preparing for an event.
Seek Professional Advice
While self-training is great, it is also important to seek professional coaching advice.
Use Quality Equipment
Using quality equipment is essential for optimal performance. WOWSEA offers a range of SUP paddleboards designed for beginners and experienced paddlers. Our paddleboards are built with the latest technology to ensure stability, speed, and performance.
Mental Preparation
The mental preparation of your child is as crucial in the same way as preparation for physical. Be positive, imagine your accomplishment, and remain focused on your goals.
Post-Race
After the race, it's important to cool down properly, stretch, and hydrate. Celebrate your achievements, regardless of the outcome, and consider what you have learned from the experience for future races.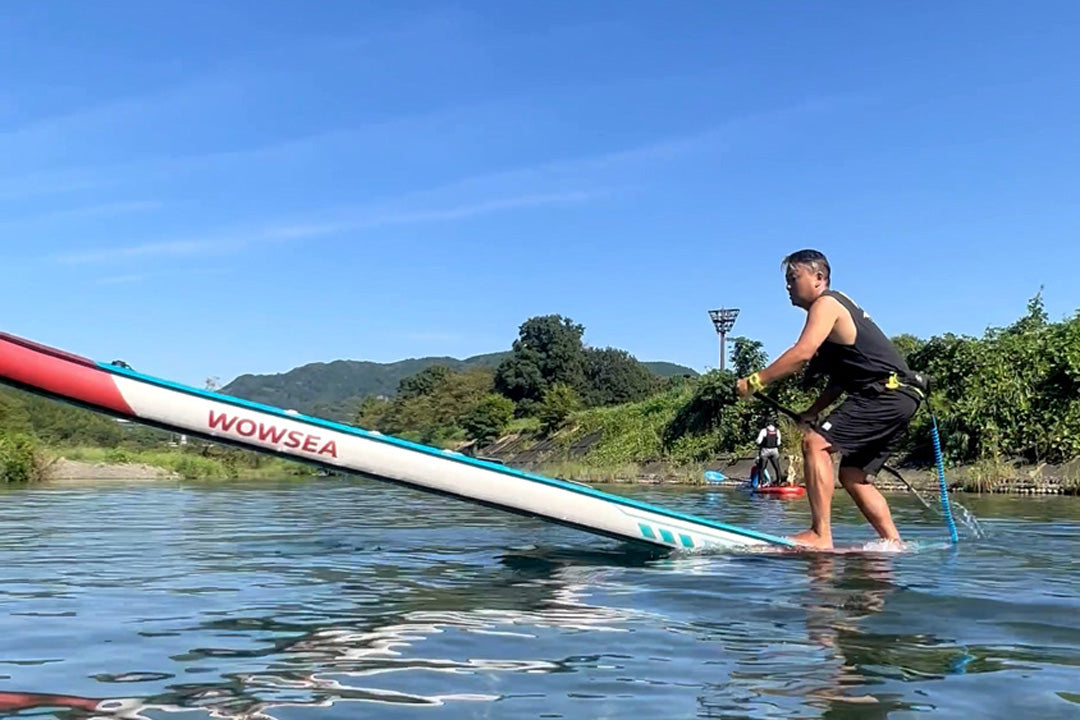 Final Words
SUP racing can be an exhilarating and challenging sport that is both challenging and exciting. With the right training and preparation you can push yourself to the edge of your limits and reap the benefits of competing at the highest performance. Remember to stay focused, be consistent, and, most importantly, have fun on the water. WOWSEA offers SUP paddleboards that are perfect for your training and racing needs.
Building a training plan for a SUP race or competition requires dedication, planning, and hard work. By following the steps and tips outlined in this article, you will be well on your way to achieving your SUP racing goals. Whether you are a novice or an experienced paddler, WOWSEA is here to support you with quality SUP paddleboards and accessories. Take the challenge and make waves with WOWSEA!