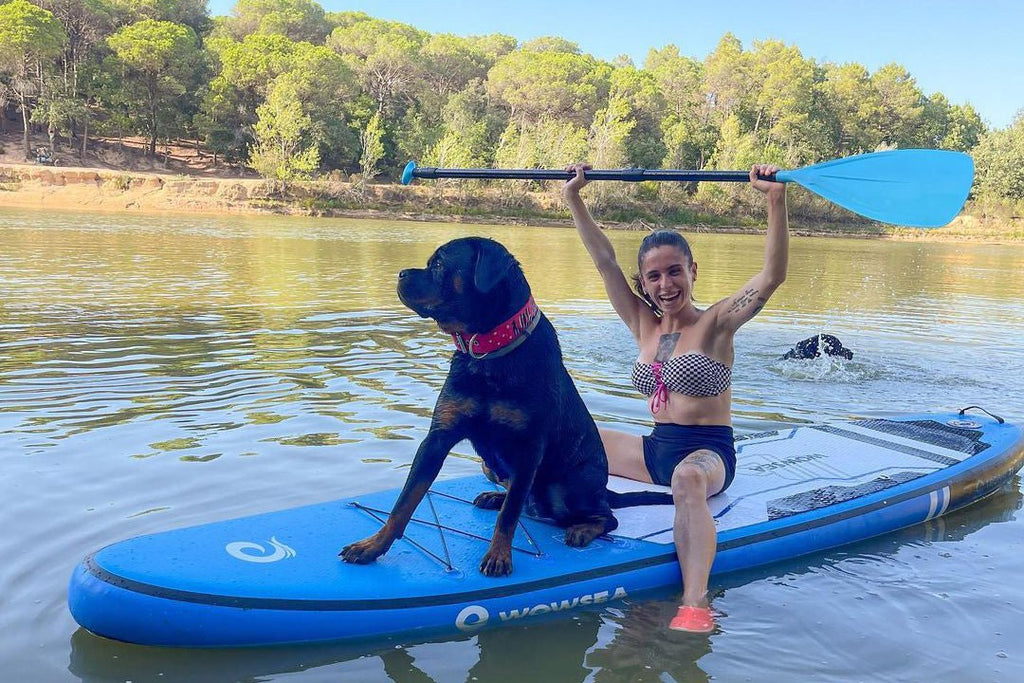 The stand up paddleboard can not only provide a fun and relaxing activity, but it can also provide a good workout. Stand up paddle boarding is becoming a popular fitness activity for people of all ages, shapes, and sizes. 
Many people have heard that it is the best workout for a complete body workout. If you paddle or balance on your SUP, you exercise your balance, strength, and endurance, which are all exercised while using low impact. Besides working the core, it also strengthens your toes, legs, back, shoulders, arms, and neck. Here we will learn how many calories you burn when paddle boarding?
Calories Burned SUP Surfing
There is a category of paddle boarding known as paddle board surfing, which surfers call one of the best cross-training programs for improving their surfing. The bigger and rougher the waves are, the harder you work, which leads to more calories burned. 
Surfing on a SUP burns 620 to 745 calories per hour, and it's a great way for traditional surfers to cross-train. It is a challenging and stimulating exercise even if you don't surf. You will burn more calories by surfing more intense waves. (Reminder: do not chase dangerous waves in daredevil mode to burn more calories!) 
The best way to improve surfing is through paddle boarding. 
Can Paddle Boarding Burnt Calories?

 
Recreational paddleboarders will burn between 330 and 460 calories per hour while paddling, which is twice what you would burn walking around the neighborhood. SUP is a great addition to fitness routines for people who do high-impact workouts that hurt their joints. SUP is low-impact, and it feels more relaxing than your average workout.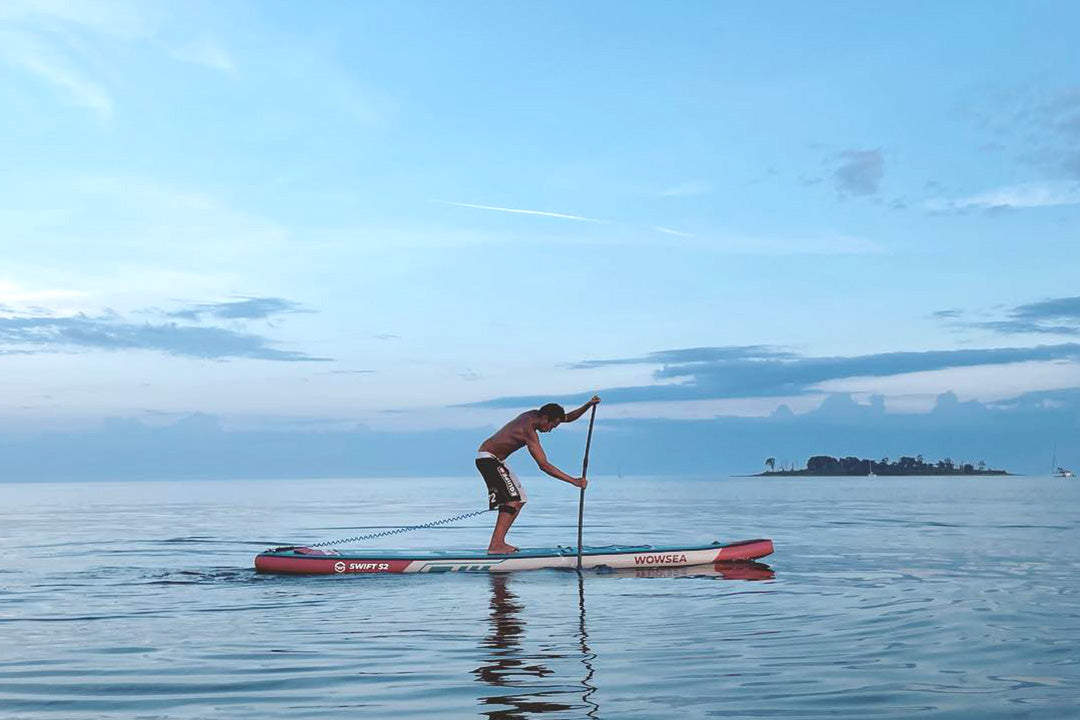 Calories Burned SUP Racing
There's no stopping when it comes to paddleboarding racing. Your heart rate and cardiovascular system are at full gear. The intensity of your stroke, your stroke form, the wind speed, and the conditions of your paddle board determines the number of calories you burn.
Balancing the board in an open ocean race with side winds and cross swells represents a greater workout than you would find on a calm flat water course in a bay or lake, clearly resulting in increased calorie burning.
The thrill of SUP racing will fill your competitive side, and it burns 720 to 1130 calories per hour. It's the perfect way to burn tons of calories quickly while enjoying the adrenaline rush of competition.
"Due to the cross swells and side breezes of an open ocean race, you get an added workout that stabilizes the board, increasing the calories burned. You're at your peak heart rate and cardiovascular capacity when you paddle board race at a high intensity."
Calories Burned Sup Yoga
You can relax and meditate with stand up paddle boarding and be exhilarated and send your mind, body, and spirit into frenzy. Practicing it improves your balance and flexibility while engaging your core, which makes it a great way to spend time with friends over fitness. 
You can burn 410 to 530 calories per hour while doing SUP Yoga. It is a physical, mental, and spiritual workout that outperforms land yoga in intensity. SUP Yoga offers a demanding mind, body, and spirit workout.
Calories Burned Sup Touring
A SUP tour involves paddling long distances at a moderate pace without stopping in the middle. You can burn between 610 and 700 calories per hour when you paddle at a higher speed than you would with recreational paddling. When you get into SUP touring and adventuring, you'll burn calories without ever having to go to a boring hotel gym. 
You'll lose weight this winter when you do this. And, of course, you'll see your destination in a new way while at it - your home.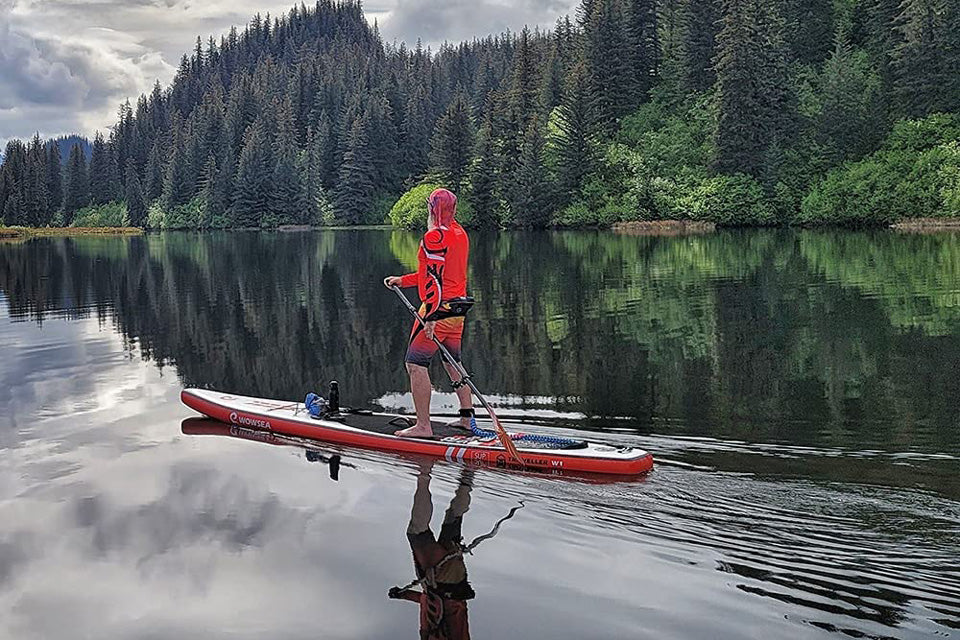 Calories Burned Sup Fishing
You can use your SUP for camping with a fishing pole or paddling to and from your fishing spot. Both have very different calorie-burning profiles. Paddling to your fishing spot burns a lot of calories than driving there. 
Even though fishing is pretty stationary, the journey to and from your fishing spot is very long. What's also cool is that SUP fishing has emotional health benefits, such as mindfulness and bonding with your fishing buddies. And we must not forget that emotional health is equally important as physical health. The calorie burn rate while SUP fishing can be as high as 135 - 430 calories per hour. 
Can You Lose Weight Paddle Boarding? 
Paddleboarding can help you lose weight, but there is a complex relationship between exercise and weight loss. SUP, or any workout, is not an automatic way to lose weight. In addition to the nutrition in your food, activity, and genetics, losing weight is more about your overall lifestyle habits. 
Exercise increases your calorie output, helping you reach that point more easily. It is necessary to burn more calories than you take in if you want to lose weight. Exercise is so crucial to your long-term health and longevity that you should regularly exercise. 
No matter what your weight loss goals are.
SUP VS. OTHER WORKOUTS
Can SUP compete with other forms of fitness? Here's how it measures up.
How many calories SUP burns compared to other activities (per hour): 
Kayaking: 300 calories
Biking: 485 calories
Running: 670 calories
Swimming: 820 calories
Spin Class: 740 calories
Walking Your Dog: 205 calories
Zumba: 600 calories
Skateboarding: 370 calories
CALORIES BURNED PADDLE BOARDING INFOGRAPHIC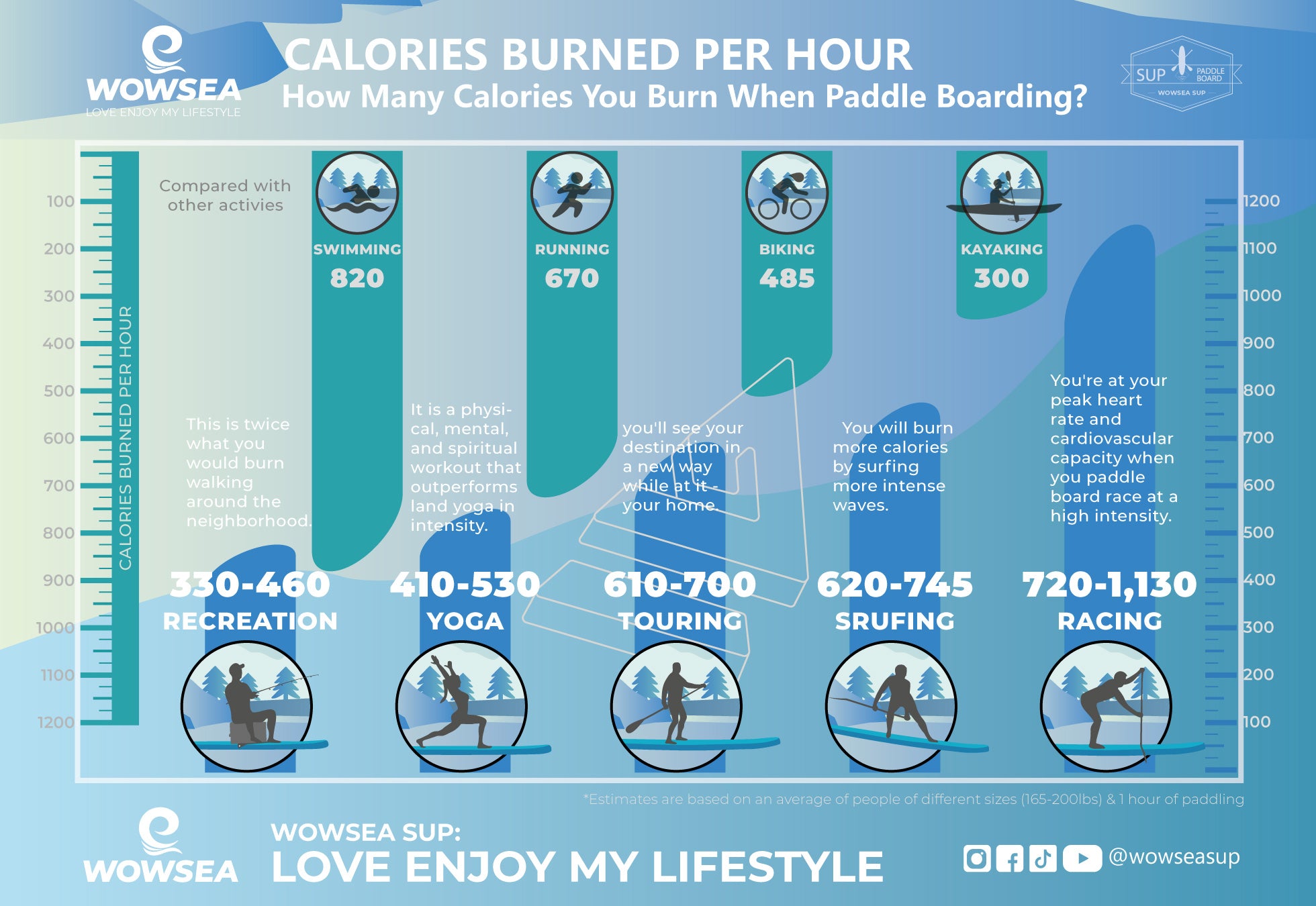 Bottom line
Stand-up paddle boarding is great exercise! It's also a super fun workout. You will always be motivated to exercise when your chosen form of cardio is SUP. Stand up paddle boarding is not difficult, just like any exercise, it is what you do. The more you put into it, the more you'll get out of I, just like many other aspects of life. If you're ready to go all out on SUP, you can expect a healthy return on those efforts. It is an all-body exercise that can restore your balance and calm your spirit, in addition to the physical benefits of paddle boarding. 
Getting out on a paddle board at the end of the day can be as easy as walking or as intense as a full-body workout. Whatever the case, paddle boarding beats those calories today by shopping Paddle Board selection, and Love Enjoy My Lifestyle with WOWSEA!